Alex Murdaugh heads to trial in 2021 killings of wife, son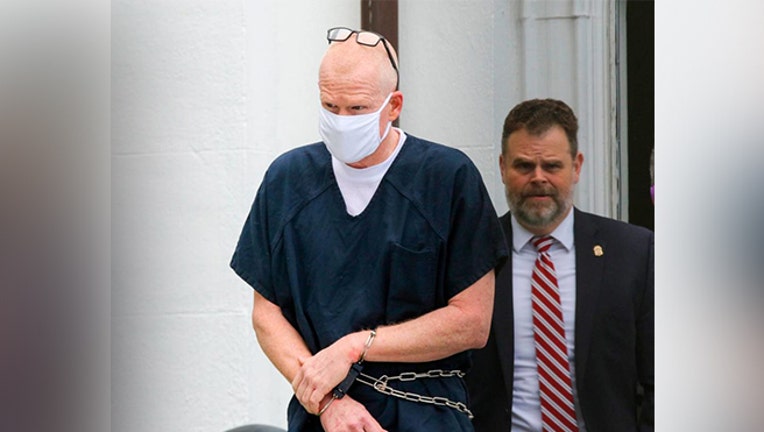 article
As his life unraveled over the past two years, disgraced South Carolina attorney Alex Murdaugh didn't fight giving up his law license and said he made plenty of mistakes tied to missing client money and a financial mess that led to 100 criminal charges.
But he has adamantly insisted, from the moment he found the bodies of his wife and youngest son both shot multiple times at the family's estate in June 2021, that he was not the killer. Beginning Monday, it will be up to 12 jurors to decide if they agree.
Lawyers expect jury selection to last several days before testimony begins. It took state agents 13 months of investigation to charge Murdaugh with two counts of murder, and a judge has set aside three weeks for the trial. Murdaugh insisted on the trial as soon as possible.
RELATED: Alex Murdaugh shooting: South Carolina police say attack on lawyer was botched hit in life insurance plot
Prosecutors are not seeking the death penalty, but said they will ask for life without parole if Murdaugh is convicted of murder. The minimum sentence is 30 years.
Here's an overview of the trial and the scene surrounding it as hundreds of lawyers and their support staff, reporters and true crime enthusiasts are expected to swell Colleton County's population of 38,000 in the rural, southern part of the state.
The killings and evidence
Murdaugh, 54, told police he found Maggie, 52, and their son, Paul, 22, dead outside their Colleton County home on June 7, 2021. He said he'd been gone for an hour to visit his ailing father and mother.
Authorities released little information about the killings beyond saying that Maggie Murdaugh was killed with a rifle and Paul Murdaugh with a shotgun.
Prosecutors have not detailed direct evidence linking Murdaugh to the deaths. So far they have filed with the court no confession or witness statements about the killings. There is no evidence on the eve of the trial that either gun has been found.
RELATED: Alex Murdaugh arrested over insurance money in housekeeper's death
There is a video from Paul Murdaugh's phone with a timestamp not long before the killings. The three are talking without evidence of anger. Alex Murdaugh's lawyers said he has never denied being at his home.
There is DNA from the victims on Alex Murdaugh's shirt, but his defense said that came from checking for signs of life when he found their bodies.
The defense and prosecution are fighting over whether to allow an expert to testify that the blood on Murdaugh's shirt was splattered on it when his son was shot. Defense lawyers said the expert testing the shirt is lying and destroyed it before the defense could conduct its own tests.
Prosecutors are expected to rely heavily on evidence of Murdaugh's financial problems, which they said led him to kill to buy time as he covered up his theft of settlement money from clients.
Prosecutors said the killings gave Murdaugh sympathy and, more importantly, allowed him to hide his thefts and other crimes.
Murdaugh's attorneys have said it is absurd to say Murdaugh would have thought his wife and son dying violently would lessen scrutiny into his finances.
Other crimes
The murder charges are only two of about 100 different criminal counts Murdaugh faces. He also is on trial on two counts of possession of a weapon during a violent crime.
Still hanging over his head are a broad range of dozens of state charges. They include stealing millions of dollars from clients, diverting a wrongful death settlement for the family's longtime maid from her family to himself, running a drug and money laundering ring, evading taxes, and committing fraud from what police said was an attempt to have someone kill him so his surviving son could collect a $10 million life insurance policy.
RELATED: Alex Murdaugh murder charges: Disgraced attorney indicted in death of wife, son
Murdaugh also faces a number of civil suits from former clients and over a boat crash in 2019 that killed a teen. Police said Paul Murdaugh was driving the boat while grossly intoxicated and he faced criminal charges when the teen died. The family of the teen was aggressively trying to get information about the Murdaugh family finances at the time of the 2021 killings.
Powerful family
The Murdaugh name is well known in judicial circles in the South Carolina Lowcountry. Alex Murdaugh worked for the family law firm that had been in business in tiny neighboring Hampton County for a century, winning a number of multimillion-dollar settlements for fatal accidents and workplace injuries.
Murdaugh's father, grandfather and great-grandfather were the elected prosecutors for 87 years straight in Colleton, Hampton and three other counties.
Typically, a portrait of Murdaugh's father hangs in the Colleton County Courthouse. Judge Clifton Newman ruled that it be removed for his son's trial.
Small town, big trial
Murdaugh's downfall has attracted media from around the world and dozens of true crime podcasts and other coverage. It's probably the most sensational trial in South Carolina since Susan Smith was convicted of killing her children and sentenced to life in 1995 in tiny Union County.
The Murdaugh trial is taking place at the historic Colleton County Courthouse in Walterboro, where the large, old Southern courtroom can seat nearly 250 people, or about 5% of Walterboro's population of 5,500.
Walterboro calls itself "The Front Porch of the Lowcountry" as a gateway to South Carolina's popular beaches. It sits along busy Interstate 95 with a drag of fast food restaurants and a smattering of chain hotels along its two highway exits.
The city last month asked food trucks to park nearby to help a handful of downtown restaurants handle the lunchtime crowds. On a county website for reporters on the case, nine residents offered their homes or businesses to media outlets to use as a base to cover the trial.