Andrew Tate: Romania seizes cars, other assets in investigation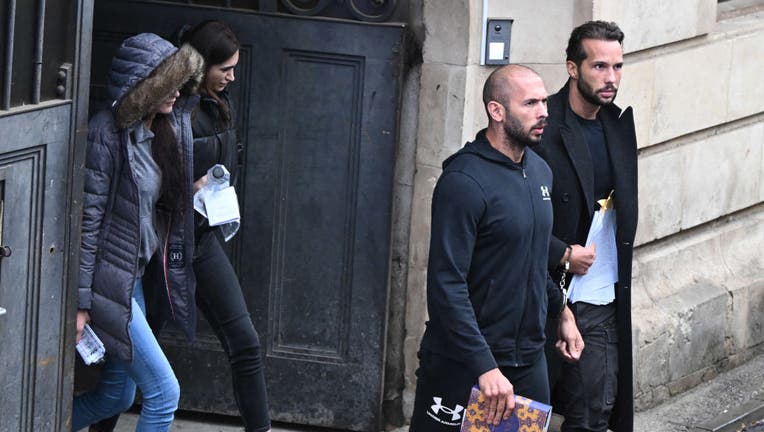 article
BUCHAREST, Romania (AP) - Romanian authorities descended on a compound near Bucharest on Saturday to tow away a fleet of luxury cars and other assets worth an estimated $3.9 million in the case investigating Andrew Tate, the divisive social media personality who is detained in the country on charges of human trafficking.
Romania's National Agency for the Administration of Unavailable Assets said in a statement that it removed a total of 15 luxury cars, 14 designer watches and cash in several currencies. The total value of the goods, the agency said, is estimated at 3.6 million euros ($3.9 million).
About a half-dozen masked law enforcement officers and other officials descended on the compound Saturday to take away the goods. The fleet of automobiles included a blue Rolls-Royce, a Ferrari, a Porsche, a BMW, an Aston Martin and a Mercedes-Benz.
RELATED: Andrew Tate arrested in Romania on charges of human trafficking, rape
Tate, 36, a British-U.S. citizen who has 4.5 million followers on Twitter, was arrested on Dec. 29 in Bucharest along with his brother Tristan and two Romanian women on charges of being part of an organized crime group, human trafficking and rape.
On Tuesday, all four lost an appeal after a court upheld a judge's Dec. 30 move to extend their arrest from 24 hours to 30 days. A day later, Tate lost another appeal that challenged assets seized by prosecutors in the case so far.
Romania's anti-organized crime agency, DIICOT, said it had seized 15 luxury vehicles in the case, and identified more than 10 properties and land owned by companies registered to the Tate brothers.
If prosecutors can prove they gained money through illicit activities including human trafficking, the assets could be used to cover the expenses of the investigation and compensation for victims, said Ramona Bolla, a DIICOT spokesperson.
DIICOT said it has identified six victims in the human trafficking case who were subjected to "acts of physical violence and mental coercion" and were sexually exploited by the members of the alleged crime group.
The agency said victims were lured by pretenses of love, and later intimidated, kept under surveillance and subjected to other control tactics while being coerced into performing in pornography.
Tate, a former professional kickboxer who has reportedly lived in Romania since 2017, was previously banned from various prominent social media platforms for expressing misogynistic views and hate speech.
After the assets were moved Saturday, a post appeared on Tate's Twitter account, which read: "Anyone who believes I'm a human trafficker is genuinely a moron," and that "anyone smart enough to understand the American System is unfair would be mind blown by the injustice of the Romanian System."
Stephen McGrath reported from Sighisoara.