Andy Reid did not allow Chiefs to watch Rihanna's Super Bowl halftime show, Patrick Mahomes says
GLENDALE, Ariz. - The Kansas City Chiefs were down 10 points at halftime of Super Bowl LVII, so they couldn't let their minds wander.
That's why Andy Reid banned them from watching Rihanna's halftime show.
Her performance was the second-most watched halftime show of all-time, but nobody from the Chiefs saw it live, according to Patrick Mahomes.
"Coach Reid told us, he said, 'If you go out to watch the performance, just keep walking, because you're not playing the rest of the game,'" Mahomes told Jimmy Kimmel.
Last year, Cincinnati Bengals kicker Evan McPherson got out of the locker room to catch Dr. Dre, Snoop Dog, Eminem, 50 Cent, Mary J. Blige, Kendrick Lamar, and Anderson Paak — we'll give him the benefit of the doubt, as he is a kicker.
However, special teams coordinator Darrin Simmons was not thrilled, calling it "a sore subject" last year.
Catching the show didn't affect McPherson, as he went 4-for-4 in his field goals and extra point attempts combined, But Reid didn't want to risk anything. 
Don't feel bad for the Chiefs, though - Kansas City overcame a 10-point deficit to beat the Philadelphia Eagles, 38-35, for their second Super Bowl since 2020.
And even though they missed Rihanna, the Chiefs were still able to see The Chainsmokers at their victory after party.
Get updates on this story at FOXNews.com
More Super Bowl headlines
LiveNOW from FOX: Streaming live events, breaking news, and stories from around Arizona and the world: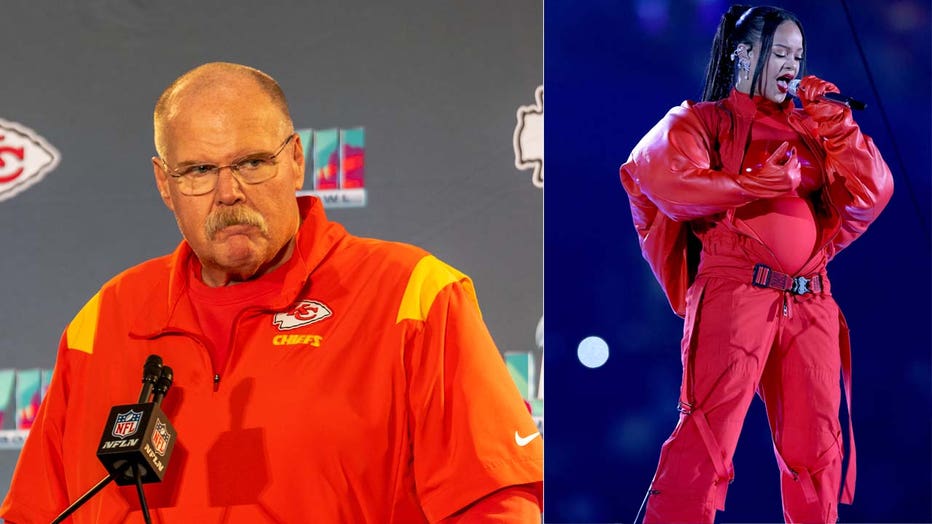 (Photos by Jason Allen/ISI Photos/Getty Images and Gregory Shamus/Getty Images)