Arson suspect arrested for starting fire at San Jose church
SAN JOSE, Calif. - An arson suspect was arrested by San Jose police on Wednesday on suspicion of starting a fire at a church, officials say. 
Firefighters responded to the church fire near San Jose State University. The two-alarm blaze was first reported at 2:33 p.m. at St. Paul's United Methodist Church, 405 S. 10th St.
The fire at the one-story structure was knocked down at around 3:30, but was not brought under control until just before 5 p.m., officials said. 
Witnesses at the scene told arriving police officers about the suspected arsonist. The suspect has been charged. The fire is under investigation.
No injuries were reported in the fire, said San Jose Fire Department public information manager Erica Ray.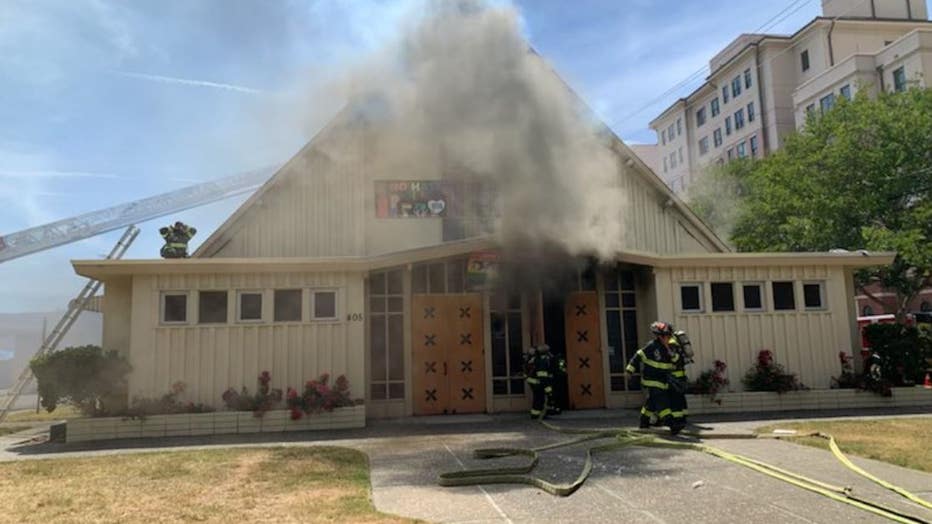 Firefighters responded to an arson at St. Paul's United Methodist Church at 405 S. 10th St. in San Jose. June 8, 2022.
Fire officials asked residents to avoid the area while fire crews worked to extinguish the blaze. They said the fire started near the back of the church, then heavy smoke and flames moved throughout the rest of the building.
Ann Clark said she's been a member of St. Paul United Methodist Church for over 40 years. Clark said she lives nearby and heard sirens, came over to see what was happening and learned the church building was on fire.  
"It looks yucky. It looks like a place that's had a fire. It looks messy and disturbing," said Clark. "We have a song we use; a church isn't a building. I think that's essential to our faith community. So, we will do our thing, building or not."  
SEE ALSO: Home invasion criminals target San Jose neighborhood
Brian Palodichuk with San Jose Fire Dept. said the church is an older property and had no sprinkler system. 
"I do know that there was heavy fire inside by the altar area, significant smoke and heat damage. So, the church will not be probable for parishioners to go and see. So it'll be some time before services can resume for the church," Palodichuk said. 
Palodichuk said he doesn't know how much the damage will cost, but they will continue to investigate.  
Bay City News contributed to this report.