A's offense quiet again in 2-1 loss to Rangers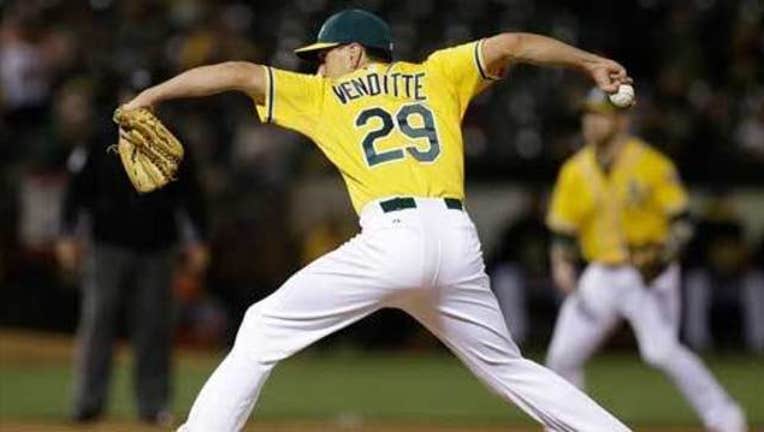 OAKLAND, Calif. (AP) — Sonny Gray thought he made a good pitch to Prince Fielder that resulted in an RBI single. The Oakland Athletics ace couldn't say the same about his delivery to Mitch Moreland.
With the A's reverting back to their struggles with runners in scoring position, Gray's slip-ups were too much to overcome.
Moreland hit a long home run to center field and Nick Martinez outpitched Gray as the Texas Rangers beat Oakland 2-1 on Tuesday night.
"Couple big hits and boom, it's 2-0," said Gray, who won his previous three starts. "That was just a little bit too much for us tonight."
Delino DeShields tripled off Gray and scored on Fielder's bloop two-out single in the third that landed just in front of left fielder Ben Zobrist.
Moreland's leadoff shot in the sixth made it 2-0.
Gray allowed eight hits and both Texas runs in six innings after giving up only two runs over his previous 21 innings. He struck out six and walked one while losing for the first time since May 19.
"If that's a bad game, then I'll take it any day," A's manager Bob Melvin said. "Every game he pitches, we're either in or we're winning it."
Moreland had gone hitless in 10 previous at-bats against Gray (7-3) before connecting for his seventh homer of the season in the sixth inning. The ball easily cleared the wall in center field and bounced off the facade underneath a row of luxury seats.
"What a ball that Mitch hit," Texas manager Jeff Banister said. "He got all of it. I haven't seen too many balls hit like that this year."
Oakland scored on Stephen Vogt's RBI single off Ross Detwiler in the eighth.
The A's had runners on base in every inning but stranded nine. They put the potential tying run on base in the ninth, but Rangers closer Shawn Tolleson got Billy Burns to pop out for his eighth save.
"There's a lot of frustration and a lot of things that are going on with us," Melvin said. "In close games like that, we can't get a big hit."
Shin-Soo Choo and Leonys Martin had two hits apiece to help lead the Rangers to their major league-best 20th road win. Texas has won three of four on its current trip to pull within two games of AL West-leading Houston.
Martinez (5-2) allowed one hit over six shutout innings. He struck out three and walked three.