80-year-old Bay Area man breaks record with a 100-mile race, his 29th so far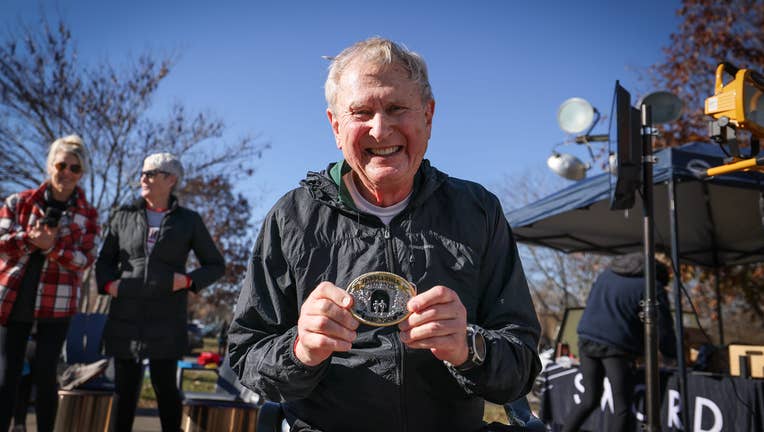 article
LAFAYETTE, Calif. - Running a 100-mile race would be an unthinkable challenge for most, but for 80-year-old Bay Area runner Wally Hesseltine, the latest century footrace he recently completed was his 29th, an awe-inspiring feat that broke the U.S. record by more than two-and-a-half hours. 
On Nov. 12, the Lafayette resident crossed the finish line of the Tunnel Hill 100 in Vienna, Ill., in a mind-blowing 26:22:26 time. The octogenarian was the oldest runner to finish. He came in 128th place out of the 179 runners who completed the 100 miles. 
His time blew away the previous U.S. record for runners age 80+, held by runner Maurice Robinson, who ran a 29:03:21 in a 100-mile race in Kansas in March 2022.
"That was the record I've had my eyes heavily on," Hesseltine shared with KTVU. "To break that record by two hours and 40 min. That was a great feeling." 
While unconfirmed, his time may have also broken a world record for his age. 
SEE ALSO: Berkeley half marathon sees thousands of racers
Once he put into motion plans to take part in the race, his goal was beyond just finishing the 100 miles. 
"I did set out in my training to break records at Tunnel Hill," Hesseltine said, adding, "and have done it twice."
In 2021, at age 78, he finished the race with an even better time, breaking a record for his age then, by completing 100 miles in 26 hours, 11 minutes and 45 seconds.
Hesseltine, who has been a runner for more than half his life, has completed at least one race, ranging from three miles to 100 miles, every month for the past 42 years.
It's a remarkable streak, with each race keeping him motivated to do the next. 
"I'm very proud of that," he shared. "The once a month thing kind of owns me, so I don't want to stop it and want to keep doing it."
SEE ALSO: Korean martial arts class in Oakland brings together seniors, empowering them to push boundaries
Longevity was clearly a characteristic that permeated through other aspects of his life, as he's still a practicing attorney, and has been with his law firm in Lafayette for more than 50 years. 
Another obvious characteristic was his goal-oriented drive. 
He's on his way to completing an ultra-ambitious target: running an ultra-marathon, a race that exceeds the 26.2 miles of a traditional marathon, in all 50 states. 
"I have run an ultra-marathon in 45 states and only have 5 states to go to complete all 50 states," Hesseltine said, a goal he hoped to achieve in the next year. 
It's a challenge he set out to accomplish in 1991 when he ran his first ultra. And over the years, the pay-off has been more than just the feeling of accomplishment from crossing the finish line.  
"To me, it's very, very enjoyable to visit these other states. My wife and I have gone to them, do the race first and then look at the sights. It's very interesting and very fun," he shared. 
The seasoned and well-traveled runner said he's covered well over 100,000 miles in both his racecourses and grueling training. He pointed out that living in the Bay Area, with its typically mild and temperate climate, made for ideal conditioning and training year-round. 
Over his decades of running, Hesseltine has completed 56 marathons and more than 200 ultra-marathons.
When asked why he's done so many of them, his answer was simple: "It's because I can do it. And I know how to do it. I have had a lot of experience," he explained, noting that he's also been blessed with the genetics that allow him to physically perform these athletic challenges. And he also added, "I do get a certain amount of adulation from my family and all the supporters, and so I get a kick out of that."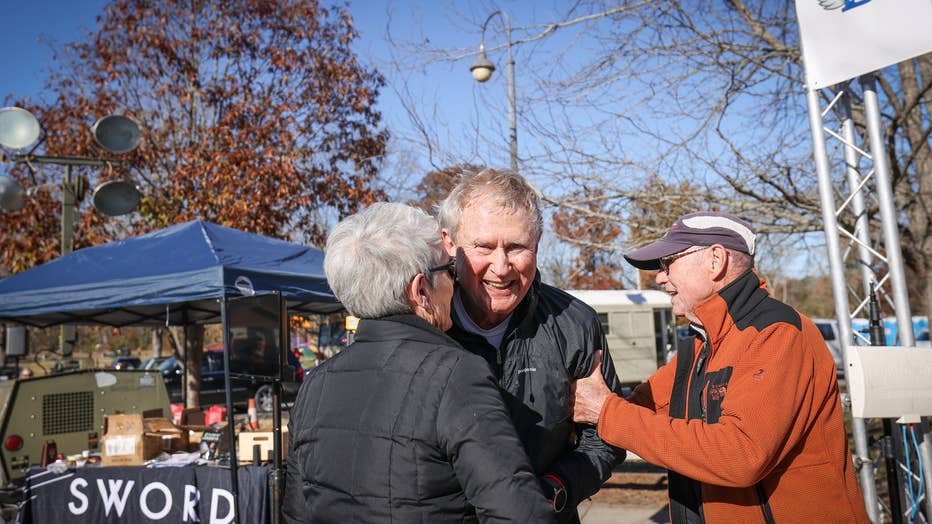 80-year-old Bay Area runner Wally Hesseltine being celebrated after completing the Tunnel Hill 100 in Vienna, Ill. on Sunday, Nov. 12, 2023. (Micki Colson/Colson Photography)
Hesseltine's latest accomplishment has drawn widespread praise and congratulations from fellow runners and admirers near and far.  
"Lots of world records getting knocked down lately in the running world, but this one is undoubtedly among the most impressive," posted Facebook user Ryan Good, who added, "That's a time that would be respectable for a runner of any age- seriously- but for an 80 year old? Astounding. And terrifically inspiring. Congratulations Wally, and thanks for showing us how it's done!"
Photographer Micki Colson of Colson Photography captured the triumphant moments of Hesseltine crossing the finish line. 
She shared the photos, along with a quote from novelist Gabriel García Márquez about aging and dreams, as she wrote, "It goes without saying that Wally has not stopped pursuing his dreams." 
Colson thanked the runner for being an inspiration and "teaching us all that age is merely a number." 
Hesseltine's wife, Lynn, was at the finish line to celebrate when he crossed it. A family man, who's been married for 57 years and has two children and five grandchildren, expressed gratitude to his family and others for keeping him going with their strong support.
He said that for his grandchildren, he hoped his accomplishments served as an inspiration to them.
"I think it's a good example to set for them, determination and perseverance and those things it takes to do stuff like this," the grandfather said, as he acknowledged that it was indeed hard work. "If someone tells me, 'Hope you're having fun,' I think, 'Fun's for afterward. This is work,'" he shared. 
Even after the hundreds of races he's finished, Hesseltine said he still gets nervous before every one of them, a demonstration of how much he cared about giving it his best, whether it be a 5k (kilometer) or 100-mile competition. 
"I find it pretty exhilarating," the runner said, adding that for him, it wasn't exhausting to keep competing in race after race. "If you just keep going, it's going to be over, and you're proud of the accomplishment."
Hesseltine has scheduled his next ultra run as a 50K in March in Mississippi, bringing him one step closer to his 50-state goal.  
And he planned to keep lacing up his running shoes as long as his feet and legs allowed. 
"Being 80, I have to do it in a slower speed than you're used to," the runner said, "I still enjoy it, and I want to keep going."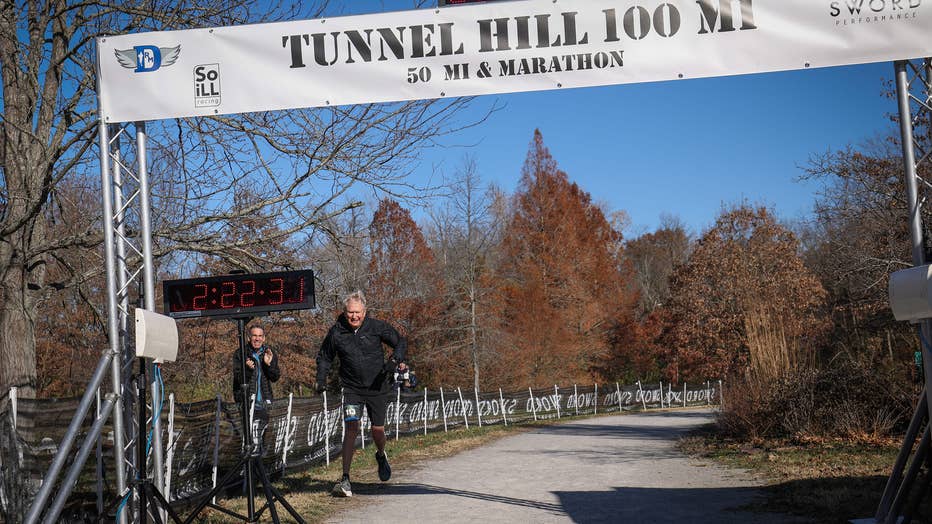 Wally Hesseltine, 80, crossed the finish line at the Tunnel Hill 100 on Sunday, Nov. 12 in in Vienna, Ill. (Micki Colson/Colson Photography)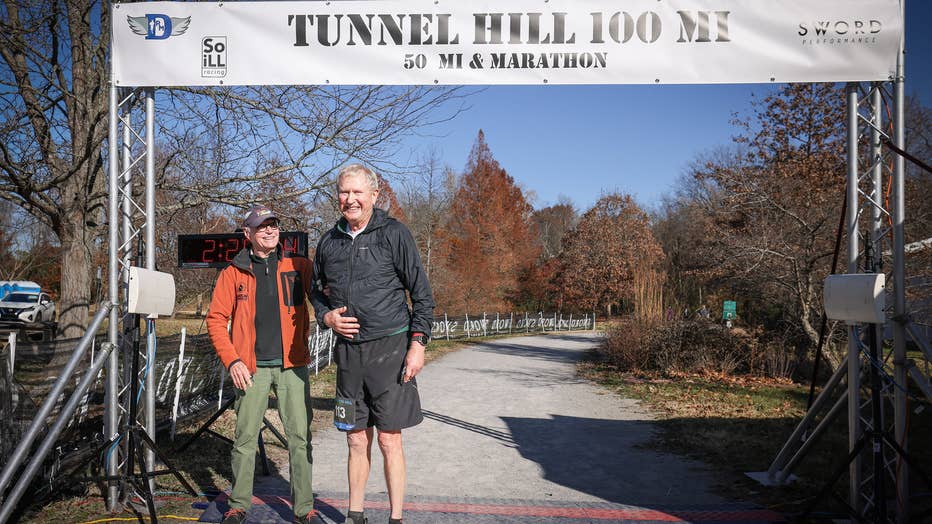 A happy and triumphant Wally Hesseltine after completing his latest 100 mile run in Vienna, Ill. and setting a record for his age group on Sunday, Nov. 12, 2023. (Micki Colson/Colson Photography)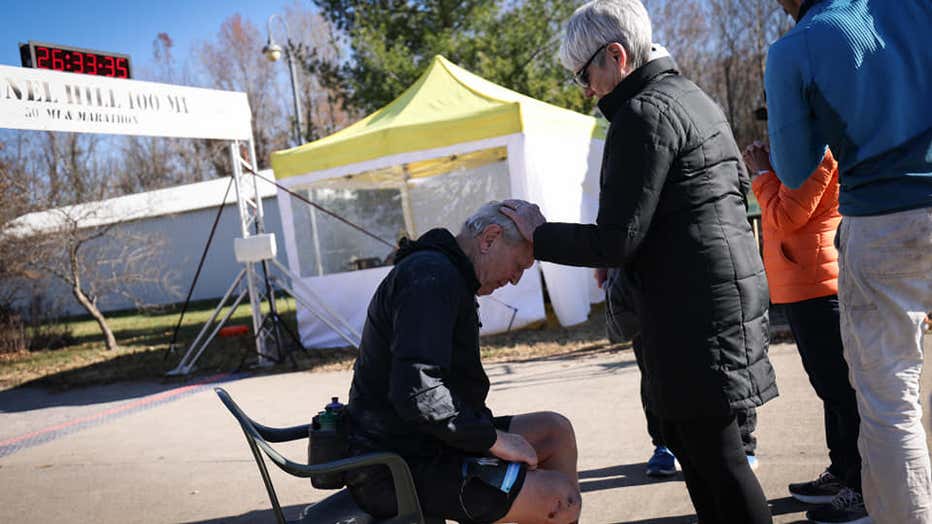 Record breaking Bay Area runner Wally Hesseltine, 80, with wife Lynn Hesseltine, after he completed running 100 miles in the Tunnel Hill 100 in Vienna, Ill. on Sunday, Nov. 12, 2023. (Micki Colson/Colson Photography)