Athletics dominate Padres 16-2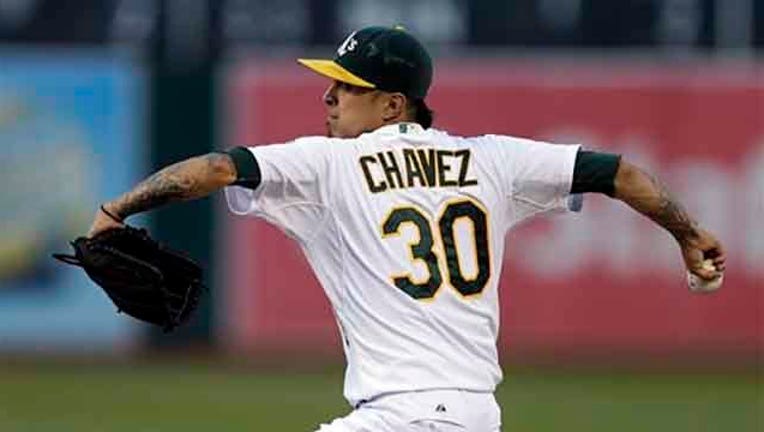 article
OAKLAND, Calif. (AP) -- San Diego interim manager Pat Murphy had seen enough of his pitchers getting knocked around so he decided to give Padres starting shortstop Alexi Amarista a shot.
Amarista -- who homered earlier in the game -- needed just two pitches to retire the only batter he faced in the eighth, which immediately made him the most effective pitcher San Diego used.
That's the kind of week it's been for the slumping Padres.
Jesse Chavez struck out a career-high 11 in seven innings to win for only the second time in his last eight starts, Billy Butler had four hits including a three-run home run and the Oakland Athletics beat San Diego 16-2 on Wednesday night.
"We pressed a little bit," Murphy said. "This team has been through a lot in the last week. Not making excuses for them. I've been here a short time but there's things to really believe in."
Chavez (3-6) went into the game with the eighth-lowest ERA in the AL and was dominant while allowing three hits over seven innings. He fanned seven of the first 11 batters, walked one and didn't allow a runner past first base until Amarista homered on the first pitch leading off the sixth.
Will Middlebrooks also homered for the Padres, who lost their third straight since firing manager Bud Black on Monday.
Oakland, which went into the game with the worst record in the AL, set season highs for runs and hits (20) while extending its winning streak to four.
"Sometimes game happen like this," Murphy said. "You guys may laugh at this but I think this was a little bit of a cleansing. Just get this stuff out."
Amarista was called on after reliever Cory Mazzoni gave up seven runs and eight hits while retiring just two batters in the eighth.
"Bud Black was always telling me that the opportunity would come but it didn't come," Amarista said through an interpreter. "With (Murphy) it came so I'm really happy about it."
Not as happy as Oakland's starting pitcher.
Chavez hadn't gotten much run support this season but the A's staked him to a 4-0 lead in the first inning capped by Butler's fifth home run of the season.
The former Kansas City slugger, who signed with Oakland in the offseason, had been mired in an 8-for-42 funk before homering off San Diego starter Odrisamer Despaigne (3-5). Butler also singled three times.
Zobrist had an RBI single in the first, tripled in the third and added a two-run double in the seventh.
Sam Fuld and Brett Lawrie drove in two runs apiece during Oakland's six-run eighth.
Despaigne struggled in his first career start against the A's. He gave up six runs and eight hits in six innings with two strikeouts and one walk.
"They were trying to come and be aggressive early in the count," Despaigne said through an interpreter. "It was just one of those situations where it happened so fast."
Former Oakland All-Star catcher Derek Norris went 0-for-4 in his first game back at the Coliseum since being traded to San Diego in December.
Ben Zobrist drove in three runs and fell a home run shy of hitting for the cycle for the A's. Stephen Vogt added two RBIs.