Athletics rally to beat Yankees 5-4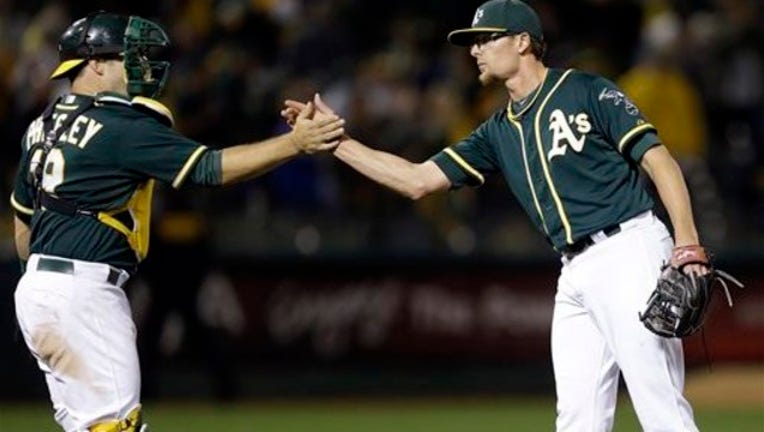 article
OAKLAND, Calif. (AP) -- Ben Zobrist drew a bases-loaded walk from David Carpenter in the seventh inning to break a tie and the Oakland Athletics rallied from a three-run deficit to beat the New York Yankees 5-4 on Thursday night.
Billy Burns and Brett Lawrie homered off CC Sabathia (2-7) to start the comeback from a 3-0 hole and the A's went on to beat the Yankees for the 10th time in their past 11 meetings in Oakland.
Alex Rodriguez tied Barry Bonds for second place on the all-time RBIs list and Brian McCann homered in his third straight game for the Yankees, who had their three-game winning streak snapped.
Evan Scribner (1-0) retired all five batters he faced for the win. Tyler Clippard allowed a two-out RBI double by Brett Gardner in the ninth before getting Chase Hedley to fly out for his fifth save in six chances.
The A's ended a 12-game home losing streak of one-run games.
Sabathia was cruising with a three-run lead in the fifth inning before Burns hit his second homer of the season just inside the foul pole in left field.
Lawrie tied the game with a two-run shot in the sixth and the A's knocked out Sabathia when Josh Phegley and Mark Canha reached to open the seventh.
Carpenter walked Zobrist with one out to force in Canha with the go-ahead run and Billy Butler added a sacrifice fly to make it 5-3.
Sabathia allowed five runs and eight hits in six-plus innings.
McCann hit a solo homer in the second and an RBI single in the fourth against Kendall Graveman. Rodriguez was initially called out at the plate on the single when umpire Ed Hickox ruled he missed home plate while eluding the tag. Phegley then tagged Rodriguez out.
But Rodriguez emphatically waved that he was safe and he was proven correct on replay, which showed his hand just got a piece of home plate as he went by.
Rodriguez added a sacrifice fly in the fifth to make it 3-0, tying Bonds for second with 1,996 career RBIs. Hank Aaron has the record with 2,297. Babe Ruth drove in 2,214 runs, according to baseball-reference.com, but RBIs did not become an official stat until 1920 and the Elias Sports Bureau officially credits him with 1,992.