Attorneys for homeless coalition say city workers inadequately trained on clearing encampments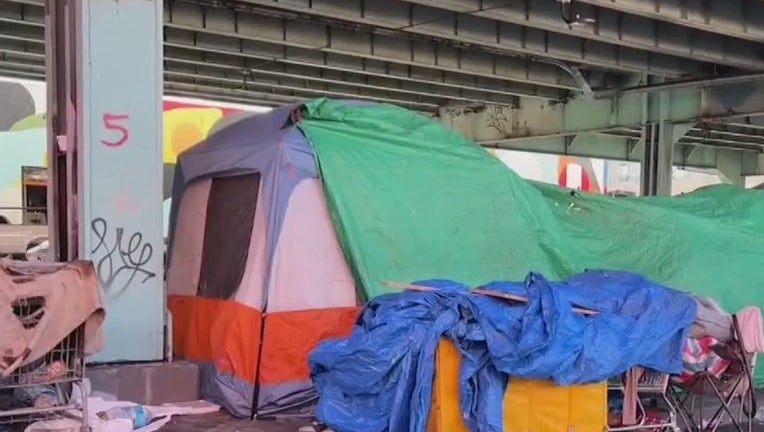 article
SAN FRANCISCO - Attorneys for the Coalition on Homelessness say most staff with San Francisco Public Works are inadequately trained on policies when it comes to interacting with unhoused populations and clearing their encampments. This allegation was part of a new court filing submitted on Friday.  
In a case of ongoing litigation, San Francisco is being sued by the Coalition on Homelessness and a group of homeless individuals. In December 2022, a judge temporarily barred the city from encampment sweeps if it didn't have a housing option for those who are "involuntarily homeless." 
Friday's filing, submitted by the plaintiffs, says the city continues to defy that injunction. 
The filing claims city records show the only formal training for city workers in dealing with clearing encampments includes a 30-minute PowerPoint presentation, which doesn't mention the court injunction, nor does it explain the city's procedures in a meaningful way when it comes to handling unhoused individuals' personal property. 
"The City has shown this presentation only three times, and produced no records of how many people ever saw it," a press release on behalf of the plaintiffs read.  
Last month, the city received clarification from a federal court on who exactly is considered to be "involuntarily homeless." Mayor London Breed, said that clarification ended "months of confusion" and that the city could once again move forward with the clearing of encampments. 
Plaintiffs say the city is making things worse. 
"San Francisco has once again demonstrated that it has taken effectively no real steps to follow its own sound policies for how to address street homelessness," said Zal K. Shroff, acting legal director from Lawyer's Committee for Civil Rights of the San Francisco Bay Area. He's also one of the attorneys representing the plaintiffs. "The City's abject failure to adequately train its staff is making San Francisco's homeless problem worse. It's time for Mayor Breed and the City to get serious about complying with the court's order."
Attorneys for the plaintiffs say the city provided no evidence that training sessions include guidance on how to give notice before and after removal of property. "Sign-in sheets show that from November 2022 to August 2023 just 57 Department of Public Works employees out of 1,800 had attended a single one of these informal sessions," the attorneys press release read. 
The Coalition's attorneys say "property destruction campaigns" make it harder for the unhoused to exit homelessness and that property seized in encampment clearings can include; medication and other survival equipment, work equipment and sentimental belongings, in violation of not only the U.S. Constitution, but the city's own policies and federal guidelines. 
San Francisco Public Works provides information on their website for their 'Bag and Tag process'. The process outlines procedure for pre-removal notice and indicates that owners of collected personal property may retrieve their items at the Public Works Operations Yard located at 2323 Cesar Chavez Street. 
Stream KTVU on your TV by downloading Fox Local on your Roku, Amazon Fire, AndroidTV or AppleTV device for free. More details here.
The Coalition on Homelessness is a nonprofit that organizes homeless people and front line service providers to protect their rights. A spokesperson had previously told KTVU that they want police presence removed from teams of city workers who clear encampments. 
"The City's halfhearted efforts at complying with the injunction are irresponsible," said John Do, senior staff attorney with ACLU of Northern California, who also represents the plaintiffs. "The fact is that the problem of homelessness in San Francisco can be improved, but only if the City adequately trains all of its staff who regularly interact with the unhoused population."
MORE: Ruling denies San Francisco's request to ease encampment removal ban
KTVU reached out to SF Public Works for comment on this story. A spokesperson referred us to the City Attorney's Office due to ongoing litigation. 
Jen Kwart, a spokesperson from City Attorney David Chiu's office, said these were "unsupported accusations." 
Kwart said the judge in this case required the city to submit filings on a number of narrow subjects and that the city has complied. "It seems Plaintiffs either did not understand or took issue with what the Court asked the City to do. Our filing clearly demonstrates that the City has trained and continues to train employees interacting with unhoused individuals on compliance with the City's policies and the preliminary injunction."
Kwart said the plaintiffs are attacking them for not providing information the court didn't request nor required. "It seems like maybe the Plaintiffs wanted Judge Ryu to ask us for more information." 
The city attorney's office said Friday's filing does not impact the city's response to homeless encampments and that a judge has not ruled on anything related to this filing. In addition, they said the city is complying with the preliminary injunction. 
"The City offers shelter to the unhoused individuals who staff reach out to during encampment resolutions. The City is following its bag and tag policy, which the Plaintiffs agree is constitutional."
7 Principles for Addressing Encampments, according to the United States Interagency Council on Homelessness 
Principle 1: Establish a Cross-Agency, Multi-Sector Response
Principle 2: Engage Encampment Residents to Develop Solutions
Principle 3: Conduct Comprehensive and Coordinated Outreach
Principle 4: Address Basic Needs and Provide Storage
Principle 5: Ensure Access to Shelter or Housing Options
Principle 6: Develop Pathways to Permanent Housing and Supports
Principle 7: Create a Plan for What Will Happen to Encampment Sites After Closure