Authorities investigating deadly shooting near San Jose VTA rail yard
SAN JOSE, Calif. - One man is dead and a second was brought in for questioning Thursday after a shooting in San Jose.
The incident happened in the same area as last week's VTA mass shooting that caused a panic.
"I just heard gunshots and someone running that way. And my kids were crying because they were scared. The next thing you know we looked and they were covering someone on the ground," said Tiffany Vargas, who was outside the Santa Clara County Jail at the time of the violence.
Police investigators said just before 2 p.m. two officers patrolling the area noticed two men running south on San Pedro.
"They stopped and investigated. And realized what they actually almost witnessed was a shooting," said police spokesman Sgt. Christian Camarillo.
One of the men collapsed feet from the VTA light rail yard. Detectives said he died from at least one gunshot wound.
Authorities said the shooting is not related to the tragedy that unfolded at the nearby rail yard last week.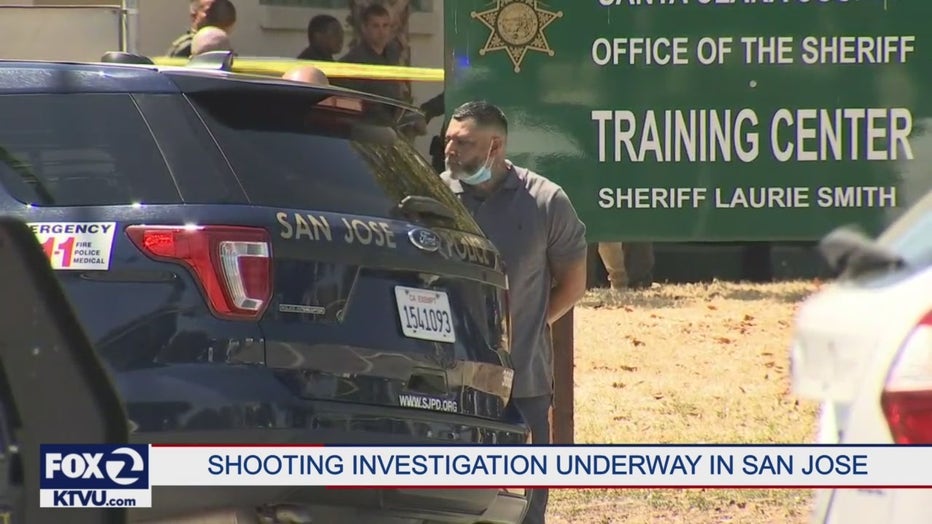 A KTVU photographer captured a man in handcuffs being placed into the back of a San Jose police SUV at the scene of a deadly shooting.
"This is a completely different, isolated incident than what happened out here last week. I understand the public's concerns. It, unfortunately, is a very bad coincidence," said Camarillo.
County officials said Thursday's crime involved a group of people who had just left the Hall of Justice court complex.
One vehicle near the scene was riddled with bullets. Witnesses said the sight and sounds of gunfire hit home for a public still jittery over the recent mass shooting.