Auto insurers reportedly limiting new policies in California, as drivers face challenges getting coverage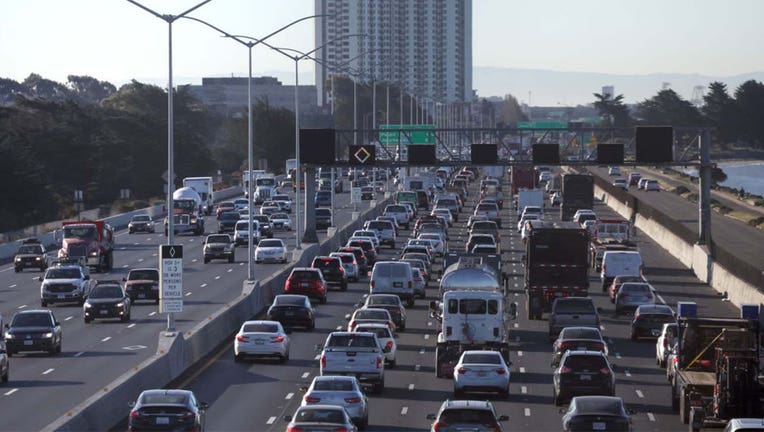 article
OAKLAND, Calif. - Auto insurance rates have been on the rise across the nation, as inflation has increased costs associated with auto accidents. But in California, motorists have been experiencing even bigger challenges as insurance companies have been reportedly limiting new policies and in some cases, may be ceasing to do business in the state altogether. 
Auto insurance companies as a whole have been struggling for years, according to insurance industry experts.
"A lot of companies are running a more than 100% loss ratio," explained president of Oakland-based Barbary Insurance Brokerage Jerry Becerra. "So that's unsustainable over the long-run."
SEE ALSO: Most exclusive car event in the world held in Carmel Valley
Becerra said there were many factors to contribute including, the number of accidents being up, as well as a rise in the costs associated with collision repairs.
"There was a dip in driving during the pandemic, but that's rebounded," said Becerra, so the incidents of crashes have also rebounded. 
"The cost of repairing vehicles is higher than it used to be due to inflation, type of vehicles, supply chain issues, a lot of things may be driving that," Becerra explained.  
He also pointed to increased events of natural disasters, noting property damage from extreme weather events often included damage to vehicles. 
SEE ALSO: 'A lockbox isn't enough', Car theft victim speaks out after thieves hit auto repair shops
In California, there has been an additional factor as insurance companies have been in a battle with the state Department of Insurance over premium changes.
State regulators must review and approve rate increases for insurers admitted to operate in California. And since the insurance commissioner froze rates during the pandemic, companies said the state has been slow to bring rates back up to adequate levels to be in line with rising costs, according to advocates for insurance agents and brokers. 
Last May, the Sacramento-based trade group American Agents Alliance which represents independent agents, called on the California Department of Insurance (CDI) to fastrack the review process. 
"The automobile insurance market is in turmoil. Our agents and the consumers we serve are losing access to insurance markets as insurers terminate agency appointments and restrict the submission of business," the group said, adding, "While a thorough rate approval process is necessary, urgency should now be a priority to accelerate recovery from this destabilized market."
American Agents Alliance said that the situation put the state at risk of having auto insurance companies opting not to do business in California. 
"They are losing money on every piece of business, and 'when you're in a hole, stop digging' is their approach to the marketplace in California right now," Executive Director Mike D'Arelli told Money.com. 
It's a situation that's been seen in California involving homeowners insurance, as some providers have been pulling out of the state and canceling policies, citing wildfire risks.
While Becerra said he himself hasn't seen auto insurance companies abandoning the California market, he said very few standard insurance companies were actively writing new policies right now.
And when it came to renewing policies, providers were being extremely selective. 
"Not everybody's a perfect driver and not everybody has the perfect profile, so that's going to make it more and more difficult to find coverage," he said. 
On Tuesday, a frustrated member of the Facebook group "Antioch Rants and Raves," put out post asking people for car insurance recommendations. "Rant: My car insurance policy was cancelled and they won't reinstate because I am in California," she wrote.  
The post generated widespread response from the group's members.
Becerra said he expected things will get even more challenging for the industry and for Californians seeking auto insurance, and he called on state regulators to act quickly.
"If you can't write business property in the standard market, and you stop writing, then the only market left are non-standard markets. And they may not be able to provide right coverage and with the rate increases it's much higher, so it could get pretty bad," he said. "So I think something needs to be done. The first thing is the insurance commissioner needs to work diligently to alleviate the needs," he said.
In a statement to KTVU, the CDI said insurance companies were prohibited from refusing to write policies for good drivers in California and that the agency was working to ensure that the state's motorists don't pay more than they have to for auto insurance.
"While insurance companies are focused on increasing rates, the Department of Insurance is focused on protecting drivers and helping them get the most value from the premiums they pay," a spokesperson for the department said, adding, "Our staff continues to review pending auto insurance rate filings with a goal of giving consumers the best value, the most choices, and to make it right for consumers who were and continue to [be] overcharged on premiums during the pandemic."
The department encouraged Californians who were facing issues with auto coverage to call 1-800-927-4357 or visit its online complaint center here.