Ayesha Curry says 'whole restaurant was prepared' to host Clemson football team after viral tweet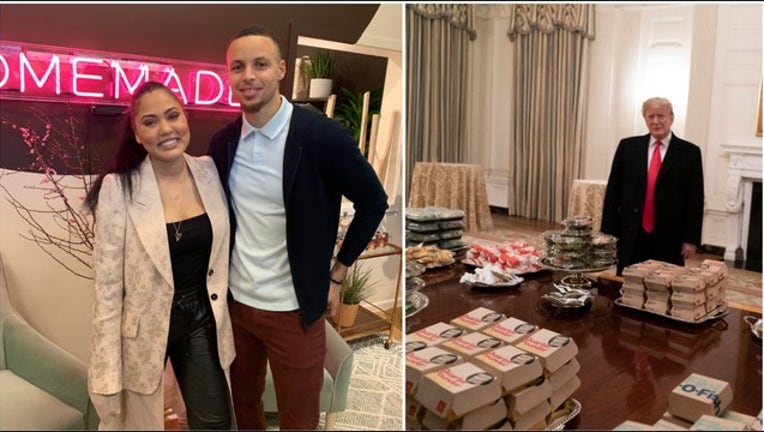 article
OAKLAND, Calif. (KTVU) - At her pop-up store in Oakland's Jack London Square, Ayesha Curry said Friday that the invite to treat the Clemson Tigers football team to a "real feast" at her San Francisco restaurant still stands. 
President Trump presented the athletes with a fast-food feast in January for the traditional dinner at the White House—complete with McDonald's, Taco Bell, and more. The celebrity chef and wife of Warriors star Stephen Curry responded with a viral Twitter comment.
So here you have a chef with a TV show who has a popular restaurant in a fun city with a husband who is a two-time NBA MVP. Plus, the tweet gained an enormous amount of attention. Surely someone from the Tigers reached out to Ayesha Curry's team, right?
"No, and I was hoping they would be like, 'yes, we want to come eat,'" said Curry. "The whole restaurant was prepared for them to be like, 'yeah, we're going to take you up on that,' but no one ever reached out."
Read more: Ayesha Curry opens pop-up shop 'Homemade' in Jack London Square
The restaurant they missed out on is called International Smoke. And in the name of a "smoked Korean short rib" or some "cedar-smoked salmon," the Tigers dropped the ball with this one. Redemption for the filet-o-fish and tartar sauce served on a silver platter could have come by way of "wagyu shaking beef," but no. Fortunately for the Tigers, it's not too late. 
"Our door is always open. We're in the business of hospitality—we take care of everyone," Curry said.