Bats apparently stolen from Jose Canseco's SUV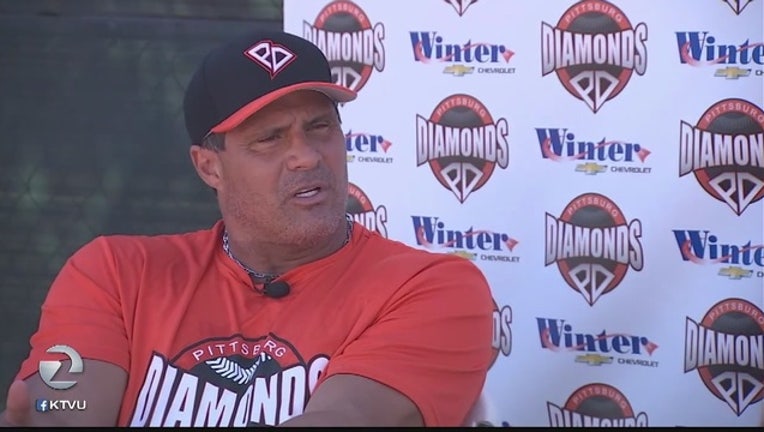 article
PITTSBURG, Calif. (KTVU) - Someone apparently stole bats from Jose Canseco's SUV which was parked in Pittsburg.
Canseco sent a Tweet stating that two guys broke into his car and stole his bats. He says officers knocked on his door at 4:30 a.m. 
He sent another Tweet thanking officers for "rescuing" his bats. 
Pittsburg Police to confirm they were dispatched to the Hampton Inn  at 1201 California Avenue for a burglary in progress. 
The manager from the hotel was watching a possible car burglary in progress, via video surveillance.
Officers arrived on the scene and arrested two suspects in the parking lot.
Police say Sergio Verduzco from Oakland and Richard Lewis from Pittsburg were in a stolen vehicle and both had outstanding warrants.
Both men were arrested on their warrants and an additional charge of burglary and transported to county jail.  
Canseco has made Bay Area news recently as he returned to the Bay Area to play ball. 
Canseco, 52, is now playing for the Pittsburg Diamonds, which is part of the Pacific Association of Pro Baseball Clubs. The team plays in the independent league of Northern California teams.
In our KTVU report he was reflective about his need to be part of the game that he says is still a major part of his life.
"When you talk about being on the field and playing the game in its simple form, it's the best game in the world," he said as the Diamonds played against the Sonoma Stompers. "It's my addiction. It's what I know (and) it's what I love."
He said joining this team is more than playing baseball. It's about playing the game of life.
"I think once you stop being active; once you stop moving; stop being interactive, that's when you start growing old," he said.
In the 1980s, Canseco made his mark on the field, along with Mark McGwire, as one half of the "Bash Brothers." He also won two World Series Championships.
But his tell-all book, "Juiced," revealed the rampant use of steroids by him and other baseball players. He named names -- a move he says cost him dearly.
Neither Canseco nor the owner of the Pittsburg Diamonds would say how much he's being paid for his month of play. But he said he's not playing for the money.  The team has said its highest paid player makes about $3,000 a month.