Bay Area firefighters rally to aid cancer-stricken Vacaville girl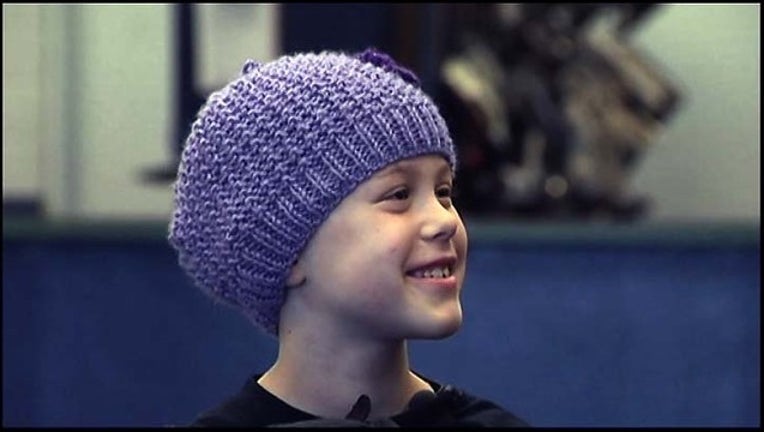 article
VACAVILLE, Calif. (KTVU) – Firefighters from across the Bay Area are rallying to aid a young Vacaville girl who has a bright smile and a tough fight ahead.
Miley McCrary, a 6-year-old who sometimes just goes by Smiley Miley, has been diagnosed with Ewing Sarcoma, a bone cancer that is threatening to take her arm.
"If she got three presents she'd give one to her brother and one to her sister -- she's just that kind of person," says Scott her dad. "She's always thinking about others -- thinking about what she can do to make people smile."
Smiling got harder for those who know and love her since her diagnosis, but the youngster's determined spirit continues to inspire all who come into contact with her.
Scott McCrary says "every day she tells me she's going to kick cancers butt."
"Sarcoma," explains Miley," is like something that is fighting your body so we had to get medicine to fight it back. It was little bugs in me."
But she won't be fighting alone.
Miley's dad is a firefighter in Oakland and when he asked for a few days off after her diagnosis, the response from his fellow firefighters was overwhelming.
"That was Friday," Scott McCrary said. "I called on Sunday morning and said – 'Hey, did you get those three shifts covered?' They said we'll see you in May. They got three and half months covered in 20 minutes."
The family lives in Vacaville and Vacaville firefighters also stepped up.
"Words can't describe it", Scott McCrary said. "They are literally stepping up making sure everything is taken care of. Vacaville Fire called and said can we do your lawn."
But the Vacaville firefighters said they were honored to help out a colleague in a time of need.
"The fact that we are able to help them out is a big deal for us," said William Linne the Vice President of the Vacaville Firefighters Association.
But things didn't stop there.
Oakland firefighters hold an annual charity hockey game. They like to raise money for the community but this time there was no question that they'd raise money for one of their own.
"It's very personal," said Oakland firefighter Jim Halpin. "I worked with Scotty for a long time now and it makes it personal. Within 36 hours we had a game and that was 8 weeks ago."
The game will be held on May 9th at 4 p.m. Vacaville Ice Rink. The rink donated the ice time.
"We want it to be packed," said General Manager Larry Kahn. "We want it to be where you are talking to person next to you and you can barely hear what they are saying."
And on the ice will be firefighters from Marin and beyond.
"I think what you are going to see is probably firefighters from 20 different fire departments gathered together there," Said Thomas Moran, a South Marin firefighter and paramedic. "This is a family. It's big and strong and you should never feel alone."
Miley grins as she talks about the game telling us that "on the way here we get to ride a pink firetruck."
Miley's mom Kelly says the diagnosis sent their world spinning, but no words can describe what this outpouring has meant.
"It's huge -- there's no words." says Kelly as tears fill her eyes. "It's like having a big hug, having that huge family. It's amazing."
There are two ways to help.
Or buy $15 tickets at Vacaville Ice Sports