Bay Area Jewish, Asian friendships begin with newspaper ad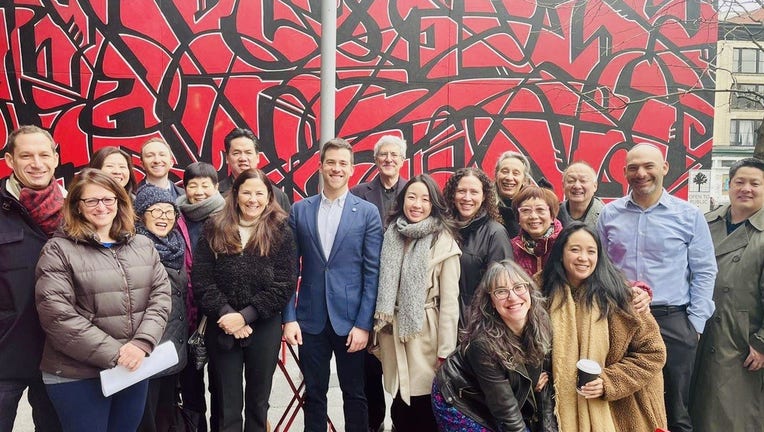 article
SAN FRANCISCO - The friendship began with an ad in a Chinese newspaper.
It was the spring of May 2020 and the beginning of the pandemic.
Tye Gregory, the chief executive of Jewish Community Relations Council, noticed the rise in violence against the Asian community as then-President Donald Trump and others blamed the pandemic on "the Chinese virus." 
He has seen similar xenophobia against Jews. 
"We've experienced the same hatred ourselves," Gregory said. 
So, he took out a full-page advertisement in the Sing Tao Daily, Hong Kong's oldest and second-largest Chinese language newspaper, which has a Bay Area edition.
His ad essentially said, "This has happened to us." 
After the ad ran, JCRC started to get phone calls from people living in San Francisco's Chinatown. 
"We started to make wonderful friendships," Gregory said. "We started to have events together." 
Gregory and his counterpart, Cally Wong, executive director of the API Council, decided that they wanted to expand their relationship. 
They also realized that Japantown in San Francisco is also home to Sherith Israel synagogue and that despite their proximity, members of these communities had never really interacted. 
So, Gregory and Wong decided to remedy this divide by organizing a trip for Asian and Jewish community members to visit New York City and Washington, DC.
Nearly two dozen members of both communities toured the U.S. Holocaust Memorial Museum and the Japanese American Memorial to Patriotism during World War II. 
In New York, the group visited the Lower East Side Tenement Museum, which featured an exhibit on 1940s German-Jewish and 20th-century Chinese immigrants. 
They also met with representatives of New York City Mayor Eric Adams and the city's Office for the Prevention of Hate Crimes to discuss the rising rates of anti-Asian and antisemitic hate crimes in the United States.
In DC, the group met at the White House to meet with Shelley Greenspan, a former board member for a number of national Jewish groups, and the Biden administration's respective liaisons to the Jewish and AAPI communities. In turn, JCRC and the API Council invited them to visit their groups in San Francisco. 
For her part, Wong has really enjoyed knowing Jewish people on a deeper level. 
She had always had Jewish friends since attending Lowell High School in San Francisco. 
But she had never really understood what separated the Jewish nationality from the religion. So, she went on a trip to Israel last year where she learned that Jewish culture isn't monolithic just as Asian culture isn't.
"We're not all these crazy rich Asians," she said.
After the trip, the senior rabbis and leaders of the Japantown and Chinatown centers met at Sherith Israel to watch Jon Osaki's film on the internment and mass incarceration of Japanese people during WWII. Osaki is executive director of the Japanese Community Youth Council.
The Jewish leaders found immediate parallels to their history. They are helping the Asian elders document their own oral histories, like many Holocaust survivors have done to pass down to younger generations. 
JCRC is also showing Asian community groups how to secure grants to help with security in their buildings just as the Jewish community has done since 9/11. 
The two groups are also building long-term strategies to fight hate against Jews and Asians. They are also focusing on issues important to both of them such as immigration and education.
To this day, Gregory is grateful he took out this ad. 
"You never know what a simple gesture of goodwill gets you," he said. "In this case, it was a lot."