Bay Area snow photos: rare winter storm transforms California landscape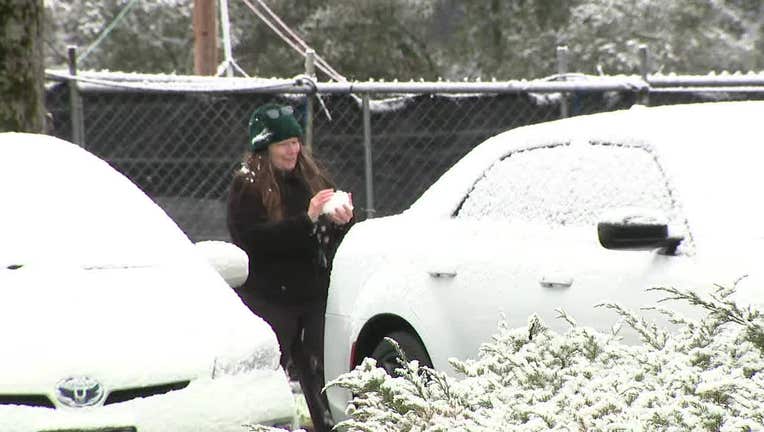 article
The conditions are right across many parts of California to get snow on Thursday and Friday.
Cold air from the Arctic is combining with ocean moisture and will result in snow. The only question is how much will fall. 
It was more than just a fluke dusting. Many areas found snow piling up to six inches.
There had been a chance of snow falling in San Francisco, but that does not to appear to have happened
With such an unusual meteorological moment happening in the Golden State, many people are recording the scene with photos and videos. 
We'd like to see your pictures of the wintry weather. Email KTVUphotos@fox.com and we may use your photos during our newscasts or online.
The possibility of a historic snowstorm in the city reminded many long-time residents of February 5, 1976, when San Francisco and other parts of the Bay Area were blanketed.
Feb. 5, 1976: Kids mess around with snowballs near Lands End in San Francisco. Mt. Tamalpais is covered with snow in the background, during the rare snow day in the Bay Area. (Photo by Clem Albers/San Francisco Chronicle via Getty Images)
From: Getty Images
On Thursday morning, snow was spotted in many areas including Mount Hamilton in San Jose, the peaks of the Santa Cruz mountains and some of the taller hills in San Mateo County. Viewers from as far away as Ukiah in the north and Hollister to the south saw snow too.
But on Friday, the snow was more widespread. Driving through the Santa Cruz mountains looked more like a trip to Lake Tahoe. There was snow in parts of the North Bay and along the East Bay hills like Grizzly Peak in Berkeley.
FRIDAY
Los Gatos
KTVU's Evan Sernoffsky said motorists were using Bear Creek Road in Los Gatos as an alternate to Highway 17, but didn't have much luck. The road was covered with snow and downed trees and wires. Travel along the road proved to be difficult.
Marin Headlands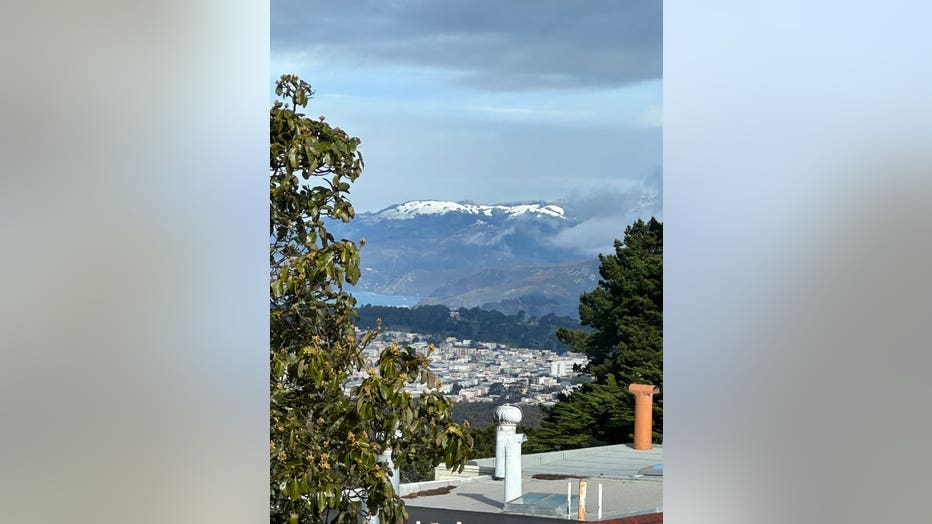 Marin Headlands as seen from the Sunset District in San Francisco on Feb. 24 2023. Photo credit: Sue Adams
Mount Tamalpais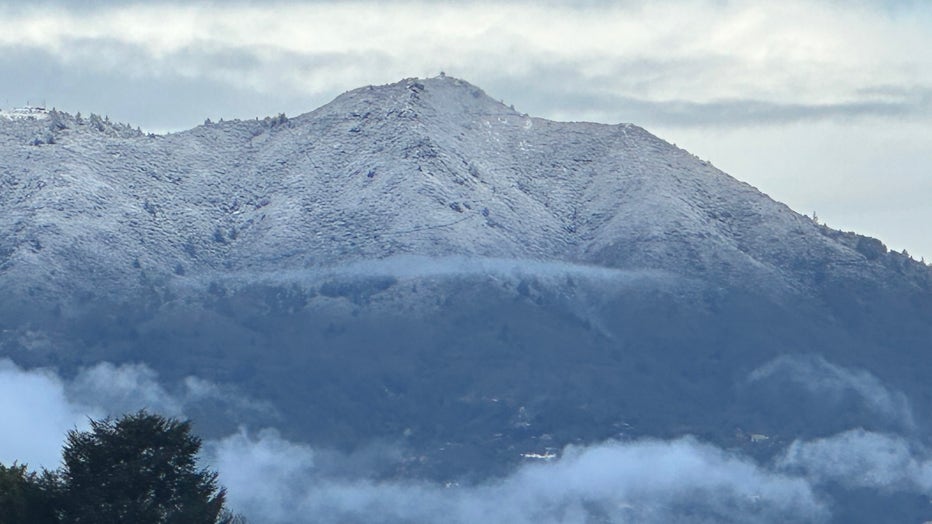 Snow on Mount Tam. Submitted by Steven Johnson
Berkeley hills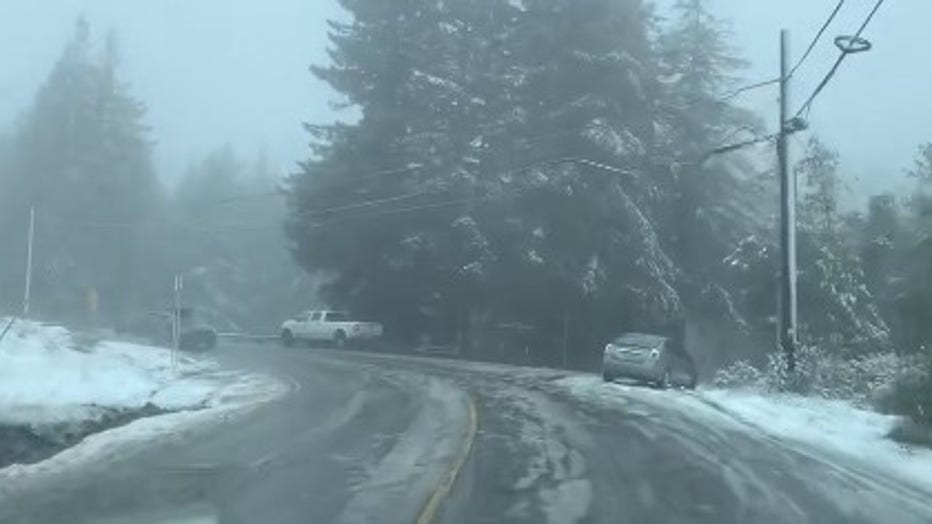 Driving through the hills in Berkeley. Photo credit: Douglas Vaughan
Antioch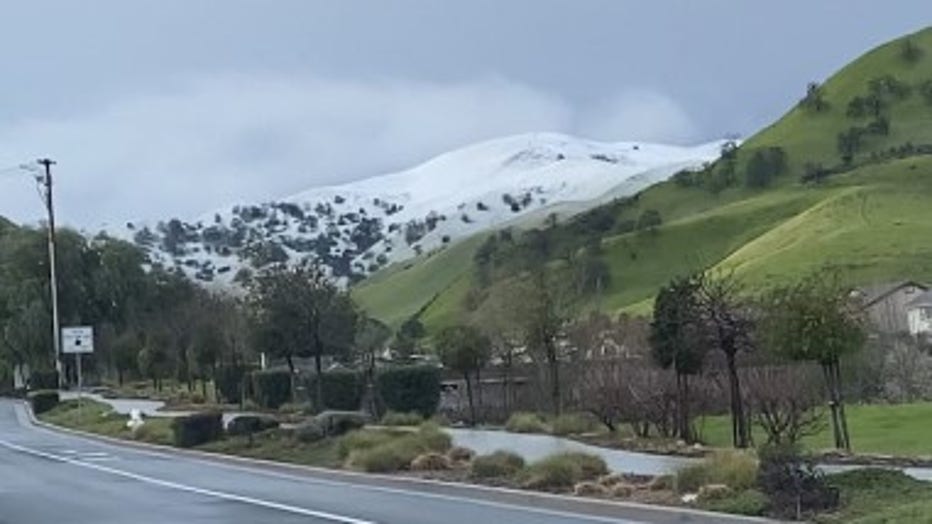 Black Diamond Mines in Antioch on Feb. 24, 2023. Photo credit: Christian C.
Highway 17 in Santa Cruz mountains
Mount Diablo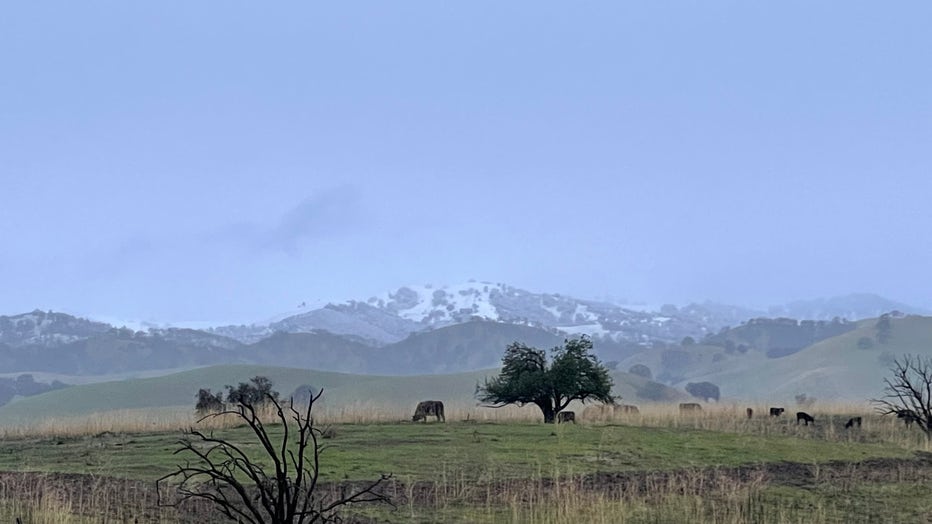 Northern Napa County
Saint Helena Mountain in Calistoga. Photo by Janine Jennings.
Cloverdale
Submitted by Jessica Diaz
Healdsburg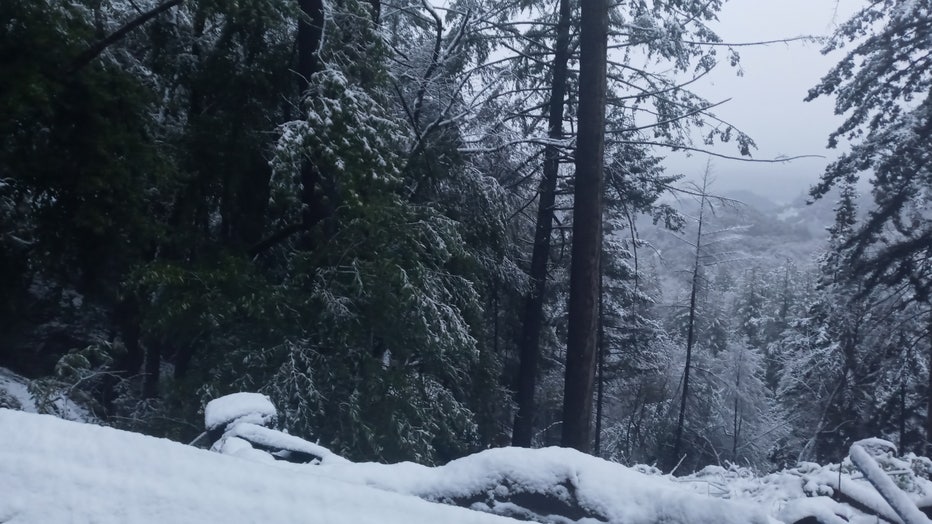 Submitted by Kerry Barnes
Cazadero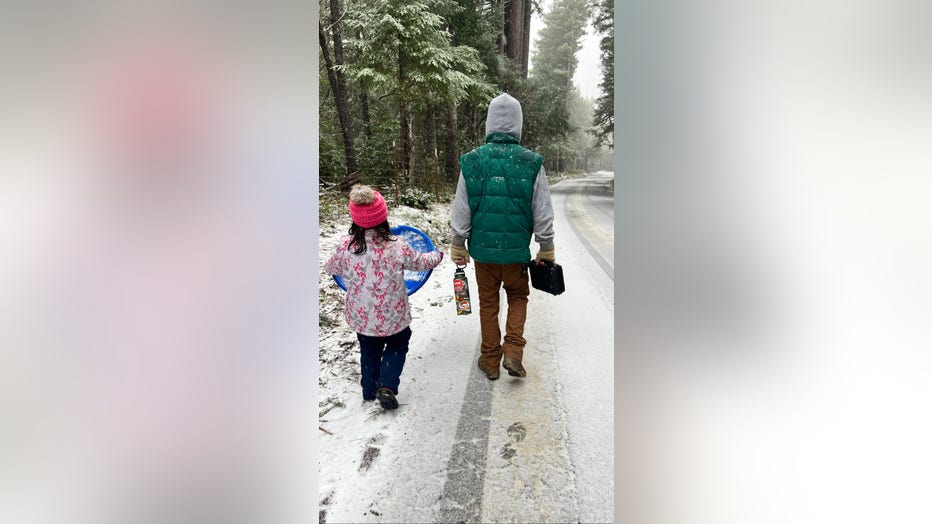 Submitted by Aunalisa Cresswell (KTVU FOX 2)
Daly City
Cupertino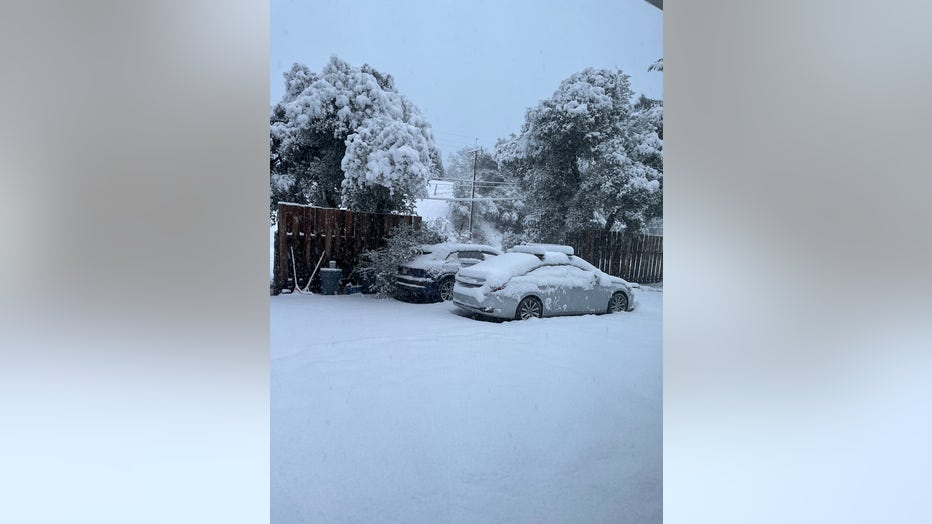 Submitted by Christine Jarvis  (KTVU FOX 2)
THURSDAY
Bay Bridge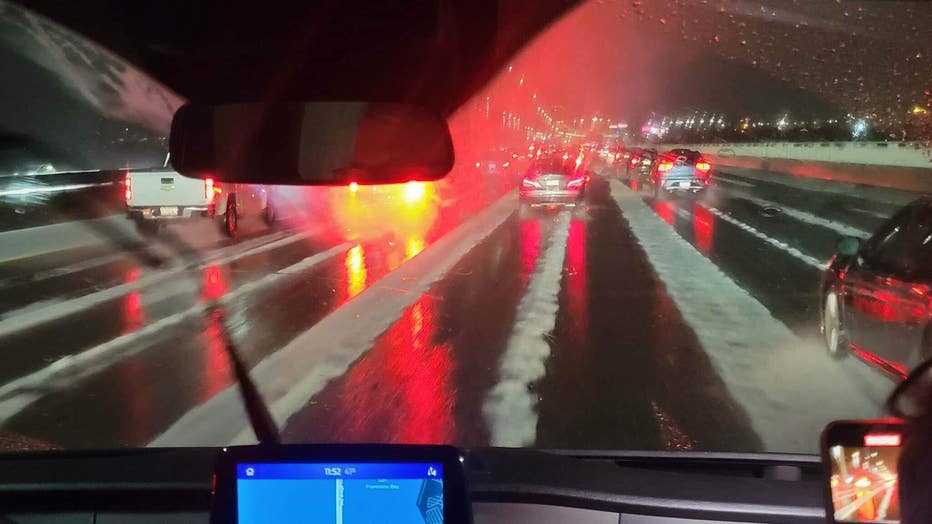 Submitted by Rick Williams (KTVU FOX 2)
Mount Hamilton and South Bay hills
SkyFOX flew near Mount Hamilton and other snow-covered hills in the South Bay on February 23, 2023.
From: KTVU FOX 2
Santa Cruz mountains
Submitted by Karen Eason .
From: KTVU FOX 2
Ukiah
Submitted by Beth Steinkraus
From: KTVU FOX 2
Crescent City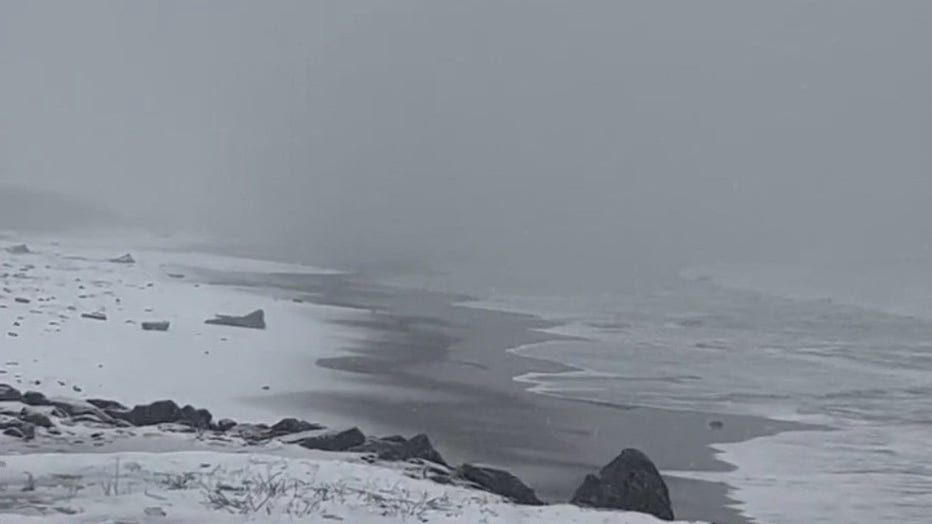 Snow sits on a beach in Crescent City. Photo credit: Storyful
Fremont Peak near Hollister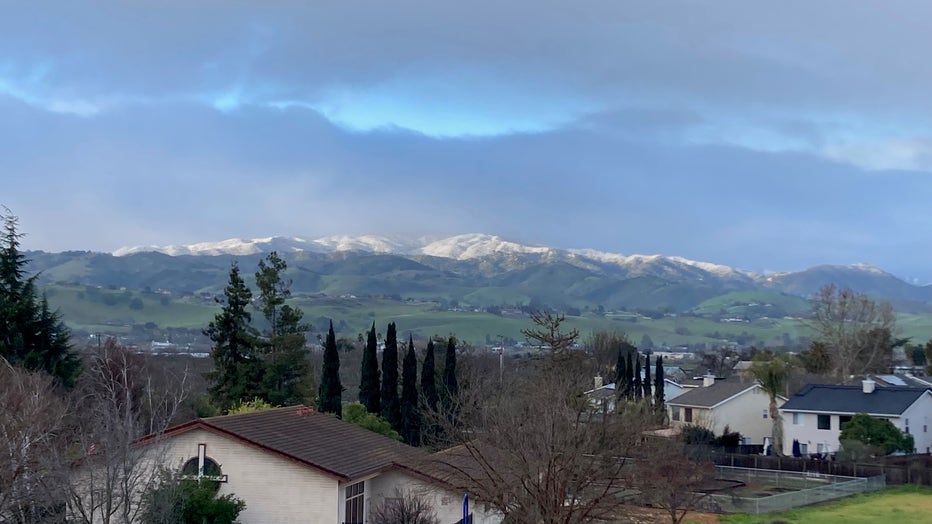 Submitted by Tim Morken (KTVU FOX 2)