Bay Area storm updates: live blog
OAKLAND - Damaging winds and heavy rains hit California on Wednesday night, knocking out power to tens of thousands, causing flash flooding, and contributing to the deaths at least two people, including a toddler whose home was hit by a falling tree in Sonoma County and a 19-year-old driver who hydroplaned in Fairfield.
The storm dumped rain in parts of the San Francisco Bay Area, where the region had been under flood warnings. 
Trees fell throughout the region, including on an apartment building in Oakland, forcing the eviction of five families. 
Powerful winds gusting to 85 mph or more forced the cancelation of more than 70 flights at San Francisco International Airport and knocked off the awning at a Daly City Valero gas station. There was significant damage to piers in Capitola and Seacliff, according to Santa Cruz County officials.
More than 180,000 homes and businesses were without power in California early Thursday, according to poweroutage.us.
Check below for updates about the storm in our live blog.
While several inches of rain are expected in the Bay Area, the Lake Tahoe area may get several feet of snow before the storm blows through.
Damage from the storm quickly surfaced. The I-280 freeway was closed in Millbrae where a fallen tree blocked traffic. In Daly City, a gas station collapsed.
This downpour comes shortly after the Bay Area was inundated by heavy rains around the New Year holiday, giving the area little chance to recover and prepare. San Francisco city officials have said they ran out of sandbags. PG&E was seeking help from other utility companies to make clear fallen trees and make emergency repairs. Late Wednesday night, there were more than 99,000 Bay Area PG&E customers without power and more than 17,000 on the Central Coast.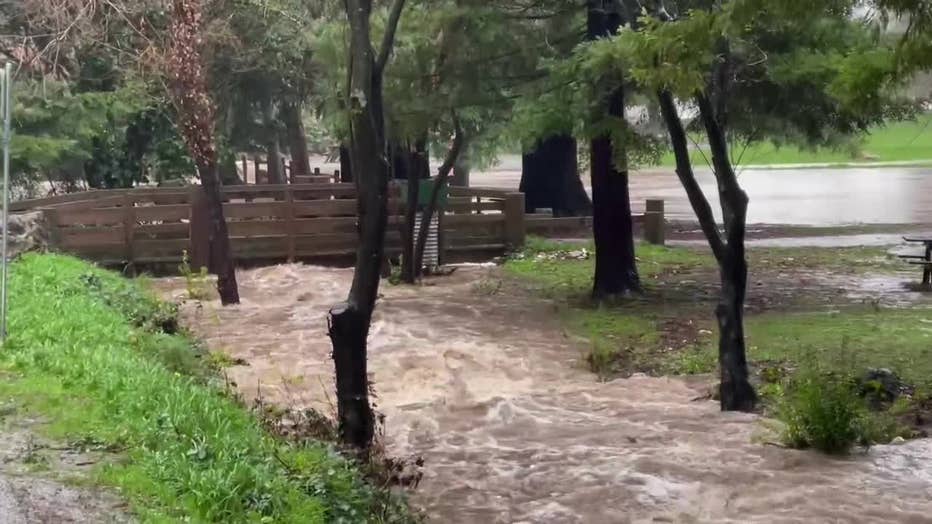 Creek flooding near Temescal regional park, , which is closed because of the storm. Jan. 4, 2023
Some cities and towns have declared emergencies, such as San Jose and Danville. 
Mandatory evacuations were ordered in some problematic areas. San Jose is forcing people to move away from its creeks and streams, which are prone to flooding. These areas are often the site of encampments by people who are homeless. Watsonville also ordered some people to flee.
There are voluntary evacuations for 15 homes at the base of a hill in Point Richmond. Officials fear there may be a mudslide. Residents in some pockets of the Santa Cruz mountains were also told to leave their homes. Alameda County recommended that residents along Niles Canyon Road and other streets in southern parts of the county leave their homes.
If you are on a mobile device and unable to see the blog below, click here.