Bed Bath & Beyond's list of store closings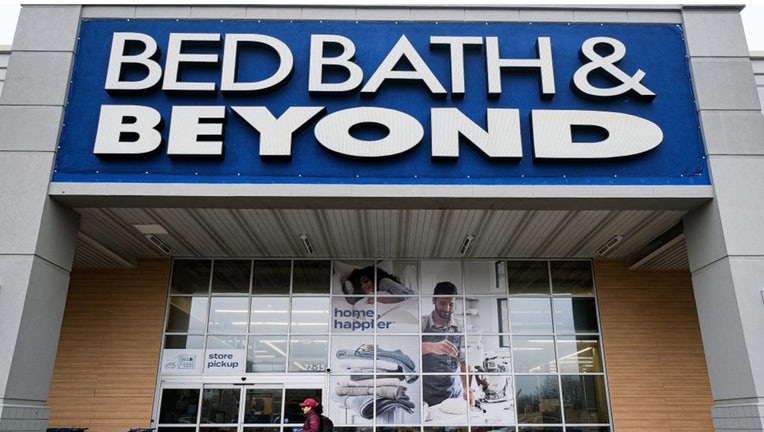 article
Bed Bath & Beyond shares continue to dwindle one day after the home retailer told investors and customers it may not be able to continue operating.  
Its stock, now trading in the $1 range, has lost nearly 90% of its value over the past 12 months. 
On Thursday in a company update, CEO Sue Gove disclosed the mounting challenges. 
BED BATH & BEYOND INTERIM CEO TO STAY IN POST FOR AT LEAST A YEAR - SOURCE
"While the Company continues to pursue actions and steps to improve its cash position and mitigate any potential liquidity shortfall, based on recurring losses and negative cash flow from operations for the nine months ended November 26, 2022, as well as current cash and liquidity projections, the Company has concluded that there is substantial doubt about the Company's ability to continue as a going concern," she said.
In September, the company released a list of 56 stores that will close. At the time, the company was putting together a turnaround plan, which has since fallen flat based on the latest update. 
Inquiries by FOX Business to the company about whether this list would be expanding were not immediately returned. 
Below is the full list of affected store locations by state as of the September update. 
- Phoenix: 34750 N. North Valley Parkway
- Tucson: 5225 South Calle Santa Cruz
- Burbank: 201 East Magnolia Blvd.
- Lakewood: 75 Lakewood Center Mall
- Larkspur: 2601 Larkspur Landing Circle
- Marina: 117 General Stilwell Drive
- Palmdale: 39421 10th Street West
- Redding: 1140 Hilltop Drive
- San Leandro: 15555 East 14th Street, Suite 240
- Santee: 9918 Mission Gorge Road
Connecticut
- Stamford: Ridgeway Shopping Center, 2275 Summer Street
- Waterford: 850 Hartford Turnpike
- Sanford: 111 Towne Center Blvd.
- Sunrise: 12801 W. Sunrise Blvd., Anchor C
- Snellville: Presidential Market Center, 1905 Scenic Hwy Suite 5000
- Suwanee: 2623 Peachtree Pkwy
BED BATH & BEYOND HAD CONCERNS ABOUT CFO'S STRESS LEVEL
- Bourbonnais: 2056 North State Route 50
- Carbondale: University Mall, 1265 E. Main Street
- Fairview Heights: Fairview Center, 6611 N. Illinois
- Gurnee: 6132 Grand Ave., Gurnee Mills Mall
- Joliet: 2850 Plainfield Road
- Schaumburg: 915 East Golf Road
Iowa
- Dubuque: 2475 N.W. Arterial
- Waterloo: 1522 Flammang Drive
Louisiana
- Bossier City: 2900 Meadow Creek Drive
Massachusetts
- Dorchester: 8B Allstate Road, Suite 1
- Milford: 230 Fortune Boulevard
- Seekonk: 35 Highland Avenue
BED BATH & BEYOND APPOINTS INTERIM CFO
- Chesterfield: 50551 Waterside Drive
- Farmington Hills: 31075 Orchard Lake Road
- Northville: Northville Retail Center, 17223 Haggerty Road
- Walker: Green Ridge Square, 3410 Alpine Avenue NW
- White Lake Twp.: 9050 Highland Road
Minnesota
- St. Cloud: 3959 Second Street South
New Jersey
- Flanders: 30 International Drive, Suite 1
- Manalapan: 13 Route 9 South
- Paramus: 34 E Ridgewood Ave
- Farmingdale: 251 Airport Plaza Blvd.
- Middletown: 470 Route 211 East, Suite 3
- Mt. Vernon: 500 East Sandford Blvd.
- New Hartford: 4805 Commercial Drive
- Plattsburgh: 73 Centre Drive, Suite 100
Nevada
- Sparks: 195 Los Altos Pkwy
North Carolina
- Charlotte: The Arboretum, 3413 Pineville-Matthews Road
GET FOX BUSINESS ON THE GO BY CLICKING HERE
Ohio
- Cincinnati: 3681 Stone Creek Blvd.
- Hamilton: Bridgewater Falls, 3451 Princeton Road
- Perrysburg: 10027 Fremont Pike
- Sandusky: 4020 Milan Road Unit# 910
Oregon
- Beaverton: 2780 SW Cedar Hills Blvd.
- Wynnewood: 70 E. Wynnewood Boulevard
Puerto Rico:
- Bayamon Plaza Del Sol, 725 West Main Avenue
Texas
- Port Arthur: Central Mall 3100 Highway 365 Suite 114
- Wichita Falls: 3201 Lawrence Road Suite A
Virginia
- Christiansburg: 135 Shoppers Way NW
- Leesburg: 532 Fort Evans Road
- Lakewood: 5830 Lakewood Towne Center Blvd., S.W.
CLICK HERE TO READ MORE ON FOX BUSINESS
Bed Bath & Beyond said it expects to report net sales of approximately $1.259 billion compared to $1.878 billion from the same time last year, reflecting lower customer traffic and reduced levels of inventory availability.
MARK TEPPER WARNS OF A 'RUDE AWAKENING' FOR THE MARKETS
And it anticipates a net loss of approximately $385.8 million for the third quarter of fiscal year 2022, including impairment charges of approximately $100 million, compared to a net loss of $276.4 million from the same time last year. 
This article, originally published Sept. 15, 2022, has been updated. FOX Business' Lucas Manfredi contributed to this article.