5 officers shot in Benton County, Minnesota; suspect is in custody
GLENDORADO TOWNSHIP, Minn. (FOX 9) - Five officers were shot in Glendorado Township, near Princeton, while executing a search warrant Thursday morning. A 64-year-old suspect has been arrested.
The officers, who are members of the Sherburne County Drug Task Force, went to a house to execute the warrant before shortly after 7 a.m., authorities told FOX 9. While they were there, a man inside — the 64-year-old suspect — opened fire. The officers exchanged gunfire with the suspect, the Benton County Sheriff's Office said. 
According to authorities, five officers were shot — three suffered non-life-threatening gunshot wounds and were taken to North Memorial Health Hospital. Two deputies were shot in their bulletproof vests and taken to the hospital in St. Cloud, but have since been released. The members of the Drug Task Force consisted of three officers from the Sherburne County Sheriff's Office members, an investigator with the Princeton Police Department and the other is an investigator with the Elk River Police Department, the sheriff's office said. 
All the officers' injuries are said to be non-life-threatening. A man who identified himself as the best friend of the first officer who was shot told FOX 9 his friend is out of surgery after being shot twice in the chest and once elsewhere on his body.
The Benton County Sheriff's Office said was assisted by "several" other agencies during the unfolding "critical incident" near the intersection of 190th Avenue Northeast and Glendorado Road Northeast. A woman was also inside the house at the time of the incident and was taken to a medical center, but has since been released. Authorities have not said whether the woman was involved or if she has been arrested. 
The 64-year-old suspect was taken into custody before noon on Thursday. The suspect was airlifted away from the scene, with the sheriff's office noting the suspect was injured during the incident. The cause and extent of his injuries are not known as of this writing. Authorities have not shared what the warrant was for. 
In a statement on X (formerly Twitter), Gov. Tim Walz said, "Today there was a horrific incident in Benton County where five officers were shot. Thankfully no one was killed and the suspect is now in custody. My thoughts are with the officers as they recover, and we're keeping in close touch with the local authorities."
The Minnesota Bureau of Criminal Apprehension will investigate this incident. Special Agent Michelle Frascone said the BCA is processing the scene and reviewing body and squad camera footage of the event. 
Glendorado Township is located in Benton County, about 20 miles east of St. Cloud.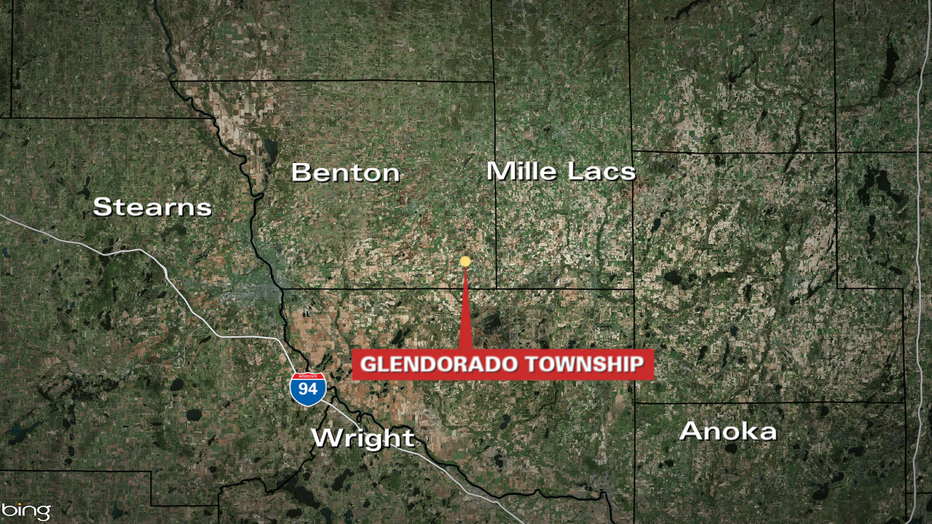 Glendorado Township is about 20 miles east of St. Cloud, in Benton County, Minnesota.