Berkeley police arrest 4 suspects after string of East Bay robberies
BERKELEY, Calif. - Berkeley police arrested four people suspected a string of robberies in the East Bay, including four in Berkeley, two in Oakland and one at UC Berkeley. 
Officer Jessica Perry said those robberies had been reported late Tuesday into early Wednesday in the areas of Dana and Haste, the 2300 block of Blake Street, College and Derby, and the 2400 block of Piedmont Avenue near the south of the Cal campus.
Berkeley police Sgt. Jennifer Coats spotted the suspect vehicle, a stolen Kia Sorento and began chasing the suspects at about midnight.
That chase led them through Berkeley, along Highway 24 and I-880 and ended near High and Carrington streets Oakland, where a witness said the SUV crashed. 
Two men, one woman and one boy were arrested. 
UC Berkeley campus police came to the scene of the arrests to join their city counterparts because one of the robberies happened on Gayley Road near the Greek Theatre on campus. 
The adults in custody are well known to law enforcement. Police did not identify them, but KTVU has learned their identities.
Reginald Florence, 18, was released on his own recognizance two months ago after being charged in a San Leandro auto burglary. 
Another suspect, Allen Foster, 18, has a pending organized-retail theft case for allegedly helping to steal more than $14,000 in jewelry from Macy's at the Stoneridge Mall in Pleasanton. 
Heaven Gulley, 20, is a convicted car thief and had her probation revoked earlier this year after being arrested for evading and another car theft.
Gulley had to be taken to the ground in this latest arrest. Video shows her screaming as officers placed her in a secure wrap before putting her into a patrol car. 
Police said they also recovered evidence and guns.
At least one other robbery connected to the suspects happened in Oakland.
One of the robbery victims happened to be nearby the arrest scene. 
Speaking in Spanish, Osmar Daniel said that he was a victim of one of the robberies.
He was leaving work in Berkeley and was waiting for the bus when he was robbed by two armed gunmen at the bus stop. 
Daniel said the suspects pointed guns at him and stole his gold chain, hat, backpack and phone. 
He said that he's upset because he has never been robbed before. 
After the arrests, police returned his Phone and backpack but he is still missing his gold chain and hat.
Henry Lee is a KTVU crime reporter. E-mail Henry at Henry.Lee@fox.com and follow him on Twitter @henrykleeKTVU and www.facebook.com/henrykleefan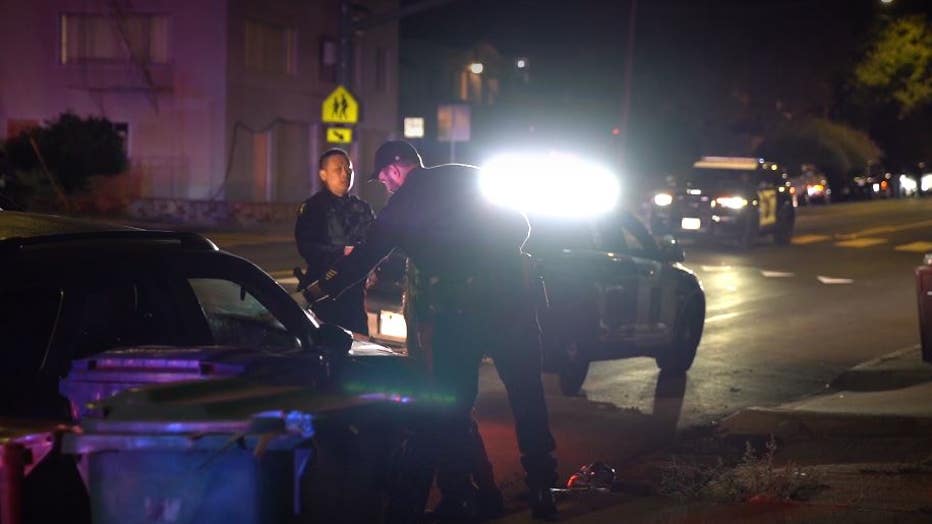 Berkeley police arrest a woman and three juveniles on suspicion of several robbery. Sept. 26, 2023