Berkeley school board president, wife hospitalized with critical injuries after being struck by car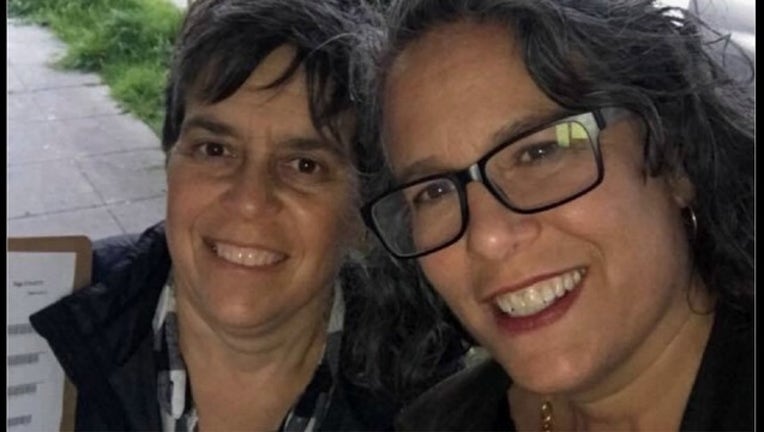 article
BERKELEY, Calif. (KTVU) - The president of the Berkeley School Board and her wife are in the hospital with critical injuries after being struck by a car as they walked across a street near their home over the weekend.
School Board President Judy Appel, 53, and her wife Alison Bernstein, 54, were crossing Martin Luther King Jr. Way near Stuart Street in South Berkeley shortly after midnight Saturday morning when an 81-year-old driver traveling north, crashed into the women, according to police.
The driver remained at the scene and is cooperating with investigators, officers said. 
Police said the investigation is ongoing and have not released any additional information on the case. 
On Monday, the Berkeley Unified School District released a statement saying it is deeply distressed over the news of the accident.
"We will be offering whatever support and assistance we can to the Appel-Bernstein family and we will provide updates when appropriate," the statement said. "School Board Vice President Beatriz Leyva-Cutler will preside over board meetings while President Appel recovers. Meanwhile, we ask the community to join with us in our hopes and prayers for their recovery."
Appel has been on the Berkeley Unified School Board board since 2012. Last year, she ran for the District 15 State Assembly seat, currently held by Buffy Wicks. According to her campaign website, she has long been an advocate of restorative justice programs, championed for social justice policies, and along with her wife have been "at the center of the fight for equality for the LGBTQ community."
Bernstein is an attorney with the Habeas Corpus Resource Center in San Francisco. Prior to that, she worked at the state public defender's office. She also previously served as a commissioner with the Berkeley Police Review Commission, according to a GoFundMe page set up to help the family with medical expenses.
The couple has been wed in several ceremonies, according to Appel's campaign website. "...for the first time in 1996 in a private ceremony," the website said, and "again in 2004, when San Francisco Mayor Gavin Newsom performed marriages on the steps of City Hall and finally, in 2013, during the Proposition 8 window."
 
Appel and Bernstein have two children and a large community of supporters behind them -- supporters who are calling for prayers and healing thoughts in the wake of the accident.
On Sunday, Rep. Barbara Lee (D-Oakland) expressed her sadness, saying she was "heartbroken" by the news and sent wishes for a quick recovery. 
The couple's friend Mark Coplan took to Facebook to share his love and support for Appel and Bernstein. "Prayers are all we can do right now," Coplan wrote, "but all of your friends are out there waiting... So that we can help in whatever small way when the time comes. You have a village."