Betty Reid Soskin, Kamala Harris honored as Glamour 'Women of the Year'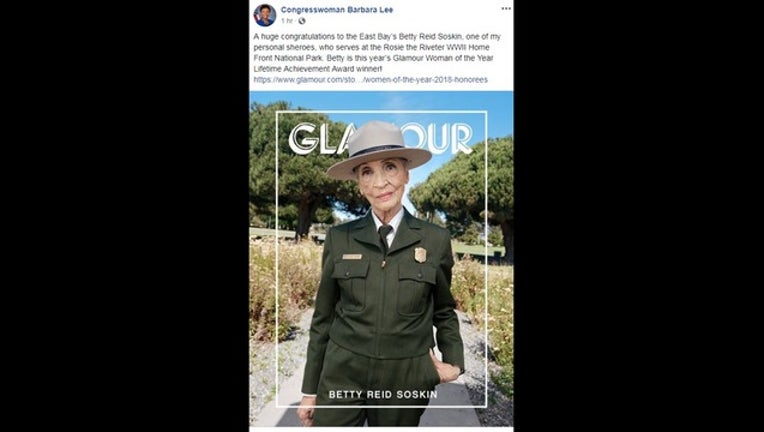 article
OAKLAND, Calif. (KTVU) - Glamour magazine's annual 'Women of the Year Award' issue was released this week. Among the honorees are two bold Bay Area women: Betty Reid Soskin and Senator Kamala Harris. 
You may remember Soskin for making headlines a few years back. In 2016, the nonagenarian National Park Service ranger was attacked in a brutal home-invasion robbery in Richmond, but really, it's Soskin's backstory that makes her spectacular. 
Soskin, now 97, continues to work at the Rosie the Riveter WWII Home Front National Park. The magazine has given her the Lifetime Achievement Award. They explain when planning meetings for the park were underway, it was clear her story as an African-American woman was being left out. She did not sit silently, spoke up and is "unabashed" about delivering a more complete version of American history to the park's 60,000-plus visitors annually.
Glamour features the oldest career NPS ranger in a stunning portrait by photographer Shaniqwa Jarvis. Jarvis posted her work on Instagram, describing how she loved the assignment.
"She wears her park ranger uniform everywhere so every girl of color knows there are many things you can be," Jarvis wrote.     
The magazine has been celebrating women with the awards since 1990. They explain part of their criteria as: "a woman that refuses to wait for someone else to make things better." 
Congresswoman Barbara Lee posted on her Facebook page about both Bay Area women honored. She called Soskin her "personal shero." 
The representative from Oakland called Sen. Harris her "sister in the struggle" and commended her for being on the frontlines, fighting for "peace and justice." 
"Senator Kamala Harris came to Washington to do the work and gave women nationwide a voice inside the room where it happens," the magazine wrote. 
The class of 2018 is particularly diverse. 
Other honorees include; Viola Davis, the women who collectively took down Larry Nassar for their voices of courage, and female student activists like Emma Gonzalez who survived Florida's Parkland shooting and helped organize the 'March for Our Lives.'