Blue Jays hit 3 homers, power past Athletics 7-1 in Oakland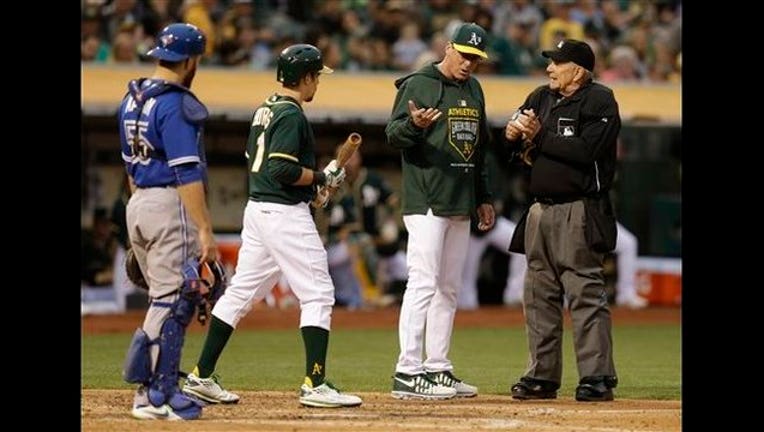 article
OAKLAND, Calif. — Josh Donaldson began the day reminiscing about his former team and ended it by talking about the talented teammates on his current club.
Russell Martin, Jose Bautista and Edwin Encarnacion homered to power the Toronto Blue Jays past the Athletics 7-1 on Tuesday night in Donaldson's return to Oakland.
Donaldson doubled twice and drove in a run after starting 0 for 3.
"I have my teammates doing their thing, which made it easier for me," the All-Star third baseman said. "They're dangerous and they're just good hitters. You look at our lineup and you go one through nine and you go, 'Where's the out at?'"
Martin hit a three-run shot to chase former Blue Jays right-hander Kendall Graveman (6-6) in the sixth. Bautista and Encarnacion both connected for a solo shot.
Mark Buehrle (11-5) allowed one run and eight hits in seven innings. The left-hander struck out three and walked none as the Blue Jays improved to 3-1 since the All-Star break.
Buehrle has given up two earned runs or fewer in nine straight starts.
But the game belonged to Donaldson, a former fan favorite at the Coliseum who has blossomed into one of baseball's best players. The A's surprisingly sent Donaldson to Toronto last November for Graveman, third baseman Brett Lawrie, lefty Sean Nolin and minor league shortstop Franklin Barreto.
Blue Jays manager John Gibbons said Donaldson was amped up and motivated as soon as the team arrived in the Bay Area.
"Donaldson said to me last night on the bus, he said, 'This is my town.' I looked outside and I said, 'I'm glad it's yours not mine,'" Gibbons said.
Donaldson admitted he had some nerves. He was cheered during pregame introductions and pulled the bill of his batting helmet down to acknowledge the crowd when he was announced at the plate in the first inning.
"I've really never been put in that position before, so it was kind of a new experience," he said. "But I'm very grateful."
Encarnacion hit his 19th homer leading off the second, and Bautista connected on the first pitch he saw in the sixth. Graveman then walked the next two batters before Martin hit a drive to left for his 13th homer.
Bautista became the third player in franchise history to hit 20 home runs in at least six straight seasons, joining Joe Carter (7) and Carlos Delgado (9).
Graveman, who made five relief appearances with Toronto last September, gave up six hits and walked three in 5 1-3 innings.
"I didn't make pitches," he said. "When I made mistakes, they hit it. I have to be better with my location."

Read more here: http://www.tri-cityherald.com/2015/07/21/3661050/blue-jays-hit-3-homers-power-past.html#storylink=cpy