Booed no more, Warriors owner relishing NBA Finals berth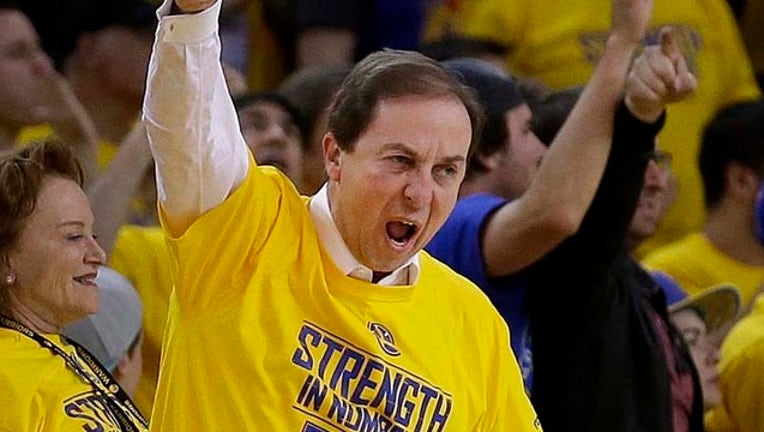 article
OAKLAND, Calif. (AP) -- Wearing a black NBA Finals cap and white team T-shirt, Golden State Warriors owner Joe Lacob waved to a cheering crowd at Oracle Arena as confetti fell all around.
Lacob, booed off the same floor three years ago, couldn't help but smile. In fewer than five years as owner, Lacob has led the franchise to a place it hasn't been since 1975: the NBA Finals.
"I don't know if vindication's the right word. I just feel really happy that we were able to deliver for our fans on a lot of promises," Lacob said. "I know there were a lot of promises early on, a little bravado. But a lot of that was just goal setting for an organization to turn it around.
"I know not a lot of people understand that, but that's what you have to do. You have to provide a sense of leadership, provide a sense of what we're trying to do and we're not going to quit until we get it."
The Warriors will host LeBron James and the Cleveland Cavaliers in Game 1 next Thursday. The only sure thing is that Lacob will be parked right where he always is: front and center at his courtside seat, in the middle of the madness, showing his emotions on national TV like any other fan.
Lacob has the Warriors four wins way from the ultimate goal.
For most of the last four decades, it felt like they would never get this close.
The lack of success is why Lacob felt compelled to make bold predictions and shake things up when he and Peter Guber, the CEO of Mandalay Entertainment Group, bought the team from unpopular owner Chris Cohan in 2010 for a then-NBA record $450 million. Lacob, a Silicon Valley venture capitalist, figured he could build up the franchise the same way he had other businesses: by investing smartly and hiring the right people.
But it didn't always go smoothly.
Many fans felt wronged by Lacob's desire to move the team from Oakland across the bay to San Francisco -- and some still do. He would constantly make promises the team would get better and became the public face of a franchise that didn't have an identity.
After a season and a half of losing, fans battered Lacob with boos during Hall of Famer Chris Mullin's jersey retirement ceremony. That took place just days after the team traded fan favorite Monta Ellis for center Andrew Bogut, who was out for the season with a fractured left ankle but has become the anchor of Golden State's defense since.
"It's one of the hardest things I've ever been involved in," Lacob said. "No one can understand except for my fiancee coming home at night all the things we went through in the early years."
Lacob recalled the 2011 NBA lockout, a sexual harassment lawsuit a former employee filed against Ellis and the team (which ended in an undisclosed settlement) and a tiebreaking coin flip Golden State won over Toronto that helped the Warriors stay slotted at No. 7 in the 2012 draft, when they selected core players Harrison Barnes, Draymond Green and Festus Ezeli.
Lacob always believed if he put money into the franchise -- which wasn't the case under Cohan -- and surrounded himself with smarter minds than him that things would turn around.
And they did.
He hired Mark Jackson, a former NBA point guard and broadcaster for ESPN/ABC who made the Warriors one of the league's best defensive teams. He attracted sports agent Bob Myers, the NBA Executive of the Year, as his general manager. He added Hall of Fame player and respected executive Jerry West as an adviser and named Rick Welts team president.
But Lacob made arguably his most questionable decision last May when he fired Jackson, who was coming off a 51-win season and back-to-back playoff appearances. Many players, most notably Stephen Curry, this season's NBA MVP, had publicly backed Jackson and continued to do so after his dismissal.
Lacob listened to his front-office advisers and together they lured the hottest coaching candidate on the market, Steve Kerr, away from the New York Knicks. And just about everything has gone right since -- a franchise-record 67 wins and three mostly stress-free rounds through the Western Conference playoffs.
"I'm an optimist, so it's not that I'm overconfident or arrogant or anything, I'm just an optimist. I did think within five years we could do this," Lacob said. "You've got to be a little lucky, I admit that, but we're right on track. We're right where we want to be."