Border Patrol seizes $900K in meth disguised as candy, food
HIDALGO, Texas - More than 100 pounds of methamphetamines were seized at the U.S.-Mexico border after authorities found the drugs disguised as candy and hidden in canned food.
According to U.S. Customs and Border Protection, officers at the Hidalgo International Bridge in Hidalgo, Texas, inspected a white Mercedes transport van arriving from Mexico on April 20 and found 110 packages of candy wrappers with about 13 pounds of crystal methamphetamine inside. They also found 12 containers of canned foods filled with nearly 90 pounds of liquid methamphetamine. Investigators said the drugs have a street value of more than $900,000. 
CBP agents seized the drugs and vehicle. Authorities didn't say whether any arrests were made.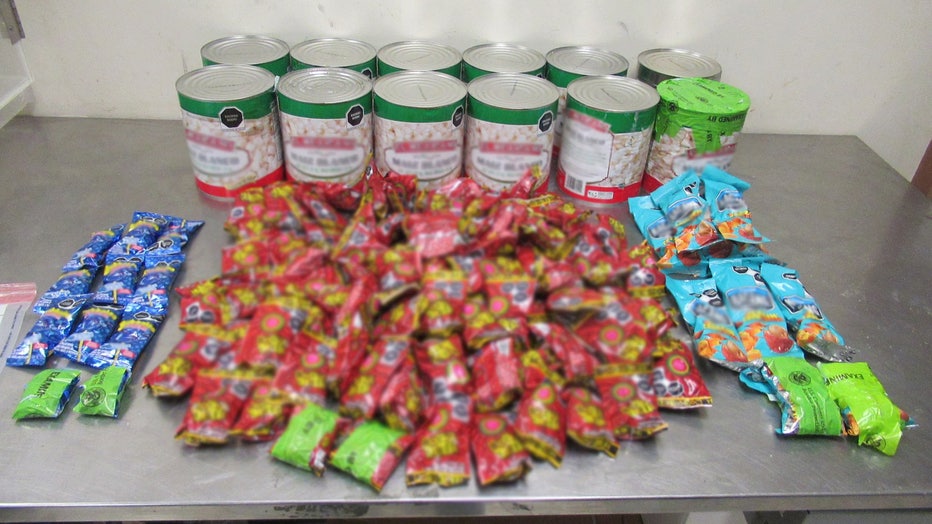 Canned food and candies seized by CBP officers at Hidalgo International Bridge contained $919,000 worth of methamphetamine. (CBP)
Drug seizures at the U.S.-Mexico border were up 6% in February compared to January, according to a CBP report released in March. Fentanyl seizures specifically were up 58%.
READ MORE: $35.2 million in meth seized by CBP officers from truck hauling strawberry purée
In January, CBP agents in San Diego found more than $4 million worth of cocaine concealed within a shipment of decorative stones. And in August of last year, agents in Arizona seized enough fentanyl to kill 42 million people.
The Associated Press contributed to this report.