5-year-old disabled boy suffers life-threatening burns in Santa Rosa fire
SANTA ROSA, Calif. - A severely disabled 5-year-old boy was left with critical, life-threatening burns after an apartment fire broke out in Santa Rosa on Saturday.
Fire officials said the 5-year-old, Deangelo Hill, was rescued from the second floor of a two-story apartment building on 801 Dutton Ave. after first reports of the fire came in around 6 p.m. Saturday.
A neighbor told KTVU he was alerted to the fire when he took out his garbage, and an 8-year-old boy ran out of the home screaming that a bedroom was on fire and Hill was trapped inside. 
"I panicked and didn't know what to do," George, a neighbor, said. "The first thing I did was punch my fist through the fire extinguisher and handed to it the other neighbor." 
George said the other neighbor tried to run into the house but said the smoke was too thick. 
Firefighters arrived within four minutes of the call coming in and went to rescue Hill. 
According to his family, Hill is unable to walk or talk and requires oxygen.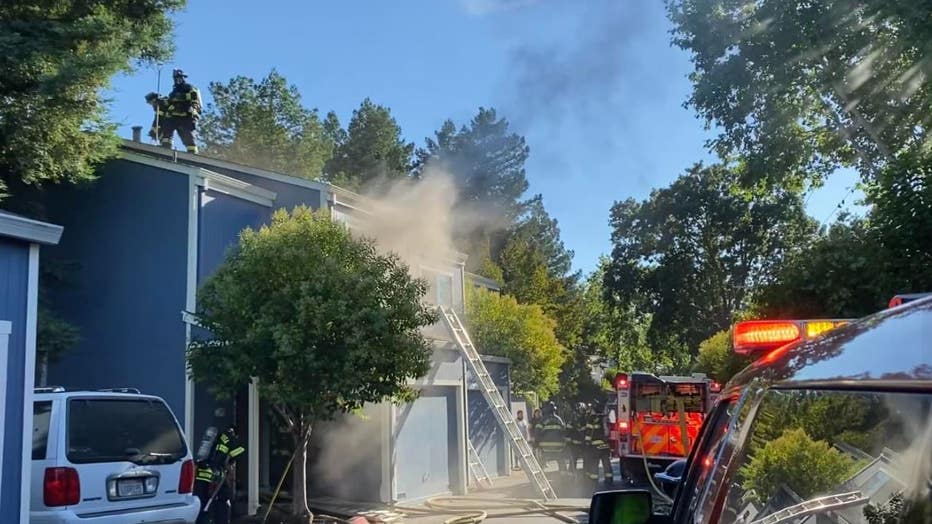 An apartment fire left a young boy with critical, life-threatening burns Saturday, Santa Rosa fire officials said.
Hill was taken to a trauma center where he is being treated for severe burn injuries, according to his family. 
Firefighters were initially told by residents that another adult was trapped in the apartment, but crews did not find any additional victims.  
The fire was controlled in about 30 minutes, with damage being limited to the bedroom where it started. Other parts of the apartment building suffered from heat and smoke damage. 
ALSO: Fallen tree injures 6 people at Santa Rosa park
Total damages are estimated to be around $100,000, firefighters said.
The cause of the fire is still under investigation.
Hill's family has set up a GoFundMe to help pay for medical expenses. Donations can be made here.