Brother of Penngrove murder victim talks about sister and suspects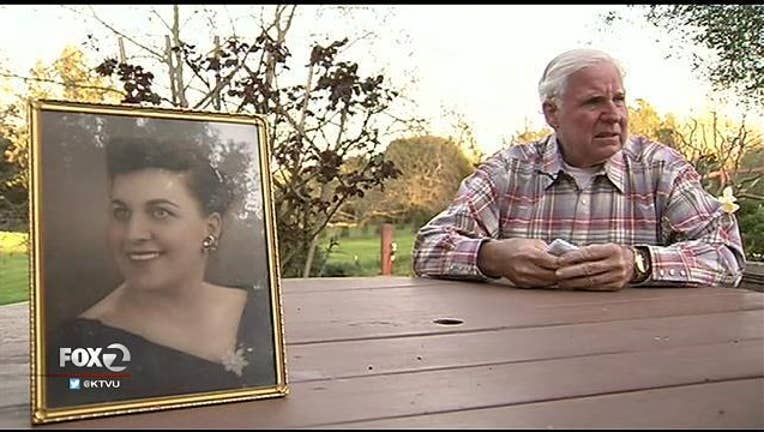 PENNGROVE, Calif (KTVU) - Penngrove is about a block long, and everybody knows everybody.
But Larry Dinelli is mystified about what brought three alleged murder suspects down his dead-end road, and brought his sister's life to a violent end. .
"I'm so glad they're caught, put those bastards in jail, " he told KTVU on the porch of the farmhouse where 84 year old Olga Dinelli was found last Thursday.
"They should have killed all three of them," he said of the trio of suspects, two in custody, and one killed in a desert shootout with law enforcement on Saturday.
"That's my feeling, get rid of them," Dinelli said grimly.
Dinelli said he does not recognize the names of those involved, and has no idea what connection they would have to the ranch he and his sister shared.
"There was no reason to shoot her," he said, wiping away tears. "It doesn't make sense, the whole thing doesn't make sense, there was nothing here, no reason to kill somebody."
And describing Olga: "My sister was a saint. You couldn't ask for a better woman."
Olga Dinelli's touch is everywhere on this peaceful ten acre property: the gardens, the pastures, the neatly tended chicken coops converted to storage units.
"We all wonder is anyone safe anymore," Annie Lore, who rents barn space told KTVU. "There was nobody who would say good riddance to Olga. We all loved her."
Dinelli's tidy kitchen is still dusty with fingerprint powder from the investigation. Upstairs, bedrooms were ransacked.
"There was no money, maybe a couple hundred dollars," said Larry Dinelli, "I still don't understand why they would choose this place of all places."
Just steps from his dining room, Dinelli was found dead, tied to a chair. As painful as it is to be here, her brother can't be anywhere else.
"I can't walk away, the place is trashed," he said, tearfully. "I just can't stand seeing it trashed. It was a nice clean house, spotless."
He describes Olga as a homebody, who enjoyed going out for church and shopping.
"She had a beautiful heart, she was kind and gentle, and still vibrant and healthy, " observed her grieving brother, who was away from the house, visiting friends in Santa Rosa when his sister was killed.
"These guys ought to be put away forever, there's no doubt in my mind," Larry concluded, "they don't belong on this earth. But nothing's going to bring Olga back, that's the thing."