Brother of Syrian boy injured in Aleppo dies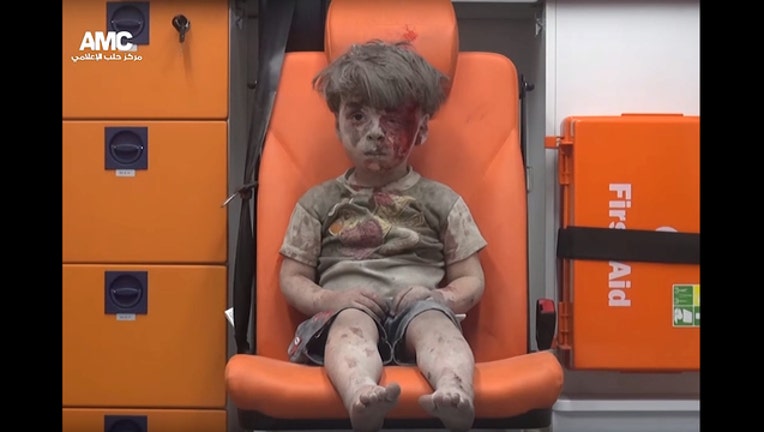 article
BEIRUT (AP) - The brother of a wounded Syrian boy who gained international attention has died three days after suffering serious injuries in an air raid on the northern Syrian city of Aleppo, opposition activists said Sunday.

The Britain-based Syrian Observatory for Human Rights and Aleppo-based activist Baraa al-Halaby said that Ali Daqneesh, 10, died on Saturday from wounds sustained in the same airstrike on a rebel-held neighborhood in Aleppo.

Syrian activists released haunting footage showing Ali's brother Omran Daqneesh, 5, rescued from a partially destroyed building in the aftermath of the airstrike late Wednesday. Omran was treated and later discharged.

The Halab Today opposition TV station posted a photo of Ali in a hospital with a tube coming out of his mouth, saying he later died from his wounds.

Omran was rescued along with his three siblings and his parents from the rubble of their partially destroyed apartment building, according to photojournalist Mahmoud Raslan, who took the memorable photo. The building collapsed about an hour after the family was rescued.

On Sunday, Raslan said Ali was wounded by a collapsing wall.

A man who said he was the doctor who treated Ali, told The Aleppo Media Center, an activist collective, that the boy suffered chest wounds, broken ribs and internal injuries. Doctors performed surgery on the boy's stomach and found damage to his liver and kidney.

"His general conditions were bad," said the man wearing a surgical mask who identified himself as Abu Rasoul in a video released by the Aleppo Media Center. "His heart stopped three times, we resurrected him three times but with deep regret he died in the end."

The activists reported fresh air raids on Aleppo and its suburbs on Sunday, inflicting casualties.

The Observatory said the death toll of an air raid on the northern village of Orem on Saturday rose to least 25 people including three children and four women. The Aleppo Media Center said the airstrike killed at least 16.