Budweiser announces birth of 4 new Clydesdales — here's how you can meet them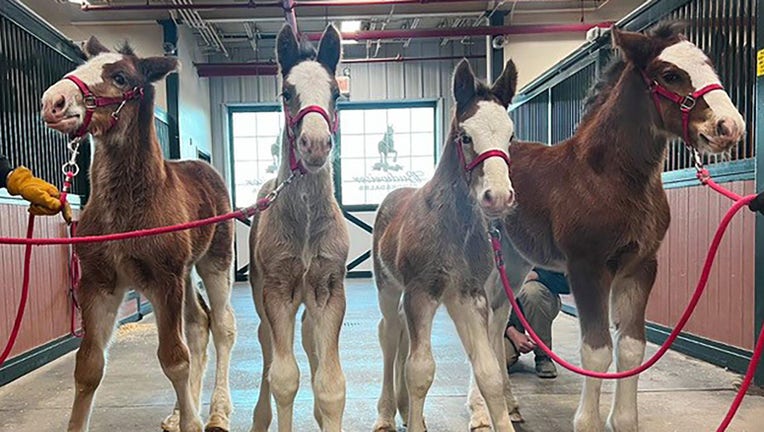 article
ST. LOUIS - Anheuser-Busch this week announced four new Budweiser Clydesdale foals have been added to the herd, and they're hosting a Super Bowl watch party at the breeding and training facility in Missouri.
The four colts, Barron, Sergeant, Stinger and Razor, were born recently on the Warm Springs Ranch property, a 300-plus-acre facility for the Budweiser Clydesdales in Boonville, Missouri — located about 150 miles west of St. Louis. 
In a statement, caretakers at the ranch said the new colts have been "enjoying the brisk winter weather as they explore the grounds of their mid-Missouri home."
To celebrate, Warm Springs Ranch is hosting a "Football and Foals" watch party on Sunday for the Super Bowl when Patrick Mahomes and the Kansas City Chiefs face Jalen Hurts and the Philadelphia Eagles. Kickoff is at 6:30 p.m. ET on FOX. 
Guests can see the big game on four large televisions in the barn at the ranch, while also being able to take photos with the world-famous Budweiser Clydesdales and be the first to meet the new foals. 
Tickets cost $100 and include appetizers, dinner, two 16-ounce beers, and photo opportunities with the Clydesdales.
When born, Clydesdale foals stand about 3 feet tall, weigh roughly 150 pounds, and can walk within hours of being born, according to the ranch. Adult Clydesdales are usually about 18 hands (6 feet) tall at their withers and weigh around 2,000 pounds. They eat up to 20 quarts of grain and 50 pounds of hay and drink up to 35 gallons of water every day. 
Clydesdales must go through years of training before becoming eligible to join one of the three traveling teams, or hitches, the company said.
"The road ahead for these four foals is going to be incredible," Amy Trout, herd supervisor at Warm Springs Ranch, said in a statement. "Now is your chance to meet these little guys before they grow up and become famous!"
Warm Springs Ranch, established in 2008, is a breeding farm for the Budweiser Clydesdales and features a mare/stallion and foaling barn, veterinary lab, and 10 pastures, each with a customized, walk-in shelter. 
The facility is home to more than 70 Clydesdales ranging from foals to stallions.
Warm Springs Ranch offers tours to visitors but is normally closed between January and mid-March. 
RELATED: Advance Auto Parts giving away free gas for a year to 25 fans during Super Bowl — how to enter
This story was reported from Cincinnati.