Building owner blames master tenant for problems at Oakland fire site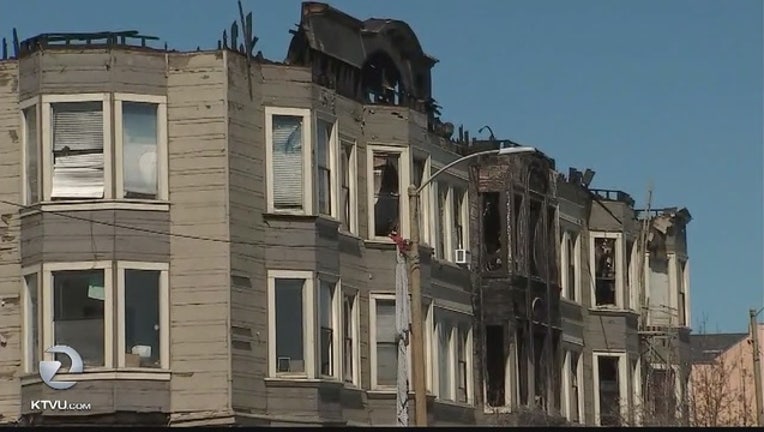 article
OAKLAND (BCN)— The owner of a West Oakland apartment building where four people were killed in a four-alarm fire last week said today that the building's master tenant was to blame for the unsafe conditions there.
   
Keith Kim, the owner of the three-story property at 2551 San Pablo Ave., in a statement released by the public relations firm Singer Associates,  said "trouble began" when Urojas Community Services took over the building several years ago.
   
The statement said Kim, who has owned the building for about 25 years but has been unavailable for comment since the fire, began eviction proceedings in 2016 "after he discovered Urojas had failed to pay its East Bay Municipal Utility District water bill for three years and had allowed the living conditions to deteriorate."
   
Urojas runs transitional housing and social service programs.
   
The statement said Kim "had worked to broker a deal with the city of Oakland and Alameda County and other non-profits to remove and replace
Urojas Community Services (which was responsible for all maintenance and upkeep of the building) and its leader, Pastor Jasper Lowery, but Lowery reneged on the agreement.
   
The statement by Singer Associates said, "It is important to note that Mr. Kim was only evicting Urojas and Pastor Lowery from managing the building. The action was not against the tenants, whom he and the city and county desired to remain in place.
   
"We were trying to protect the residents and improve the management of the building by removing Urojas as its manager and operator," he said.
   
The building housed between 80 and 100 residents and most of the survivors remain displaced.
   
Oakland officials said the fire has been deemed accidental and was caused by a candle.
   
Only three days before the fire an Oakland Fire Department inspector visited the site and found 11 safety problems, according to city records.
   
In a report after his visit to the building on March 24, Fire Inspector David Davis ordered that the building's property manager, Monsa Nitoto, immediately certify and service the building's fire alarm and sprinkler systems.
   
Davis also said the building's management should provide other basic fire safety equipment, such as fire extinguishers, smoke detectors, emergency lighting, exit signs and evacuation maps.
   
Additionally, the inspector also found that extension cords were being used in place of electrical outlets throughout the building and ordered that they be removed.
   
Davis furthermore said mattresses on the Mead Avenue side of the building should be removed and furniture needed to be removed from an interior courtyard.
   
Davis also said that the building management needed to obtain building permits for any construction within the interior courtyard and repair a large breach or hole in the ceiling of the corridor on the Mead Avenue side of the building.
   
The apartment building also had a history of code violations, according to city records.
   
On March 2, Urojas Community Services asked city officials to inspect the building alleging that there was deferred maintenance. Oakland city officials verified the violation, according to city records.
   
Urojas Community Services' attorney, James Cook, wasn't immediately available for comment on Kim's statement.
   
According to the statement, Kim has "expressed his family's deep sorrow and mourning for the four people who lost their lives."
Kim said, "We are in shock at this tragedy. We grieve for the four lives lost and for the residents, family and friends who are impacted by the tragedy."
   
Kim has helped the family of one of the people who died in the fire by paying for that person's funeral expenses, according to the statement.
   
Kim has owned the building "because he wanted to help make a difference and provide affordable housing," the statement said.