Bullpen implodes as Athletics lose to Red Sox 7-4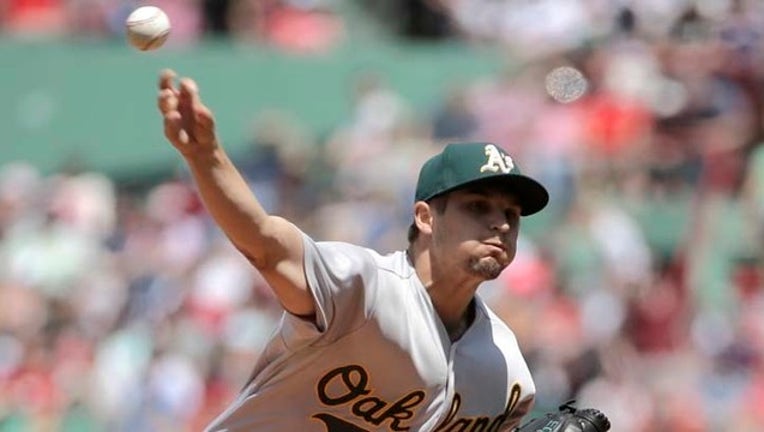 article
BOSTON (AP) — Oakland manager Bob Melvin had no reason to expect his solid relievers to blow a three-run lead.
That's what Evan Scribner and Tyler Clippard did by allowing six runs while retiring just one batter in the eighth inning as the Boston Red Sox rallied for seven runs overall and a 7-4 win Sunday.
"The way our bullpen, Scribner and Clippard, has been pitching, you feel like you're in a good position," Melvin said.
Scribner hadn't allowed a run in his last six outings covering eight innings. Clippard earned the save in his previous five appearances while giving up just one earned run in four innings.
But after Rusney Castillo chased Kendall Graveman with a leadoff homer in the eighth, Scribner allowed hits to all four batters he faced. Clippard (0-3) gave up four hits, including the go-ahead, two-run double by Xander Bogaerts, after striking out his first batter.
"It's been frustrating. We've had a lot of signs of good baseball. We just haven't pieced it all together yet," Clippard said after the A's followed a three-game sweep of Detroit by losing three straight to Boston. "Any loss is tough, especially when you have a four-run lead heading into the eighth."
The Red Sox got eight hits in the comeback before ambidextrous Pat Venditte, Oakland's fifth pitcher of the inning, got the last out.
Steven Wright (3-2) pitched 3 1-3 innings of shutout relief for the win. Tommy Layne threw a perfect ninth for his first save.
Graveman took a 4-0 lead into the eighth inning, allowing five hits. Then Castillo led off with his first homer of the year.
The Red Sox kept rallying on Hanley Ramirez's RBI single and David Ortiz's sacrifice fly. Bogaerts doubled off the Green Monster before Alejandro De Aza and Castillo added RBI singles.
"Wow, seven runs in one inning," Bogaerts said. "A lot of people talk about our offense. This is the kind of offense we can be right there."
Boston began the day five games under .500 with the third fewest runs in the AL.
"I think the way in which we won this one has a chance or an opportunity to have as big an impact as the win itself," manager John Farrell said.
Mark Canha and Josh Reddick each had three hits for Oakland.
Clay Buchholz allowed four runs and 10 hits — five doubles — in 4 2-3 innings for Boston. He was coming off a solid stretch of four starts when he posted a 1.47 ERA despite going 1-2.
The Athletics scored three times in the second. Canha had an RBI double, Reddick scored on a wild pitch and Eric Sogard added a run-scoring single.
The A's made it 4-0 in the fourth on Josh Phegley's RBI double before leaving the bases loaded.
NICE EFFORT RUINED
Graveman retired 13 straight batters before allowing Castillo's homer. He gave up six hits, struck out six and walked two. He has a 2-0 record with a 2.55 ERA in four starts since being recalled from Triple-A on May 23. His ERA on the road dropped to 1.98 with the solid outing.
STILL STREAKING
For Oakland, Billy Burns extended his hitting streak to 12 games, Phegley pushed his to five and Canha increased his to four.
TRAINER'S ROOM
Athletics: 3B Brett Lawrie was in the lineup after not starting Saturday to rest his back. On Friday, his broken bat struck a fan and she was seriously injured.
UP NEXT
Athletics: RHP Sonny Gray (7-2, 1.65 ERA) is scheduled to face Texas RHP Nick Martinez (4-2, 2.89) when they open a three-game homestand on Tuesday. Gray currently owns the best ERA in the majors.
Red Sox: LHP Eduardo Rodriguez (2-0, 0.61 ERA) looks to continue his dazzling beginning in the big leagues in his third start when Boston opens a three-game series against his former organization in Baltimore on Tuesday. RHP Miguel Gonzalez (5-4, 3.54) is slated to start for the Orioles.