Burger Boogaloo 2015 Sunday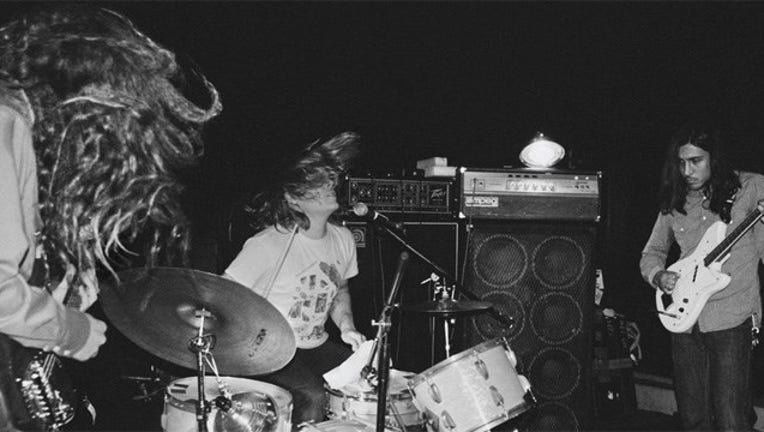 Now in it's sixth year, the annual Burger Boogaloo festival brings a host of great garage-rock bands to Oakland's Mosswood Park this July 4th Weekend for two full days of unhinged punk mayhem hosted by iconic film director John Waters. A partnership between SoCal imprint Burger Records and Bay Area rock promoters Total Trash Productions, Burger Boogaloo has established itself as one of the premiere underground rock festivals in the country on par with Goner Records' yearly Gonerfest and the Boogaloo's Southern California counterpart, Burgerama. While the music is central to the two-day event, Burger Boogaloo also features vendors selling records, clothes and guitar gear in addition to an array of food options.
This year marks the first time Burger Boogaloo has brought in a marque host in pencil-moustached director and revered trash-culture expert John Waters. Expelled from NYU where he was studying film in the 1960s, Waters rose to notoriety thanks to his string of '70s campy midnight movies including Pink Flamingos, Female Trouble and Desperate Living. Making up what the director termed his "Trash Trilogy," the films shredded the boundaries of conventional propriety and movie censorship with outrageous dialog and action as well as establishing drag queen Divine (Waters' friend from his Baltimore, Maryland childhood and muse, Harris Glenn Milstead) as an actor and cult figure.  
Waters would eventually go on to more mainstream success with his later films like Hairspray (which inspired the Broadway musical and movie adaptation), the Johnny Depp film Cry-Baby and the scathing satire Serial Mom, but he has remained an icon of trash culture between his b-movie appearances, books and This Filthy World is a one-man stage show exploring his artistic origins. More recently, Waters has explored visual arts with mixed media and manipulated photo exhibits that he admittedly (and laughingly) hopes people will despise. 
The line-up for the second day of this year's explosion of unbridled garage-rock madness is topped by several more modern favorites with the Black Lips, onetime local garage wunderkind Ty Segall's proto psych/metal band Fuzz and trashy duo the King Khan & BBQ Show. Founded in 1999 in a small suburban Georgia town by teen friends Cole Alexander and Jared Swilley (the two were kicked out of high school during their senior year for crude antics), the Black Lips originally made a name for themselves with outrageous onstage behavior that included nudity, bodily fluids and fireworks.
However, as members gradually mastered their instruments, the group started crafting a compelling style of blues-tinged, ferociously fuzzed-out punk with an ear for memorable melodies. The band's eponymous 2003 debut for Bomp! Records showcased their raw, careening garage-rock attack, a sound they would refine and expand on celebrated subsequent efforts like Good Bad Not Evil and the Mark Ronson produced Arabia Mountain.
Yet another one of formerly SF-based psych/garage rock hero Ty Segall's many projects, Fuzz first came together in 2011 when Segall and regular collaborator Charlie Moothart decided to explore their mutual love for the heavier, proto-metal end of the psychedelic rock spectrum. With Segall playing drums and singing and Moothart handling guitar (Chad Ubovich was the original bassist, later replaced by Roland Cosio), the power trio started out releasing a couple of singles thick with corrosive distortion and -- in the case of the b-side to their debut 7-inch, "Fuzz's Fourth Dream" -- a wicked breakbeat begging to be sampled.
In 2013, band issued a couple of acclaimed recordings: the second edition in the Live in San Francisco EP series put out by Thee Oh Sees leader John Dwyer's Castle Face imprint and their proper self-titled debut LP for In the Red recorded by noted engineer Chris Woodhouse. Packed full of droning menace, alternately lumbering and galloping rhythms and howling guitar solos, the album effectively channels the psychedelic six-string meltdowns of SF's own proto-metal pioneers Blue Cheer, British deviants the Pink Fairies and early Grand Funk Railroad. 
The King Khan & BBQ Show came together in 2002 when former members of '90s Montreal-based garage-rock band Spacesh-ts Mark Sultan and Arish Ahmad Khan (better known by his aliases Blacksnake and King Khan) met up in Khan's adopted Berlin home to create their feral mix of doo-wop and punk. With Sultan bashing out primitive drum rhythms with a foot-pedal setup while simultaneously playing guitar and Khan handling vocals and lead guitar, the pair developed a reputation its deranged, beer-soaked stage shows.
They released their self-titled debut for Goner Records in 2004 to rave reviews (it has since been reissued twice) and maintained a grueling tour schedule that gradually elevated the band from playing dive bars to headlining major rock clubs. While Khan would split his focus between the duo and his psychedelic soul revue King Khan and the Shrines as the decade progressed, the duo continued to rise in popularity with its follow-up In The Red recordings What's for Dinner? and Invisible Girl. Earlier this year, the pair issued Bad News Boys, their first new album in six years.
Sunday's line-up closes out the festival with another blazing bill including SoCal punks Audacity, pioneering member of the Modern Lovers and beloved local institution Jonathan Richman, Brooklyn-based freak rockers Zulus, tuneful Portland, OR surf outfit Guantanamo Baywatch, SF-via-Texas trash poppers Apache and many more. For information and tickets, visit to the Burger Boogaloo website.

Burger Boogaloo 2015
Saturday-Sunday, July 4-5, 12 p.m. $39-$99
Mosswood Park