Burned out van, filled with marijuana, left in residential Santa Rosa street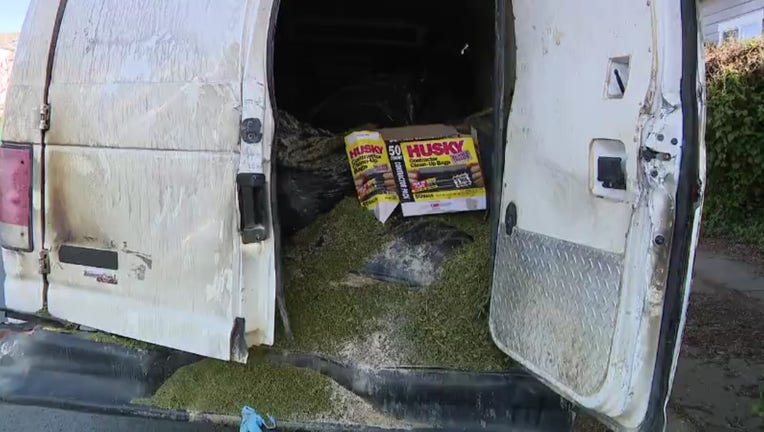 article
SANTA ROSA, Calif. - Concerned and confused, residents of a Santa Rosa neighborhood have a lot of questions about a burned out van that ended up parked on their street, filled with butane-steeped marijuana. 
On March 14, there was an explosion and fire that erupted from the van, triggering emergency calls to the southbound Highway 101 on-ramp from 3rd Street.
SEE ALSO: 1 dead, 1 injured in warehouse party shooting, Santa Rosa police say
Fire and police responded. Firefighters put out the flames, and inside the vehicle, police discovered "several 55 gallon bags full of marijuana 'shake' soaked in butane," fire officials said.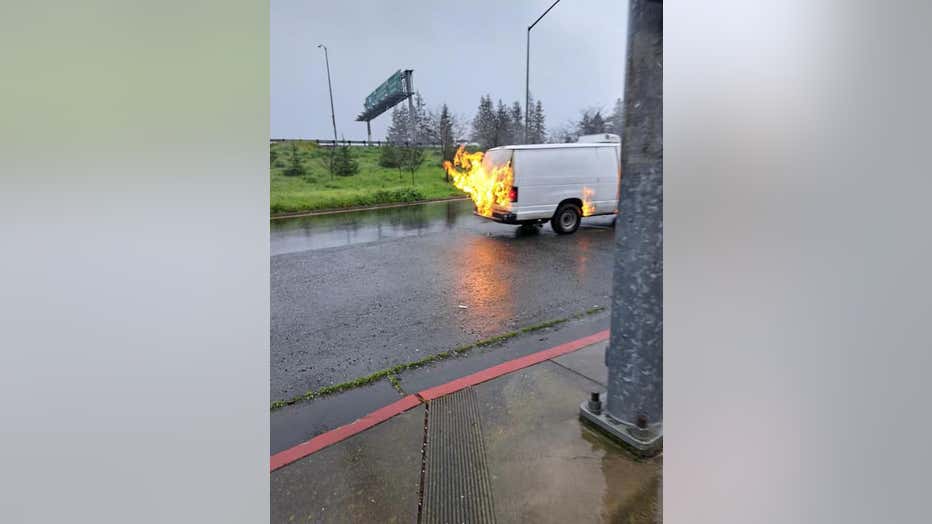 Santa Rosa fire and police crews responded to a van fire and explosion off Highway 101 on Tuesday, March 14, 2023.  (Santa Rosa Fire Dept. )
The driver of the van suffered burns and was taken to a hospital for treatment. Police said that their preliminary investigation revealed that the driver had lit a cigarette in the van, which triggered the accidental explosion and fire. 
Last week, residents near Boyd Street and Briar Bush Way, less than a mile away from the van fire, noticed the vehicle parked in their neighborhood.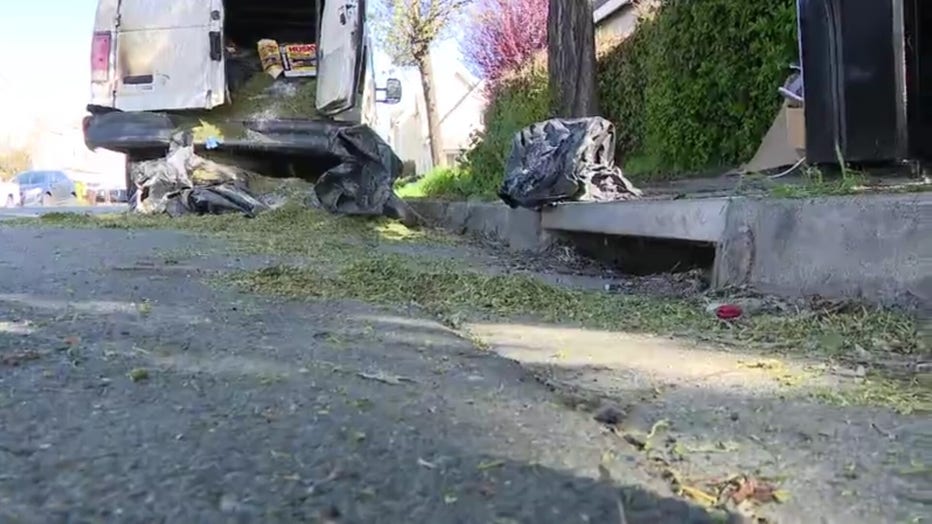 This photo taken on Monday, March 27, 2023, showed a burned out van filled with marijuana parked near Boyd Street and Briar Bush Way in Santa Rosa, Calif.
On Monday, KTVU visited the location and found the parked van there with the back doors open and marijuana overflowing out of ruptured garbage bags, some spilling onto the street. 
The vehicle was tagged with a bright red sign that read "NOTICE OF INTENT TO ABATE" from the city of Santa Rosa. The notice was dated Sunday and in the notes, it read, "marijuana in van/previously burned."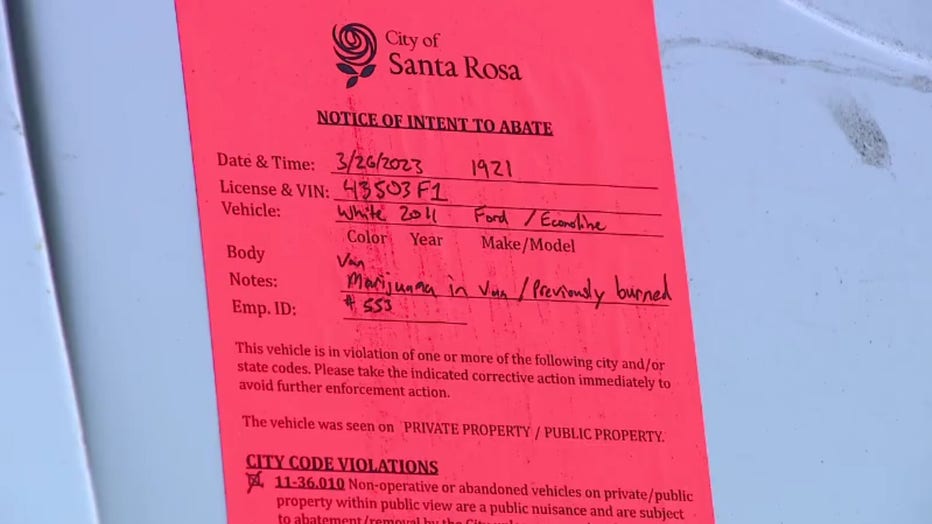 "Notice of intent to abate" from the city of Santa Rosa was placed on the van and dated Sunday, March 26, 2023. 
Neighbors we spoke with said that the vehicle had been there for several days and said that there was no evidence that it was being monitored by police. 
In an email to KTVU, resident David Fabbrini said that the vehicle had been at the location for at least three days and that police were not responding to his calls to report the van at the location. 
"The question we have is how did this vehicle even get released back to the owner from the previous incident?" Fabbrini asked. 
KTVU reached out to police who said that someone was likely able to retrieve the van after it had been impounded and left the vehicle at that location. They said officers have attempted to contact the van's owner without any success, which led to the city tagging the vehicle.  
Police said the tagged van was expected to be towed back into impound within 72 hours. 
As for the driver of the van, investigators said he has since been released from the hospital and that he was not facing any criminal charges.