Bus catches fire on southbound I-280 near Portola Valley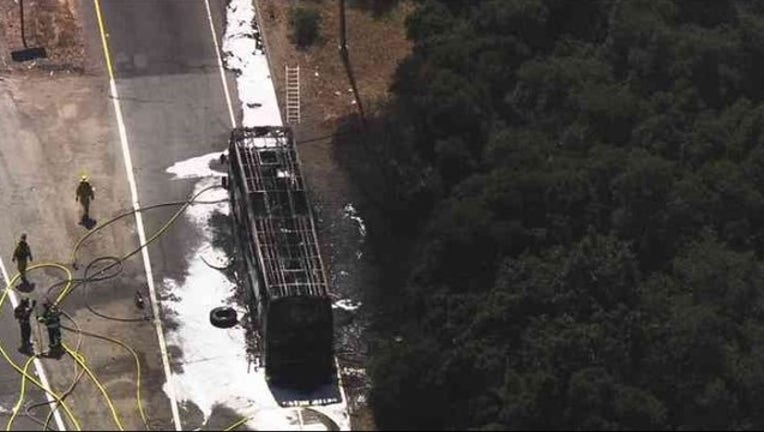 SAN MATEO COUNTY, Calif. (KTVU) - No one was seriously injured after a commuter bus for Apple became engulfed in flames Wednesday morning on Interstate Highway 280 near Portola Valley, according to the California Highway Patrol.
The bus driver pulled over onto the Alpine Road off-ramp from southbound Highway 280 immediately after noticing the flames at about 10:30 a.m. He was able to leave the bus and no other occupants were on board.
Woodside Fire Protection District Chief Rob Lindner said the fire was likely caused by a tire blowout, which led to a tire rim or axle hitting the road and creating sparks.
VIDEO: SkyFOX flew over the scene late Tuesday morning.
The flames then jumped to dry vegetation on the side of southbound Highway 280 about a quarter-mile before the driver noticed the flames and pulled over.
Firefighters from Woodside, Menlo Park, Redwood City and Palo Alto responded to the scene, in addition to the San Mateo County Sheriff's Office and the CHP.
The two fires were under control in about 30 minutes. Cal Fire officials said shortly after noon that forward progress of the fire had been stopped, and shared photos on social media of the burned skeleton of the bus.
The bus is a total loss and will be removed from the scene by a tow truck. Lindner said the bus driver sustained minor hand injuries but refused treatment at the scene.