Bush joins unwieldy race as new phase of GOP campaign begins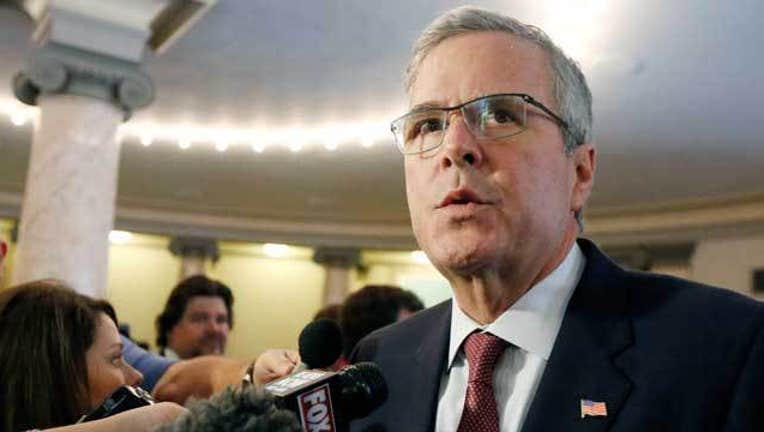 article
WASHINGTON (AP) — Jeb Bush stepped into the Republican race for president on Thursday, finally taking his place — after months of hints and relentless fundraising — amid an unwieldy field of GOP candidates unlike any in recent memory.
The son of one president and brother of another, the former Florida governor has the rank of front-runner and the donors to match. He now has eight months before the first votes are cast in the Iowa caucuses to prove he's worthy of both.
"It's as wide-open a race as we've seen in a long time," said Republican strategist Kevin Madden, who described Bush as the "technical front-runner" in a field that stands at 11 major declared candidates.
Among them: former Texas Gov. Rick Perry, who returned Thursday to presidential politics four years after his 2012 presidential bid ended in disaster, vowing during his own campaign kickoff to "end an era of failed leadership."
While both men were widely expected to enter the race, which got its unofficial start when Bush said in December he was exploring whether to seek the Republican nomination, the confirmation from aides that Bush will indeed run is nonetheless a defining moment for the GOP.
The son of George H.W. Bush and younger brother of George W. Bush, he is a favorite of the Republican establishment, the experienced and well-connected party faithful who have showered the 62-year-old with money, staffing talent and encouragement in recent months.
His decision ensures the possibility of a general election showdown between two political dynasties as Hillary Rodham Clinton seeks the Democratic nomination.
Senior aides confirmed that Bush, who left the Florida governor's mansion in 2007, will enter the race June 15 during an event at Miami Dade College. They spoke on condition of anonymity so as not to take the edge off his formal announcement.
"I want to be the guy to beat," a confident Bush said while campaigning in Florida earlier this week.
The GOP contest now features candidates of different generations, races and genders, whose policy prescriptions are far from monolithic and whose personalities often clash. There are more to come: four sitting governors — Wisconsin's Scott Walker and New Jersey's Chris Christie, among them — are likely to join the race before the GOP's first presidential debate in August.
"Everyone is bunched together in the polls, and no one candidate in particular has emerged as a clear leader in the early state contests," Madden said.
Perry opened his campaign in a fight for relevancy among the many Republicans trying to knock Bush from his front-runner position. Despite his record as Texas' longest-serving governor, Perry may struggle to reach the polling threshold that will decide the 10 candidates who will take part in the party's first debate on Aug. 6.
He announced his candidacy in a humid airport hangar alongside a C-130 cargo plane, like one he flew for the Air Force, and wasted little time in trying to distinguish himself from the swarm of Republican contenders not named Bush.
"Leadership is not a speech on the Senate floor," he declared in an apparent swipe at the four Republican senators in the race: Marco Rubio of Florida, Rand Paul of Florida, Ted Cruz of Texas and Lindsey Graham of South Carolina. "It's not what you say. It's what you do."
Madden, who previously worked for Mitt Romney, predicted that Bush's entry would prompt "more obvious head-to-head engagements among the candidates" as they jockey for position.
Eight current and former governors could ultimately be in the race, along with five current and former senators, a former neurosurgeon and two business executives.
The only woman in the Republican field, Carly Fiorina, has never held elected office, yet the former technology executive appears to be gaining momentum as she campaigns across early voting states including New Hampshire and South Carolina. There are two Hispanic candidates — Cruz and Rubio — while Bush is married to a Mexican native and speaks fluent Spanish.
Perhaps more than any of his rivals, Bush has refused so far to bend to his party's conservative base, sticking to unpopular positions on illegal immigration and education testing standards. And he regularly proclaims loyalty and love for his brother, George W. Bush, whom he lists as a trusted adviser.
"Jeb Bush has a good record as a conservative governor, but Common Core and immigration are two huge obstacles he is going to have to overcome," said Amy Kremer, past president of the Tea Party Express. "It will be interesting to see if he listens to the American people or doubles down on his positions. He has fierce competition."