Butler's 3-run homer helps A's beat Astros 8-1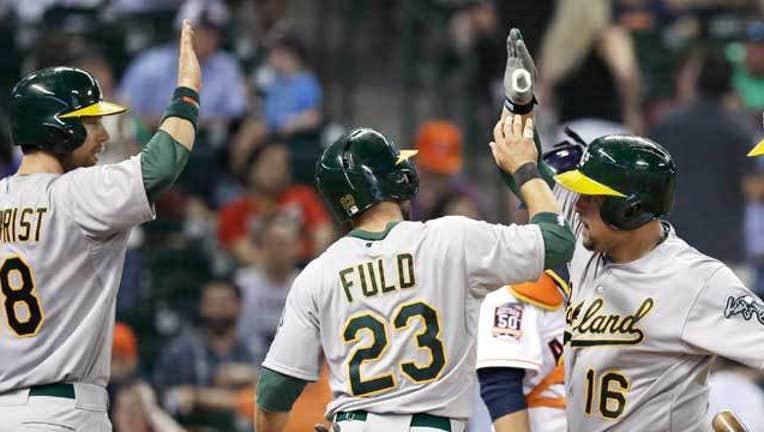 article
HOUSTON (AP) — Billy Butler hit a three-run homer and Marcus Semien and Brett Lawrie connected to back a solid start by Scott Kazmir and give the Oakland Athletics a 8-1 win over the Houston Astros on Monday night.
Kazmir (2-0) allowed three hits and one run while striking out eight in six innings.
The Athletics scored three runs in the first inning before Lawrie's solo shot in second made it 4-0. Semien added a one-run homer in the fifth inning before Butler's first home run this season pushed it to 8-1 later in the inning.
Butler has hit safely in each game this season and has the only eight-game hitting streak in the American League.
Jose Altuve had three hits of Houston's five hits, including a solo home run in the fourth inning.
Houston starter Scott Feldman (0-2) yielded 10 hits and eight runs — seven earned — in five innings for the loss.
He was replaced by Asher Wojciechowski, who was scheduled to start Tuesday night, for the sixth inning. Wojciechowski gave up two hits in four scoreless innings.
The A's got things going early when leadoff batter Sam Fuld reached on an error by Jonathan Villar. Mark Canha followed with an RBI double and reached third on another error by Villar. Canha has hit safely in each of the first six games of his career.
A double by Ben Zobrist, who finished with three hits, scored Canha before a one-out RBI single by Ike Davis made it 3-0. Feldman finally escaped the inning when Stephen Vogt grounded into a double play.
Lawrie sent the first pitch of the second inning over the wall in center field to extend the lead to 4-0.
Kazmir was perfect through the first three innings but Altuve homered to start the fourth. Kazmir walked consecutive batters after that, but Chris Carter grounded into a double play before he retired Evan Gattis to limit the damage.
Semien's homer to the Crawford Boxes start the fifth inning made it 5-1. Butler's home run came with one out in the inning to push Oakland's advantage to 8-1.
The Astros had a chance to cut the lead in the sixth inning when they had runners on first and second with two outs, but Gattis struck out to end the inning. Gattis got his first hit since a homer on Sept. 6 with a single to start Houston's ninth. That hit snapped an 0-for-37 skid with 17 strikeouts, including an 0 for 23 slump with 13 Ks this season.
TRAINER'S ROOM
Athletics: The A's are close to being done with a cold bug that has been making its way across the team since the start of the season. The illness even hit manager Bob Melvin who said on Monday that it was the first day he'd felt good in about 10 days. He added that reliever Fernando Abad was still dealing with the issue.
Astros: Houston starter Brett Oberholtzer, who opened the season on the disabled list with a blister on his left index finger, played long toss on Monday without a bandage on his finger for the first time since he was injured. Right-hander Brad Peacock (hip surgery) is scheduled to start for Triple-A Fresno on Tuesday night in his second rehabilitation start.
UP NEXT
Athletics: Oakland right-hander Kendall Graveman will look to bounce back in his second start after struggling in a loss in his major league debut on Thursday. He allowed seven hits and eight runs in 3 1-3 innings to become the fourth pitcher in Oakland history to allow eight or more runs in his debut with the team.
Astros: The Astros will have to find a new starter for Tuesday after Wojciechowski pitched in relief on Monday night.