Calif. AG won't release police records despite court ruling, gets into testy exchange with senator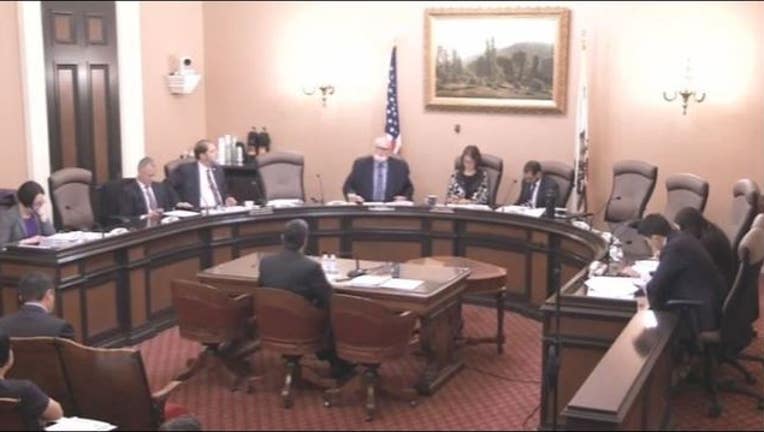 article
SACRAMENTO, Calif. (KTVU) - California Attorney General Xavier Becerra said Thursday that he won't release older records on state law enforcement agents' misconduct despite a recently released appeals court ruling that they are public documents.
His surprising decision prompted sharp criticism from First Amendment groups, newspaper editorial boards and state Sen. Nancy Skinner, (D-Berkeley) who authored last year's police transparency law, SB 1421. The law, which took effect on Jan. 1, requires law enforcement agencies to publicly release records on police shootings and officer misconduct, such as being dishonest and having inappropriate sex with a member of the public.
Interactive map: Who is releasing police personnel records and who is not
In a testy exchange, Becerra asked the Senate Budget Committee for $477,000 to handle the records requests, which often require a lot of research to find and collate, as well as video-editing software to redact out witnesses. 
Skinner quipped:  "It's hard to see why you need additional funding and positions when you're not releasing records." 
Skinner said Becerra's stance is actually costing California money. "Your decision not to release the records has resulted in the state being sued. So we are now being sued because we did not uphold our own law," she said.
Skinner added: "As our enforcer of state law, why is it that you are not enforcing our state law? It's like an elective decision as to which of our laws you will enforce and which you won't."
On March 29, the 1st District Court of Appeal ruled that these police records be released throughout the state of California after several police unions sued, arguing they shouldn't have to release records retroactively, meaning before the law went into effect. But the court ruled that the unions' arguments are "without merit" and the intention of the law was to make public all records, despite when they were created. 
But Becerra said he doesn't see the appellate court ruling as binding. He filed a counter motion and said he interpreted the ruling to mean that the judges "merely lifted a stay on a lower court decision that supported releasing the records," but isn't a ruling on the merits.
He said he'd be happy to release the records "as soon as we have an official decision on the merits, we'll be prepared to act based on that official decision."  He has long maintained that once an agency releases a document that should have remained private, "you can't unring the bell." 
Becerra likened not releasing the police records to his refusal to release records to the Drug Enforcement Agency, which suing him to release confidential pharmaceutical records on California patients. He is resisting this attempt, he said, because he got no assurances from the DEA that the patient information would not be used for any other purpose. 
Skinner countered that his comparison between that suit and upholding a law signed by the governor is "not even apples to oranges. It's apples to steak." 
California AG receives barrage of criticism over not disclosing police personnel records
Becerra's interpretation of SB 1421 conflicts with First Amendment advocates, and even other police departments, who realized that the appellate court means that records created before the law took effect Jan. 1 are subject to disclosure. 
"I'm baffled," said Kathleen Guneratne, the American Civil Liberties Union lawyer who is arguing the SB 1421 cases in Northern Califoria. "There's been enough clarity from every court.  Nearly every agency in the state is now releasing records and he's still one of the few still trying to leave room for the courts to limit this important piece of legislation. I can't even speculate why he's trying to deprive the public of this information. His silence and inaction is especially painful to families impacted by police violence. This shows a lack of leadership."
David Snyder, executive director of the  First Amendment Coalition, added: "The courts have spoken and they've spoken clearly. It's not clear to me what else they're  waiting for." 
Like Becerra, six police unions in Contra Costa County - among other unions across the state including Los Angeles and Sacramento - had previously refused to release records because of this retroactivity argument. And on Friday, Contra Costa County Sheriff David Livington sent 2 Investigates a letter saying that he is continuing to refuse to release records. But he is no longer using the retroactivity argument anymore. Rather, he said that the time and cost his department would have to endure in order to fulfill all the public records requests would be an "undue burden." More specific requests on individuals might be honored, the letter intimated, but simply searching back five years of records, which 2 Investigates requested, was too much, Livingston said.
'What is it they're trying to hide?' Senator asks of police blocking release of personnel files
However, many of those cities, including Richmond, Martinez, Antioch and Concord, realized they lost the retroactivity argument and began releasing documents in March. Other departments asked for five . years of data, such as Vallejo and the Santa Clara County Sheriff's Office, have been releasing documents on a rolling basis as they are completed. And agencies such as the Oakland and San Francisco police departments, and the San Mateo and Alameda County sheriff's offices, said they would also release on a rolling basis. 
At leat some of those documents, obtained through multiple public records requests, reveal that officers had falsified records and had sex on the job -- sustained findings by their Internal Affairs departments that had been kept secret for the last 40 years. 
In a touch of irony during the budget committee hearing, just before the exchange with Skinner on the police records issue, Becerra answered senators' questions about his visits to ICE detention centers, where his staff compiled a report on the state of detainees being held in 10 facilities. He was quite proud of the work his team accomplished, as his investigators found evidence that many detainees did not have access to the proper health care, legal counsel or visits with relatives. 
Still, Becerra lamented the fact that his investigators were often thwarted during their visits because ICE agents blocked them from getting all the access they wanted. 
 "Sunshine is the best disinfectant," Becerra said, referring to a term that means government agenices should be open and available to the public.
This story was reported from Oakland, Calif.  EDITOR'S NOTE: Lisa Fernandez's spouse works in Skinner's office.