California candidates for governor clash over transportation issues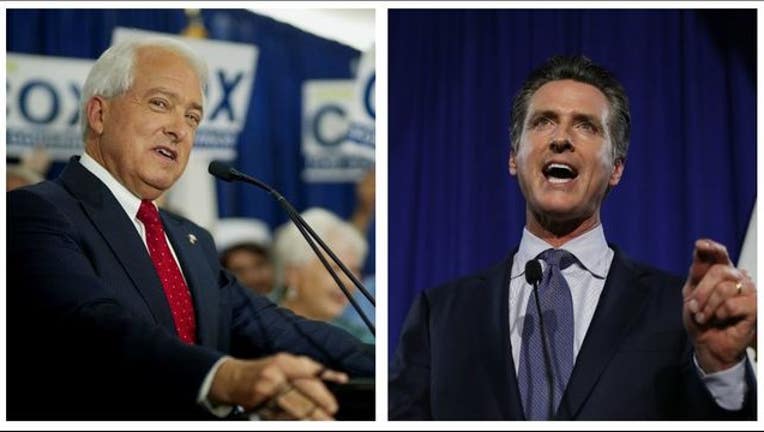 OAKLAND, Calif. - With less than a month before the November election, transportation issues, such as how to pay for repairs to California's crumbing roads and bridges, and the value of the state's high-speed rail project, have put gubernatorial candidates Gavin Newsom and John Cox at odds. 
Republican candidate Cox has hinged his campaign on rolling back this year's 12-cent gas tax hike and increased vehicle fees that would give the state more than $50 billion over the next decade for transportation needs. 
As co-chairman of a campaign to pass Proposition 6, the November ballot initiative that repeals the higher taxes and fees, Cox claims that improving the efficiency of Caltrans would allow the state to pay for much-needed road repairs without hiking taxes. 
Cox hammered home his points and criticized Democrat candidate Newsom on Monday as the candidates faced off on KQED radio during their first and only post-primary debate leading up to the Nov. 6 election. 
"I think Gavin would not exercise enough control over efficiency at Caltrans," Cox said, adding that Democrats are "digging into the pockets of people who are already paying" high fuel taxes "instead of reforming that system."
Cox calls Caltrans "one of the most corrupt bureaucracies on the planet," for spending what he says is "more than double the national average to build and maintain a mile of highway." 
For his part, Newsom said Cox's plan to end the gas tax for road improvements will only "make things worse."  
"He is taking away over $5 billion every year for road improvement, for public safety improvements,'' Newsom said during the debate. 
The candidates are also at odds over California's $77 billion project to build a high-speed train from Los Angeles to San Francisco by 2033. 
Although construction is underway in the Central Valley, Cox wants to kill the project, which has faced significant cost overruns and setbacks and currently does not have enough money to complete the first phase connecting the Central Valley to the Bay Area.
"It's obsolete,'' Cox told KTVU in a recent interview. "I'll talk to Elon Musk and we'll build a tunnel underneath (Highway 5). It should have been done along the five anyway. The five has all the overpasses. It has all the rights of way."
Funding for the high-speed rail project comes from roughly $10 billion in bonds that voters approved in 2008, federal dollars and revenue from the state's cap-and-trade program that requires businesses to buy credits to emit greenhouse gases.
If elected, Cox said he'd look to dedicate a percentage of those cap-and-trade fees to other state transportation projects and dedicate vehicle insurance taxes to transportation funding.
Newsom, who supports the high-speed rail project, but has raised concerns about its financing, said that once the first phase is complete private sector money could help finish the job. 
"The reality is billions of dollars have been committed,'' Newsom told KTVU in a recent interview. "More than $3.5 billion would have to be given back to the Trump Administration if we decided to kill this project and we'd be involved in lawsuits and litigation for decades. There's thousands of construction jobs currently underway on this project."