California deputy dies after shooting in Lake Elsinore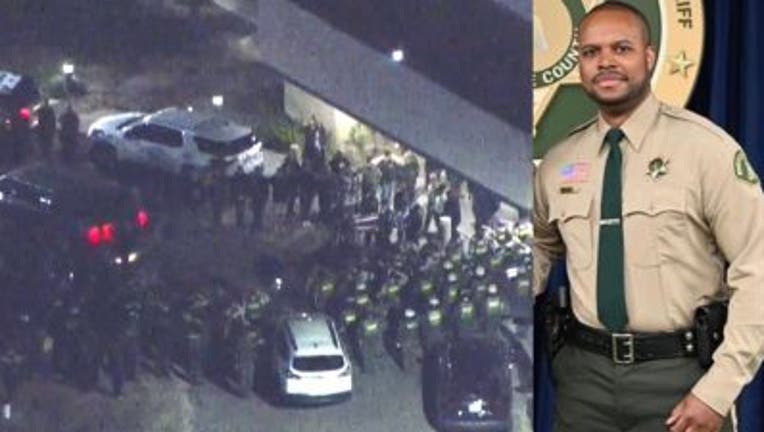 article
LAKE ELSINORE, Calif. - A man suspected of killing a Southern California sheriff's deputy remained hospitalized in critical condition after a gunbattle, authorities said Saturday.
The Riverside County Sheriff's Department identified Jesse Navarro, 42, of Lake Elsinore as the suspect in the killing of Deputy Darnell Calhoun.
Calhoun, 30, was the second Riverside deputy to be slain in the line of duty in two weeks.
Calhoun responded to a report of unknown trouble Friday afternoon in the unincorporated Lakeland Village area near Lake Elsinore, the department said in a statement.
California deputy fatally shot, suspect killed following pursuit and shootout on freeway
"As Deputy Calhoun approached the residence, the suspect began shooting at him, and a deputy-involved shooting occurred," it said. "As an additional deputy arrived, the suspect engaged him with gunfire as well. The suspect was ultimately wounded and taken into custody."
Deputies rushed Calhoun to a hospital where he was pronounced dead.
Riverside County Deputy Isaiah Cordero, 32, was slain on Dec. 29 when he pulled over a pickup truck in the city of Jurupa Valley. The driver shot Cordero as he approached. The driver was later killed in a shootout at the end of a pursuit.