California joins 5 other states in opposing Trump's revised travel ban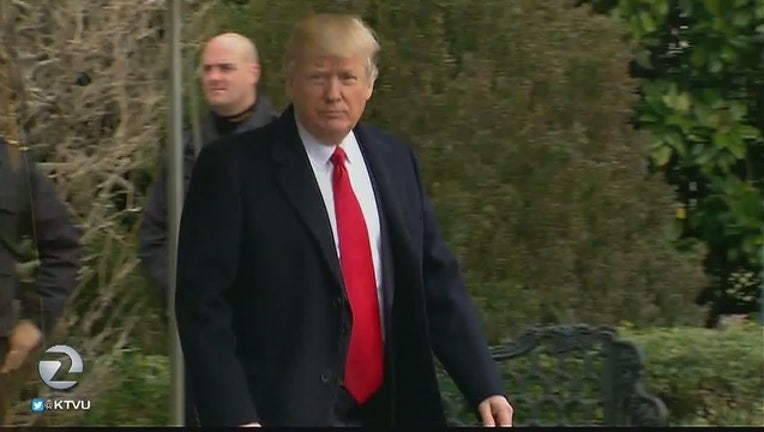 article
By Bay City News Service
   
California today joined Washington state and four other states in challenging President Donald Trump's revised ban restricting travel from six predominantly Muslim states.
   
California Attorney General Xavier Becerra signed on to an amended version of a lawsuit initially filed in federal court in Seattle by
Washington on Jan. 30 over Trump's original travel ban.
   
The amended lawsuit charges that even though Trump's revised March 6 executive order is narrowed down from his Jan. 27 ban, it "suffers from many of the same constitutional and statutory deficiencies as the first
executive order."
   
The new order, which goes into effect on Thursday, bars visitors and refugees from Iran, Libya, Somalia, Sudan, Syria and Yemen for 90 days while the Trump administration reviews screening procedures. It bars refugees from all countries for 120 days.
   
The ban differs from Trump's broader Jan. 27 order in that it no longer applies to people from Iraq and does not exclude people who have visas or legal permanent U.S. residency.
   
The states' amended lawsuit claims the revised order, like the earlier version, unconstitutionally discriminates on the basis of religion and denies due process.
    
The measure "harms the states' families, educational institutions, economies, businesses, health care systems, religious organizations and sovereign interests," the amended lawsuit says.
   
Becerra said in a statement, "The Trump administration may have changed the text of the now-discredited Muslim travel ban, but they didn't change its unconstitutional intent and effect."
   
The amended lawsuit, filed today, asks U.S. District Judge James Robart of Seattle to rule that a preliminary injunction he issued against the first order remains in effect for the revised travel ban.
   
Robart today instructed Trump and other top administration officials to respond to the amended lawsuit by Tuesday afternoon. He said he won't hold a hearing any sooner than Wednesday.
In addition to Washington and California, states participating in the suit are Maryland, Massachusetts, New York and Oregon.
   
In a separate case, the state of Hawaii has filed its own amended lawsuit challenging the ban. U.S. District Judge Derrick Watson of Honolulu is scheduled to consider Hawaii's bid for a nationwide injunction against the ban on Wednesday morning.
   
In the Washington state case, Robart on Feb. 3 issued a nationwide preliminary injunction blocking implementation of Trump's Jan. 27 ban. That ruling was unanimously upheld by a three-judge panel of the 9th U.S. Circuit
Court of Appeals in San Francisco on Feb. 9.
   
By filing an amended version of Washington's lawsuit, as opposed to a new lawsuit, the six states are able to keep the same trial judge.
   
Any appeals from Robart's or Watson's rulings in the two cases would go before the 9th Circuit, which has jurisdiction over nine western states.
   
Also today, California was one of 14 states participating in a friend-of-the-court brief supporting Hawaii in its lawsuit.