California's oldest state park, Big Basin, suffers extensive damage because of wildfire
BOULDER CREEK, Calif. - California's oldest state park has suffered sustained extensive damage from the CZU August Lightning Complex Fires in Santa Cruz County and is closed until further notice, a situation that made more than one or two outdoors lovers well up with tears. 
"I've been crying all day honestly about the fires. My heart's breaking right now," said Sarah Price, who held her 2018 wedding under the thousand-year-old redwoods.
The raging wildfires in damaged Big Basin Redwoods State Park's headquarters, historic core and campgrounds, the park district said on Tuesday. As of Thursday, the fire, spanning Santa Cruz and San Mateo Counties, had scorched 40,000 acres. 
The extent of the damage has yet to be determined.
But Sam Hodder with Save the Redwoods League says redwoods tend to be extremely resilient.
"Obviously if they were big enough and hot enough to take those structures, there's no way to tell," Hodder said. "We're just crossing our fingers until we have a chance to get in there and take a look." 
While avid campers and hikers were mourning the loss of one of the most popular Bay Area outdoor spots, the park department said that fortunately, everyone at Little Basin and Big Basin was evacuated before the flames could reach them. 
On Thursday, flames were still burning just outside Big Basin.
Park officials have not reported any injuries, but the losses are still hard to take. 
"It's that balance between heartbreak and the resilience that redwoods have taught us, trying to gear ourselves up for the process of building back," Hodder said.
Big Basin Redwoods was established in 1902, making it the Golden State's oldest park.
It's located in the heart of the Santa Cruz Mountains, and its biggest attractions—literally—are its ancient coast redwoods.
People flock to the park to see the trees, some of which are more than 50 feet around and as tall as the Statue of Liberty. At 1,000 to 1,800 years old, some may predate the Roman Empire.
The park has more than 80 miles of trails and boasts waterfalls, lush canyons, deer, raccoons, bobcats, Steller's jays, egrets, herons and California woodpeckers.
Other state parks are also closed because of the wildfires. The list is here.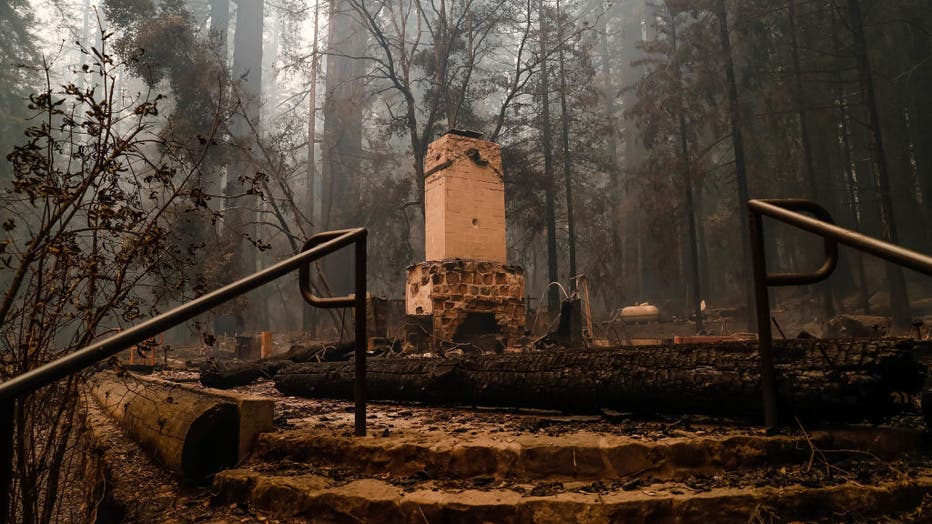 BOULDER CREEK - AUGUST 20: The Big Basin Redwoods State Park Headquarters & Visitor Center is burned to the ground during a blaze in Boulder Creek, Calif., on Thursday, Aug. 20, 2020. (Photo by Randy Vazquez/MediaNews Group/The Mercury News via G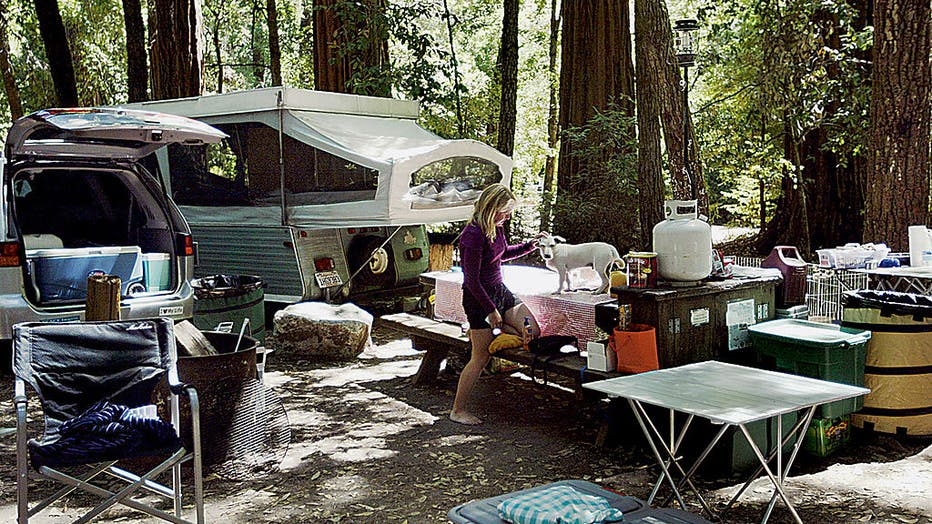 Campsites in Big Basin State Park are popular in the summer months and fill up quickly. (Dan Coyro/Santa Cruz Sentinel/Tribune News Service via Getty Images)