Caltrans considering underwater explosions to remove old Bay Bridge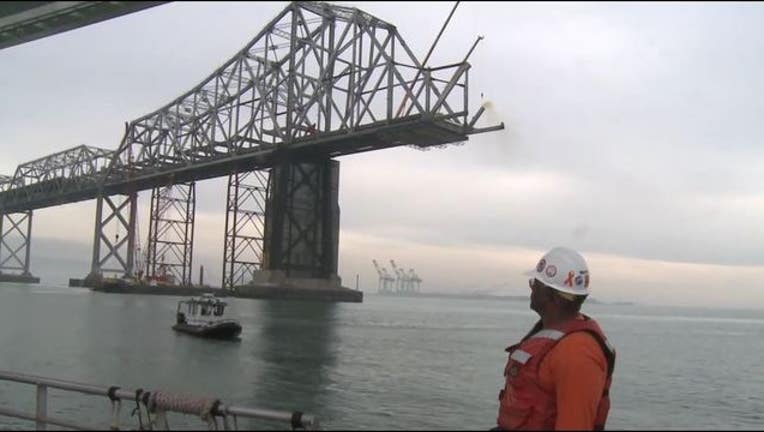 OAKLAND (KTVU) - With deconstruction of the old Bay Bridge well underway, Caltrans says the tricky part may be removing the foundations that lie beneath the Bay.
The agency Friday said it wants to use as many as 600 small explosions to demolish Pier E3.
It's the base of a net-encased tower near Yerba Buena Island that extends 200 feet deep into the soft bay mud.
The original plan was to build a coffer dam around the foundation, jackhammer the material down to the mud line and remove it by crane.
"Now that takes a long, long time," said Caltrans Chief Bridge Engineer Brian Maroney. "And if you build a coffer dam, I need to drive very, very large piles into the Bay. That has an additional environmental impact."
Instead, the plan now is to set off hundreds of small charges in the space of six seconds.
The collapsed debris would then fall into or be packed into the 20 by 20 foot hollow, underground tubes that form the structure.
Maroney says the 82-year-old concrete shows no sign of toxicity and that it's a solution that could save about $100 million.
Maroney said the process could be timed around the presence of schools of fish and that monitors can check for sea lions and birds before blowing the explosions. "This method was probably the best way to go, most economical, fastest and best for the environment," said Maroney.
If approved by various state and local agencies, Caltrans hopes to blow up Pier E3 in November, and possibly use the same process to remove other Bay Bridge piers in 2016.
Environmental groups who plan to review the Caltrans proposal are skeptical, worried that burying the debris won't solve the problem. "Cost really seems to be driving this initiative," said San Francisco Baykeeper Staff Scientist Ian Wren. "There's a very strong likelihood that this will get distributed throughout the region, possibly creating a small toxic hot spot."