Carlee Russell of Alabama charged with two misdemeanors for kidnapping hoax, public frustrated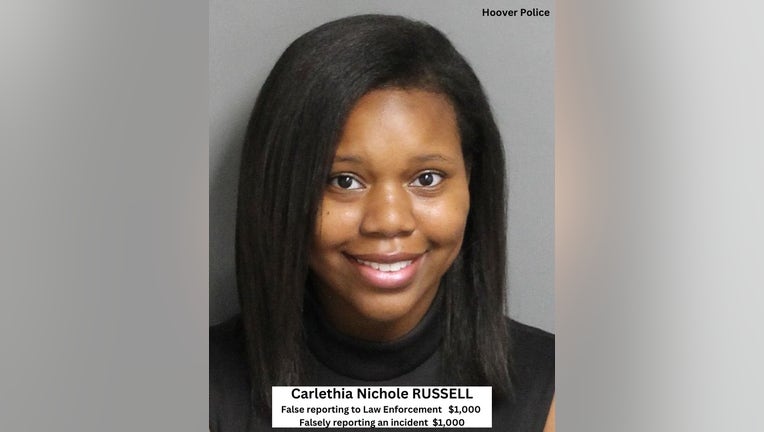 article
HOOVER, Ala. - Police in Alabama held a news conference Friday afternoon to announce charges against Carlethia "Carlee" Nichole Russell, the nursing student who was reported missing after calling 911 claiming she saw a toddler walking along the interstate.
During the press conference, the Hoover Police Department announced that Russell has been charged with filing a false police report and filing a false statement, both of which are misdemeanors.
Russell reportedly turned herself in before the press conference and was released on a $2,000 bond – $1,000 for each charge. 
The announcement comes a day after Jefferson County Chief Assistant District Attorney Lane Tolbert told Fox News Digital that authorities are expected to charge Russell with false reporting to law enforcement authorities and falsely reporting an incident.
The maximum punishment for the charges is one year in jail for each.
Police admitted during the press conference that they know people all over the country are "shocked" and "appalled" that Russell is only being charged with two misdemeanors. Police Chief Nick Derzis said that he shares the same frustration but existing laws only allow the charges that were filed to be filed. 
Derzis also revealed that the police department has not uncovered anything about Russell's whereabouts during the 49 hours she was missing, and they have not been able to confirm that she acted alone. The police chief pointed out that the story about Russell opened wounds for families whose loved ones really were victims of kidnapping, some of which even helped organize searches for Russell. 
Carlee Russell's disappearance
The search for Russell began the night of July 13. That night, she called 911 and then spoke to a family member, saying that she saw a young child walking on the side of Interstate 459 South near Mile Market 11 in Hoover.  
Carlee's mother said her daughter was on the phone with a family member when she pulled over to check on the child.  
While the family lost contact with Carlee Russell, the line remained open.
HEAR CARLEE RUSSELL'S 911 CALL 
When officers arrived at the location, they found Russell's red Mercedes still running by the interstate, but they were unable to find her or a child in the area.
Investigators say no children had been reported missing in the area.
After news of her disappearance spread, a private donor came forward to offer a $25,000 reward, in addition to the $5,000 being offered by Crime Stoppers of Metro Alabama. That reward eventually increased to $55.,000 and then to over $63,000 with the support of around 60 other donors, the New York Post reported. 
When was Carlee Russell found?
On July 15, 49 hours after her disappearance on Interstate 459, Russell showed up at the front door of the home in Hoover she shared with her parents.
"She walked up, banged on the door, and that was her," Hoover Police Chief Nicholas Derzis told WBRC.
The station reports that surveillance video from the neighborhood shows her walking by herself down a sidewalk before arriving at her home. 
Speaking to TODAY, Carlee's mother Talitha Robinson-Russell described the moment they got to see their daughter for the first time since she disappeared.
"We tried to hug her as best we could, but I had to stand back because she was not in a good state. We had to stand back and let medical professionals help her," Robinson-Russell said before becoming too emotional to speak. 
When first responders arrived at the scene, the missing woman was reportedly conscious and spoke with them. Russell was taken to a local hospital for evaluation and has since been released back to her family.
Police share details of Carlee Russell investigation
Last Wednesday, the Hoover Police Department held a news conference to address questions about the case and give an update on their findings.
Authorities said that Russell had told them she was taken by a red-haired man who came out of the trees when she stopped to check on the child, put her in a car and an 18-wheel truck, blindfolded her and held at a home where a woman fed her cheese crackers.
"That man then picked her up and she screamed. He then made her go over a fence. He then forced her into a car and the next thing she remembers is being in the trailer of an 18-wheeler. She stated that the male was with a female, however, she never saw the female, only hearing her voice. She also told detectives she could hear a baby crying," Hoover Police Chief Nick Derzis said.
At some point, Russell said she was put in a vehicle again but managed to escape and run through the woods to her neighborhood.
Derzis said detectives were still investigating where Russell was and what happened to her between the time she went missing and her return home. But he also said investigators have been "unable to verify most of Carlee's initial statement."
Carlee Russell made abduction-related internet searches, police say
In the days before her disappearance, authorities said she searched for information on her cellphone about Amber Alerts, a movie about a woman's abduction and a one-way bus ticket from Birmingham to Nashville, Tennessee. 
Her phone also showed she traveled about 600 yards while telling a 911 operator she was following a 3- or 4-year-old child in a diaper on the side of the highway, Derzis said.
PARENTS SAY CARLEE RUSSELL 'FOUGHT FOR HER LIFE' AFTER DISAPPEARANCE
"I do think it's highly unusual the day that someone gets kidnapped that seven or eight hours before that they're searching the internet, Googling the movie 'Taken' about an abduction," Derzis said. "I find that very, very strange."
Prior to her disappearance, Russell allegedly took a robe and toilet paper from her job.
Carlee Russell apologizes for making up kidnapping
Monday, Russell's attorney Emory Anthony told police she would be ready to speak with them in the afternoon. Instead, Anthony delivered a written statement to investigators on her behalf instead. The statement, which Derzis read aloud, offered an apology for Russell's actions but failed to provide a reason for the fabrication. 
"There was no kidnapping on July 13, 2023. My client did not see a baby on the side of the road. My client did not leave the Hoover area when she was identified as a missing person. My client did not have any help in this incident. This was a single act done by herself. My client was not with anyone or at any hotel with anyone from the time she was missing. 
"My client apologizes for her actions to this community, the volunteers who were searching for her, to the Hoover Police Department, and other agencies as well, to her friends and family. We ask for your prayers for Carlee as she addresses her issues and attempts to move forward understanding that she made a mistake in this matter. Carlee, again, asks for your forgiveness and prayers."
When asked what her motive was for faking a kidnapping, the chief said he was at a loss.
$63K RAISED IN CARLEE RUSSELL SEARCH WILL NOT BE REFUNDED
"I wish I could tell you, but I think only Carlee knows, and maybe now her attorney," said Derzis.
"We still don't know about those 49 hours, where she was, did she have any help, we have no idea," the chief said.
The more than $60,000 donated to Crime Stoppers to help with the search and safe return of Russell will not be refunded.
This story was reported on from Atlanta.