Cherry blossoms in bloom, parade returns to Japantown: Arts & culture events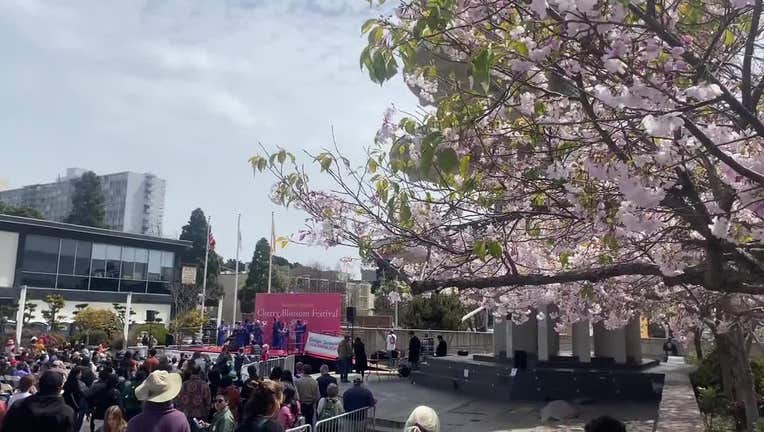 article
OAKLAND, Calif. - Did you know San Francisco has one of the three Japantowns in the U.S.? It's true! The cherry blossoms are in full bloom this spring and the annual parade is back. Take advantage of this cultural event for its second weekend of festivities. Also, SFFILM premiers a Stephen Curry documentary with an opening night screening in 'The Town'. We've got scintillating art exhibits for you to attend and finally, can you believe it's been seven years since Prince passed? There's a related film-screening tribute to the so-called Purple One. Read on for your arts, culture and entertainment suggestions. 
This year's SFFILM Festival is April 13 through 23. More than 90 films will be shown at venues throughout the Bay Area. Opening night kicks off with a screening of Stephen Curry: Underrated at Oakland's Grand Lake Theatre. This is the coming of age story about our own beloved 'Steph.' Relive his journey on and off the basketball court from his time as a college athlete to his electrifying NBA wins with the Golden State Warriors. This film is sure to be a crowd pleaser. Director Peter Nicks and producer Ryan Coogler are expected to attend the opening night screening.
The film fest includes the Golden Gate Award Documentary Competition. Included in this spotlight series is the Rooth Tang directed and Michelle Moy-produced, Rally. This documentary looks at San Francisco journalist-turned Chinatown advocate and power broker, Rose Pak. You may recognize the name from the recently opened Muni Chinatown station, part of the Central Subway Project; something Pak pushed for. But she was a controversial figure who collaborated with Mayors Willie Brown, Gavin Newsom, and Ed Lee. SFFILM says the director "unpacks and holds up to the light the work of a woman who worked tirelessly to bring Chinese-American issues to the forefront of discourse." 
Some other interesting picks include; Dalíland, Being Mary Tyler Moore, Milisuthando, Are You There God? It's Me, Margaret
Other venues include the Castro Theatre, Berkeley Art Museum and Pacific Film Archive (BAMPFA), the Premier Theater and more. For SFFILM's full schedule of events, click here.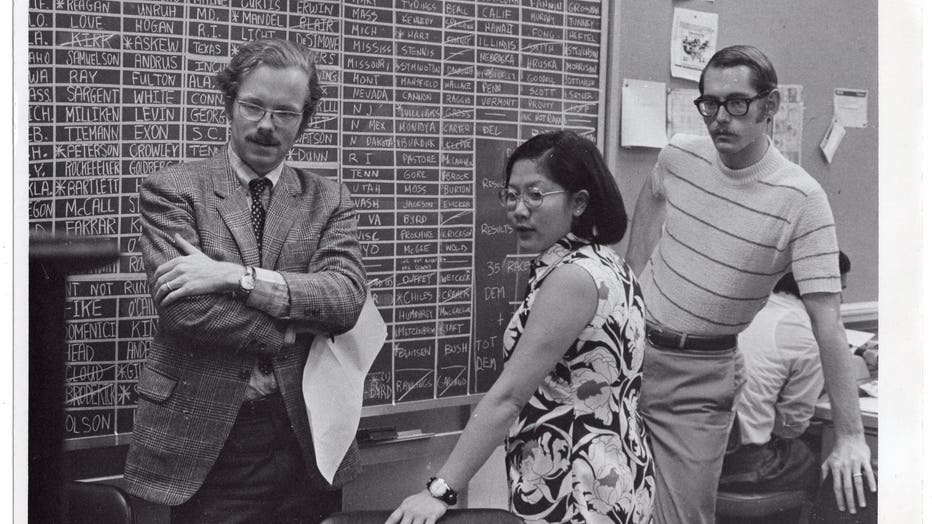 Still image from Rally, courtesy SFFILM Communications.
Origami demonstrations, a bonsai exhibit, Shoyukai calligraphy, tea ceremonies! But wait for it…and the return of the Grand Parade — the festival's first since 2019 due to the COVID-19 pandemic. 
We're of course talking about the renowned Northern California Cherry Blossom Festival. 
We haven't even gotten to the eats to be enjoyed, not to mention the live bands performing on stage for week two of the fest (April 15-16). 
Billed as "one of California's most prominent celebrations of Asian traditions," this festival has it all; a celebration of Japanese culture and the diversity of the Japanese American community.  
With beautiful cherry blossoms in bloom, the fest attracts 220,000 each year, organizers say. There is a designated beer area for adults to wash down the takoyaki, but also plenty of family-friendly arts and culture to partake in. 
Consider yourself fortunate if you live on the West Coast. All three of the U.S. designated Japantowns are in California (the other two are in Los Angeles and San Jose). 
Check the full schedule of events here. The Grand Parade departs Civic Center at 1 p.m. The parade ends in Japantown at Post and Fillmore Streets. Get to the festival on public transit or plan your trip.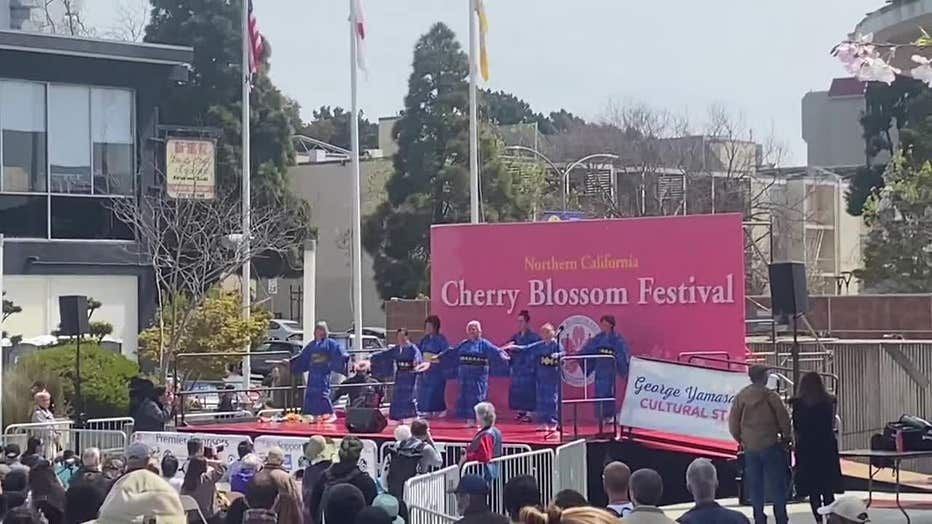 Northern California Cherry Blossom Festival 2023. 
Like experimental art? YBCA's exhibit is a collaboration with Studio Forward at California College of the Arts. It is free and open to the public through the month of April. 
Designer-led exhibition tours are held every Thursday through the month from 12 to 1 p.m. Explore possibilities through speculative design – something explained by YBCA as methodology to envision better futures – featured in these six experimental projects. Sound, light, and space are used to create a connected multi-sensory atmosphere. 
Take the gallery's word for it: "As the world emerges from the COVID-19 pandemic, the designers communicate their visions of a more inclusive, connected, and empathetic futures. It's an opportunity to find and feel the unknown – together." Well, the potential for a bright future seems apparent when you put it that way.
More than a dozen interaction, industrial, and graphic design graduate students' work is featured in this exhibit. Immerse yourself in these works and delve into alternate worlds. 
Future Resonance is located at YBCA Gallery 3. YBCA is at 701 Mission Street, San Francisco 
Nurturing Independence Through Artistic Development (NIAD) was recently in the news for the wrong reasons when a community garden they partner with was vandalized. The East Bay nonprofit, based in Richmond, is a progressive art studio for low-income adult artists with developmental disabilities. But this is a resilient group, and as the old adage goes – the show must go on. 
This Saturday, April 15, you can catch the opening reception for their latest exhibit: John Valdivias in "About Face" at Bedford Gallery. Here, the artist examines the fascinating tradition of creating portraits, something that is explained as dating back to the neolithic period. We're talking prehistoric versions of us human beings. Stone Age times. Fast-forward, past those crafty-cave people times and we're still doing portraiture. Selfies, right? 
Once again, we find art pondering the future, but also what concepts of beauty and power will be valued in a perhaps not-so-distant future. 
This is a ticketed event at the Bedford Gallery, 1601 Civic Drive in Walnut Creek. Opening reception from 12 p.m. to 2 p.m. You can catch it at Free First Friday, May 5. Exhibit runs through June 25. 
Jonathan Valdivias in "About Face" at Bedford Gallery April 15 to June 25. 
Not to be outdone, the similarly minded Creativity Explored in San Francisco, which shares the same founders as NIAD, celebrates its 40th anniversary, and they're doing it in style. 
Art Changes Lives is an annual gala event, this one to be held on April 28, from 6 p.m. to 10 p.m. at City View at Metreon. This nonprofit and studio-based collective has helped disabled artists thrive throughout the years. As part of the celebration, they're holding a silent auction. You can bid on these unique creations made by some very special local artists. You'll find mixed-media sculptures, designs of acrylic on cut foam and other amazing original artworks. 
You can always stop by the gallery to look at works in person at 3245 16th Street in San Francisco's Mission District. While you're at it, check out their exhibition of artists' work at the SF Public Library main branch. Five artists' creations will be turned into library cards this spring.
For tickets to the gala and benefit event, click here. 
Prince Rogers Nelson, best known as simply Prince, died at Paisley Park in Minnesota, on April 21, 2016. On the seventh anniversary of the Purple One's passing, Vogue Theater in San Francisco will screen his film, considered to be semi-autobiographical –  Purple Rain
Prince was apparently pelted with shoes and "chicken's innards" once when he opened for The Rolling Stones in San Francisco, but that was during his humble origins. By the time Purple Rain hit theaters in 1984, he was perhaps at the peak of his powers and certainly of his popularity. Now gone, he is widely regarded as a musical genius. In this day and age, any disrespect to Prince or his memory, would simply not be tolerated. 
Purple Rain at Vogue Theater, April 21. 7 p.m. and 9:30 p.m. 3290 Sacramento Street, San Francisco.