CHP officers patrolling Camp Fire rescue cold, wet cat with burned paws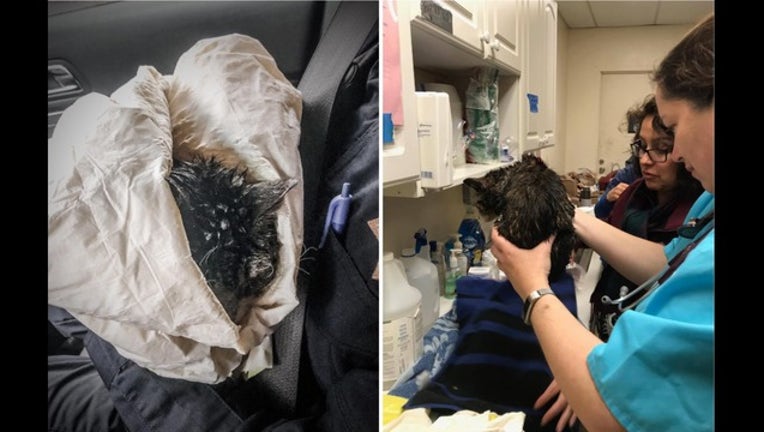 article
California Highway Patrol officers with the Truckee division spotted a cat in very bad shape while patrolling the charred remains leftover from the deadly Camp Fire in Paradise.
CHP shared photos on Saturday of the cold, wet cat that suffered second degree burns to all four of her paws, adding that they aren't done with their Camp Fire contributions, despite the recent snow storm in their home territory. And the furry feline was thrilled to see them.
"She did not protest her rescue and upon being wrapped in a blanket she immediately began to purr," CHP said in a Facebook post.
Watch: Two Paradise fire victims put pain into music
Officers transported the cat to an emergency animal shelter at the Chico airport, where volunteers and veterinarians immediately provided care. 
A veterinarian that oversaw the cat's medical care on her first day decided to transport the cat to her own practice in Red Bluff so she could personally care for her.
"Thanks to all the veterinarians who continue to donate hundreds of hours helping all the animals affect (sic) by the Camp Fire," the post said. 
Related: Paradise girls' volleyball team with no uniforms get equipment, donations from high school opponent
The Camp Fire ignited Nov. 8 and was fully contained Nov. 25. At least 85 people died, nearly 14,000 homes destroyed and 153,336 acres burned.