City Council approves plan for shared Raiders and Chargers stadium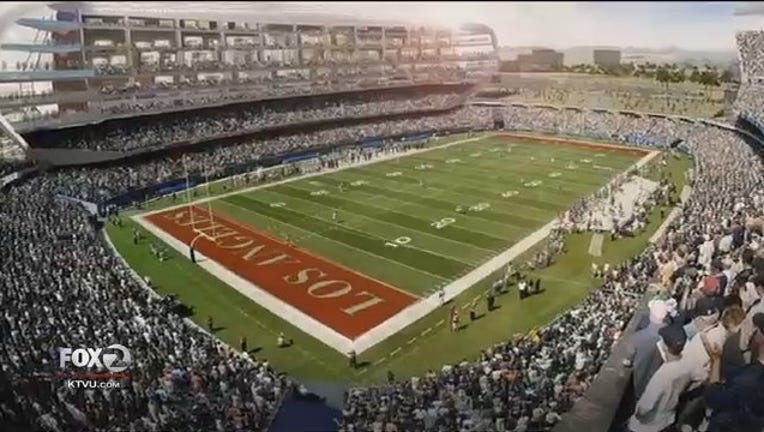 article
CARSON, Calif. (AP) — A local City Council on Tuesday night unanimously voted to clear the path for a proposed $1.7 billion stadium near Los Angeles that could become the shared home to the NFL's San Diego Chargers and the Oakland Raiders.
The 3-0 vote by the Carson City Council marks a significant step forward for plans to lure the NFL back to the Los Angeles area after two-decades without a team in the nation's second-largest media market.
The next moves now belong to the teams, and to the league.
Council members could have opted to put the issue before Carson voters, but instead chose to approve it outright themselves as state law allows.
Outside before the meeting, LA-based boosters of both the Chargers and Raiders, many of them wearing jerseys, gathered in support of the stadium and the teams coming to the area.
The Carson project is one of two stadium proposals to surface in the Los Angeles area this year: St. Louis Rams owner Stan Kroenke is part of a group planning to build an 80,000-seat stadium in Inglewood, roughly 10 miles from downtown Los Angeles.
The sudden rush to Los Angeles is tempered by a 20-year history of disappointment for fans. A string of stadium proposals have come and gone since the Rams and the Raiders fled Southern California after the 1994 season. Last month, the Anschutz Entertainment Group spiked plans for a field in downtown Los Angeles, although Mayor Eric Garcetti has suggested that it could be revived.
The Kroenke blueprint envisions a $1.86 billion stadium rising on the site of a former horse track, as part of a nearly 300-acre development of homes, parks and office space.
The 168-acre Carson site, edged by a freeway, is a former landfill.
Under current rules, the next opportunity for a team to file to relocate would be in January 2016. Any decision to move would have to clear a tangle of league hurdles, including winning the support of at least 24 of the 32 teams.
The Chargers' talks with San Diego City Hall to replace the nearly 50-year-old Qualcomm Stadium have grown increasingly strained. The Raiders' even older Oakland Coliseum has had sewage and electrical problems and is now the only stadium in the U.S. used as the home for both an NFL and Major League Baseball team, the Oakland Athletics.