Clean air advocate: California has nation's dirtiest air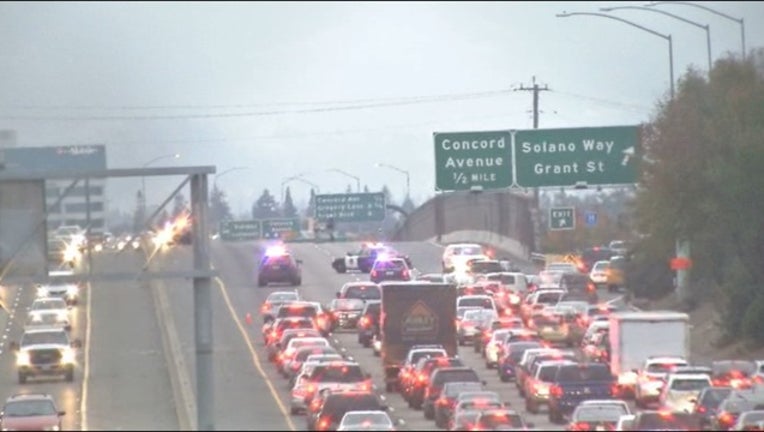 article
FRESNO, Calif. (AP) - Millions of Californians live in places with dirty air, according to an annual report card issued Wednesday that ranks two major urban areas in the state as the nation's most polluted.
Bakersfield tops the list for having the most unhealthy days from airborne particles spewed by highway traffic, diesel trucks, farm equipment and fireplaces, the American Lung Association's State of the Air 2016 report says. Los Angeles remains the nation's leader in harmful ozone pollution from car tailpipes emitting smog, the report says.
Air pollution can trigger asthma attacks, heart attacks, lead to lung cancer and cause premature death.
"California is making tremendous progress," said Bonnie Holmes-Gen, senior director of air quality and climate change at the American Lung Association in California. "But we have a lot more work to do."
Eight out of 10 Californians — 32 million people — live in counties with unhealthy levels of ozone or particle pollution some time during the year, says the report, using U.S. Environmental Protection Agency data for three years ending in 2014.
Salinas was the lone California community on a short list of cities across the nation reporting no days of unhealthy air quality. The others were: Burlington, Vermont; Elmira, New York; and Honolulu, Hawaii. Salinas likely benefits from coastal breezes, the association said.
California cities improving air quality were El Centro, Sacramento and Visalia, each reporting the fewest unhealthy ozone days since the report was first issued in 2004.
Los Angeles remains the city with the worst ozone pollution, but the report said the nation's second-largest city also achieved its best overall air quality score of all those years.
Bakersfield and several Central Valley communities are fighting the bowl-shaped topography hemmed in by mountain ranges. Drought and high temperatures have made the air even more stagnant in recent years, association representatives said.
Seyed Sadredin is in charge of cleaning the air as executive director and air pollution control officer for the San Joaquin Valley Air Pollution Control District. He said the report doesn't consider the great strides the region has already made.
Local businesses have spent $40 billion since 1992 when the district was formed to modernize and cut air pollution. Pollutants that form ozone and particulate matter have been reduced by 80 percent since 1980 levels, he said.
"We've thrown the kitchen sink at the problem," Sadredin said. "The standards are very tight, and we have a lot of work ahead of us."