Co-pilot killed during Nepal flight lost pilot husband in 2006 plane crash
The co-pilot in Sunday's deadly plane crash in Nepal suffered the same fate as her husband, who died while co-piloting another plane 16 years earlier, according to reports. 
Anju Khatiwada, 44, vowed to become a pilot after her husband died piloting a plane for Yeti Airlines in 2006. She joined the same airline in 2010 and achieved the rank of captain after flying for thousands of hours, according to The New York Times. 
"Her husband, Dipak Pokhrel, died in 2006 in a crash of a Twin Otter plane of Yeti Airlines in Jumla," airline spokesman Sudarshan Bartaula told Reuters, referring to Khatiwada. "She got her pilot training with the money she got from the insurance after her husband's death." 
The 2006 flight was just minutes from landing before it crashed as it approached Jumla Airport, according to U.S. News and World Report. 
The crash killed all nine people aboard the flight, including Khatiwada's husband. 
On Sunday, however, she was co-piloting a Yeti Airlines ATR 72 when it mysteriously plummeted into a river gorge barely a mile from its destination. 
Khatiwada had previously flown the popular 27-minute tourist route from the capital, Kathmandu, to the country's second-largest city, Pokhara, Bartaula said.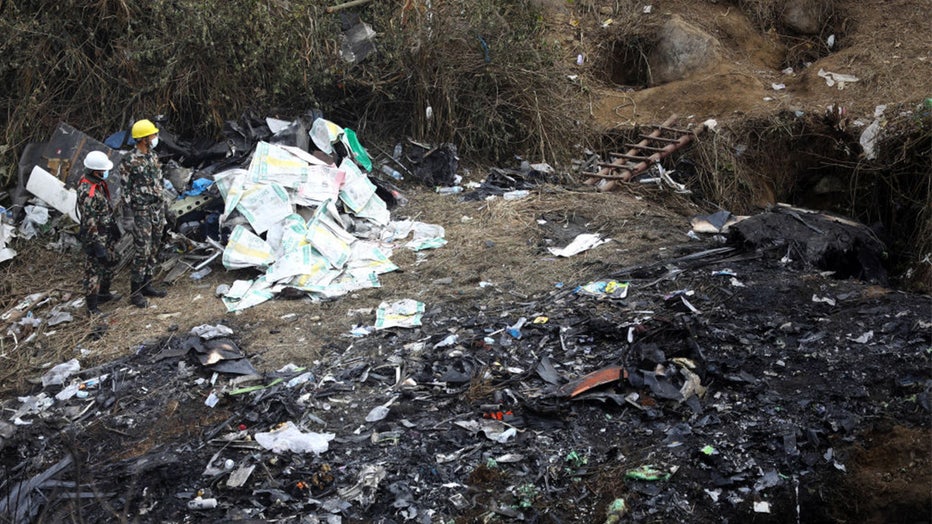 FILE - Nepalese army along with the police personnel recover the bodies from the wreckage of domestic Yeti Airlines that crashed with 72 people on board dead in Pokhara, Nepal on Monday, Jan. 16, 2023. (Saroj Baizu/NurPhoto via Getty Images)
Footage of the crash taken by eyewitnesses near the destination airport in Pokhara, show the plane descending smoothly toward a landing before the plane's left wing drops aggressively and the craft careens into a hill. 
At least 69 of the 72 people aboard were killed, and officials believe the three missing are also dead. Rescuers combed through the debris, scattered down a 984-foot-deep gorge, for them. 
Many of the passengers on Sunday's flight were returning home to Pokhara, though the city is also popular with tourists since it's the gateway to the Annapurna Circuit hiking trail. On Monday evening, relatives and friends were still gathered outside a local hospital, some shouting at officials to speed up the post mortems so they could hold funerals for their loved ones. 
It's still not clear what caused the crash, which took place less than a minute's flight from the airport on a mild day with little wind. 
The twin-engine ATR 72 aircraft was carrying 68 passengers, including 15 foreign nationals, as well as four crew members, Nepal's Civil Aviation Authority said in a statement. The foreigners included five Indians, four Russians, two South Koreans, and one each from Ireland, Australia, Argentina and France. 
Jagannath Niraula, a spokesman for the authority, said the flight recorders will be handed over to investigators. Pemba Sherpa, spokesperson for Yeti Airlines, confirmed that both the flight data and the cockpit voice recorders were found. 
Sunday's crash is the country's deadliest since 1992, when all 167 people aboard a Pakistan International Airlines plane were killed when it plowed into a hill as it tried to land in Kathmandu. 
The Associated Press and FOX News contributed to this report. This story was reported from Los Angeles.