Coach Ron Washington is thrilled to be back in A's uniform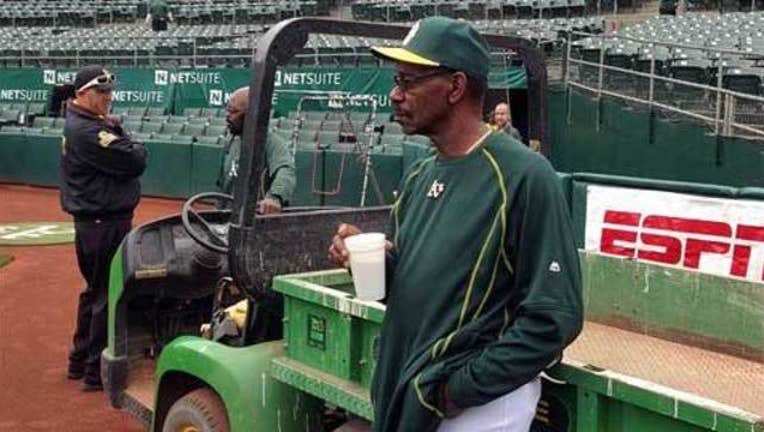 article
OAKLAND, Calif. (AP) — Ron Washington arrived to the ballpark at 8:30 a.m. for an afternoon game on Memorial Day, had some breakfast then headed outside to hang out with the grounds crew he knows so well. He waved to ushers and caught up with security guards.
Washington is thrilled to be back in a big league uniform at 63, and back in the familiar Bay Area with the Oakland Athletics.
"I'm having a lot of fun. I'm blessed," Washington said Monday at the Coliseum. "Every day is my future. This is exactly where I started."
He spent 11 seasons as an A's coach before becoming Texas manager in 2007 and leading the Rangers to a pair of AL pennants in 2010-11. Washington re-joined Oakland as a coach Friday at Tampa Bay after leaving his New Orleans home. He can be in uniform but not on the bench for games.
As some members of the A's took infield practice, Washington took it in while leaning against a small equipment truck, cup of coffee in hand. He said he is "getting in shape" again working with infielders after not doing so regularly for a years.
"I've aged," he said, smiling. "These last four days, my body has been taking a whipping. I haven't been doing this exact stuff."
Six-time Gold Glove third baseman Eric Chavez presented Washington with his third Gold Glove award after acknowledging what Washington meant to his career.
Washington managed Texas for nearly eight years before resigning last September to focus on an "off-the-field personal matter." He later acknowledged he had broken wife Gerry's trust.
Now, his challenge is to help guide a defense that led the majors with 46 errors — 16 by shortstop Marcus Semien — going into Monday's game against Detroit.
Washington was instrumental developing the infielders during his first A's stint. Oakland led the league in fielding in 2004 and '05 and was second in '06.
Manager Bob Melvin is happy to have another resource, and a "high-energy guy, he loves to work."
"It's always nice to have somebody from the outside come in and not being a part of that and add some energy to it," Melvin said. "He's always that way no matter where his teams were. With where our team is right now, he's going to be positive and energetic."