'Cocaine cat' escaped from owner during traffic stop, will now live at Cincinnati Zoo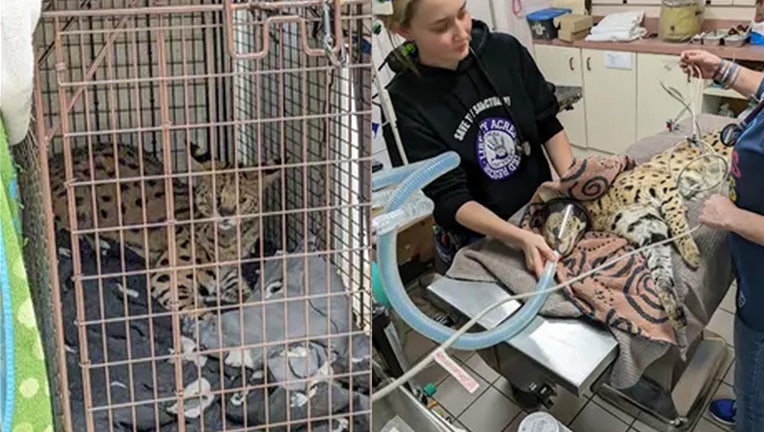 article
CINCINNATI - An African serval cat that was found with cocaine in its system after an escape at a traffic stop now calls the Cincinnati Zoo home, much to the delight of social media users still amused by the recent release of the movie "Cocaine Bear."
The wild cat's story has trended online, where users relished in the absurdity of the horror comedy, which riffs off the true story of a 175-pound black bear that was found dead near a duffle bag and some $2 million worth of cocaine. Social media users have predictably dubbed the serval "cocaine cat."
The slender feline made its escape after its owner was pulled over by police on Jan. 28, according to local animal control officials. It leapt from the car into a tree.
Ray Anderson of Cincinnati Animal CARE said that local animal control, Hamilton County Dog Wardens, were called around 2 a.m. in the residential Oakley neighborhood.
In Ohio, it is illegal to own the animals, which can weigh up to 40 pounds. During the rescue mission, the cat named Amiry broke its leg and became more agitated.
Once Amiry was taken in for medical care by Cincinnati Animal CARE, the team ran a drug test in which they determined that Amiry had cocaine in his system.
It's not the first time that Cincinnati Animal CARE, which has been operating as the county animal shelter, has had a wild animal test positive for drugs. In 2022, the group took in a capuchin monkey, named Neo, that had methamphetamine in its system.
Since that case, it has become standard procedure for the shelter to test exotic animals that arrive at the shelter for drugs, Anderson said.
Anderson confirmed that the owner of Amiry relinquished custody of the cat to Cincinnati Animal CARE before it was taken into the care of the Cincinnati Zoo.
Servals have grown in popularity with some showing up in TikTok videos as pets. Julie Sheldon, clinical assistant professor of zoo medicine at the University of Tennessee, said a serval is a major responsibility that requires a balanced diet and specialized care beyond a house cat.
"There are way better options for pets that are way more safe, economically smart and sustainable," she said.
The Cincinnati Animal CARE receives about 8,000 animals a year, said Anderson.
Instead of trying to keep a wild animal as a pet, Anderson said, "You could save a whole lot of money and get a really awesome house cat at your local animal shelter."